This is a sponsored conversation written by me on behalf of Lysol®. The opinions and text are all mine.
5 Ways to Help Keep School Germs out of Your Home: Tips and tricks around the house and for kids to keep germs at bay!
With my oldest starting kindergarten this year, we've already been hit with the school germ blues in our house.  My friends warned me that he'd probably be sick quite a bit when school started, and I totally get what they're talking about now. Not only may he catch something at school, but he'll bring it home to my younger son.  So, I've decided to come up with a few ways to help try and keep some of the school germs out of our house.  But no worries… I'm a busy mom too, so I've only included quick and easy ideas.
5 Ways to Help Keep School Germs Out of Your Home
Sanitize School Clothes + Laundry
My first weapon is to sanitize his school clothes and everyone's laundry with Lysol® Laundry Sanitizer. I found it while I was shopping at Target (shocker, I know) and bought it immediately. Now, what I'm getting ready to tell you was news to me too. So, I want to share these little tidbits with all of you in case you love to battle bacteria as much as I do.
So you want your detergent to eliminate bacteria that can cause illnesses and create lingering bad smells, right?  Yeah, me too. But detergent alone does not kill all bacteria. I've just always had it in my head that washing clothes with detergent made everything "clean" again. But Lysol Laundry Sanitizer eliminates bacteria and lingering odors. It's specifically designed to sanitize your family's clothes when you need it. (Like when trying to keep school germs out of your house!)
It is an additive specifically designed to kill 99.9% of bacteria in laundry that detergent leaves behind when used as directed in the rinse cycle. It does not contain any chlorine bleach and even works in cold water so it is safe to use on most fabrics including whites, colors and darks.
Lysol Laundry Sanitizer is a must have for busy moms with active kids. So whether you're trying to protect your kids from bacteria from school, or if you have kids involved in athletics, you'll want some of this too. My girlfriend came over the other day and saw it and immediately went and bought some too. I'm telling you… I'm hooked!
Target Cartwheel Offer
You can find it in the laundry care aisle at Target in the sub-segment laundry additives. BUT… I have a Cartwheel coupon offer for you too!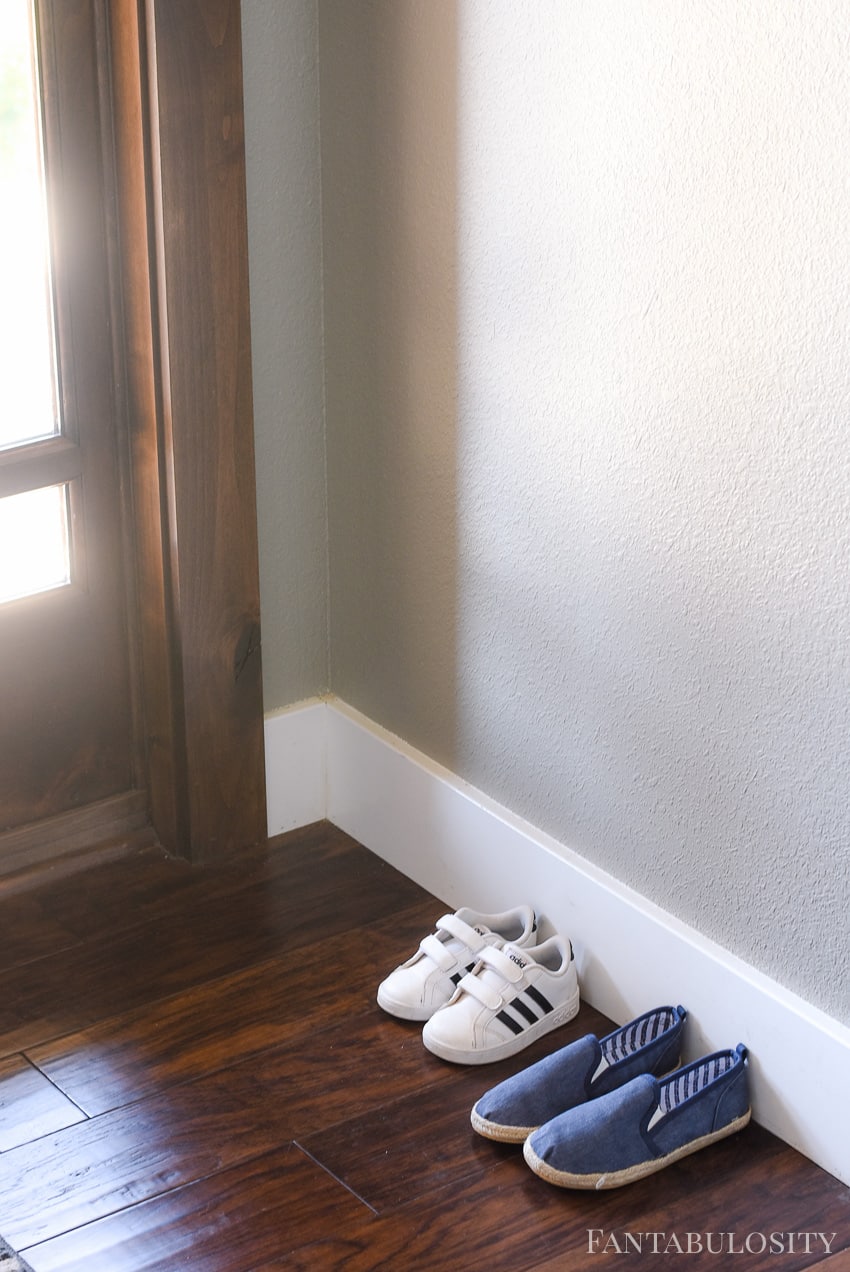 Shoes Off at the Door
It's like Groundhog Day when we get home.
"Boys, take your shoes off at the door when we get inside."
We do it every day, but it always seems like I have to remind them.  I have NO clue what they've stepped in throughout the day, and we're still working on how to keep their shoes off of furniture and kitchen counters and tables. (Yes, really. Yuck!)
So getting them in the routine of taking their shoes off as soon as they walk in the door, is a MUST in our house.
Wipe Busy Door Handles
No one has enough time in the day to go around wiping every single door knob or handle in their home. I totally get that. But I do try to remember to wipe the door knobs on the super busy (and often used) doors in our house.
The door that takes us to and from the garage (car) is my #1 door knob. That one catches all sorts of germs trying to come in.  I'll also make a pass through the door knobs on the bathrooms and the kid's bedrooms.
Wash First Thing
"Remember boys.  Shoes off at the door… AND WASH YOUR HANDS."
Remember how I mentioned having the boys take their shoes off as soon as we get home?  Well what follows after that is, "and go wash your hands before doing anything else." Even IF their hands are "clean" I like to make sure, just in case.  Luckily for me, washing their hands is still fun for them because they consider it playing in the water.
Educate + Remind
So I get it. No matter how many times we tell our kids to do, or not to do something… it's possible they won't listen or remember when the time comes.  But I'd like to think that, chances are, if I do remind and educate them about washing and keeping their hands to themselves, it may help in some way.
My oldest is at the prime age of wanting to wrestle with his buddies at school. My youngest is still at the age where he doesn't understand why he can't take a drink out of a random water bottle on a picnic table at the park.  So over and over again I try to remind the boys not to share drinks, and to try and keep hands to themselves and wash when able.
Busy Moms Just Trying to Do the Best We Can
Although we can't prevent everything… we're still doing the best that we can. Hopefully these easy ideas will help you fight germs and bacteria in your home too!
Pin It to Remember It: