This post has been sponsored by Aleve®. All thoughts and opinions are my own.
Before I get into the details of our new normal, let me tell you about something that has become a new staple and necessity, in our home here in Montana. (Because you know me… if I find something good, that I believe in, I don't keep it from you.)
It's Aleve®, and I kid you not, we used to take other OTC pain relievers but I've tossed them all because I did NOT get the relief that I get with Aleve®.
I truly thought all over the counter pain medication was the same, until my husband introduced me to Aleve® a while back, and I quickly realized it's not. Each pill (which comes in small, oval caplets) has the strength to last 12 hours (where the other products I took would seem to only last a few hours… can I get an amen!?), and it temporarily reduces fever so it's one less thing I have to worry about staying on top of.
Click to add to cart at Walmart
And let me tell you… with this "new normal", this 37-year-old gal has aches and pains that come along with my new "duties" that you're getting ready to see!
Update on Our Montana Living
Life sure looks a bit different than it did a year ago.
I'm a "Homeschooling", "Stay at Home" and a "Work at Home" Momma Now:
A year ago, our little boys were attending public school 5 days a week, and my day looked MUCH different. I'd wake them up, get them off to school, and have "free time" (AKA: time for home duties & work duties) until 3:00 in the afternoon.
Now though? I'm juggling homeschooling, being a "stay at home" mom…
working at home…
AND helping take care of our new home.
So to say that some days end with a headache and tight shoulders, is quite an understatement. I know so many of you who are living this "new normal" too or that have been tackling all of these duties for year, and I commend you!
Living with Freedom
Now don't get me wrong… we CHOSE to homeschool, and I honestly wouldn't have it any other way. At least right now in life. I'm so enjoying this time with them, getting to work at our/my own pace, and the opportunity to fill our days with adventure in Montana that I never knew we'd get to experience.
I'm Slowly Turning in to my Own Version of a "Mountain Woman"
(But shhh… I Still Love Pink and Ruffles.)
With our move to Montana, my husband gets to live out one of his dreams this year, and guide elk hunts. So what does this mean? It means that I'm super happy for him and it also means that I'll be loading firewood in to the fireplace and furnace on the days he's not around.
Ummm… so we've been told that the snowdrifts where we live can get up to six-foot-tall. SIX.FOOT.
Have you ever seen me trample out in 6ft. of snow (I'm only 5'4 by the way) to load wood in to the furnace? Yeah… me either. This will be interesting.
I mean, last year, this gal would simply go to the thermostat in the hallway and turn on the electric heat when it would get cold. This year… this looks a bit different because there is a whole lot more of heavy lifting to do which means more pains and sores for this momma.
This also means that there's a chance that we can get snowed in and may need snowmobiles to get out and get groceries. So who's going to stock up on the necessities at Walmart? This gal.
New Home, Means New Chores and "Honey-Do" Lists
Although our home was furnished when we moved in, there are JUST a couple of things I want to add to it to make it feel a little more like "home".
---
See how I styled the bed in our master bedroom to feel better than any hotel bed we've ever stayed in!
---
So that means working on things that are on our "honey-do" lists, like hanging tv's, organizing closets, and putting beds together. So I have some work cut out for me but in all honesty, this "minimalist" way we've been living out here, is the way to do it. Over the last few years, we've realized that the less amount of stuff that we have… the better.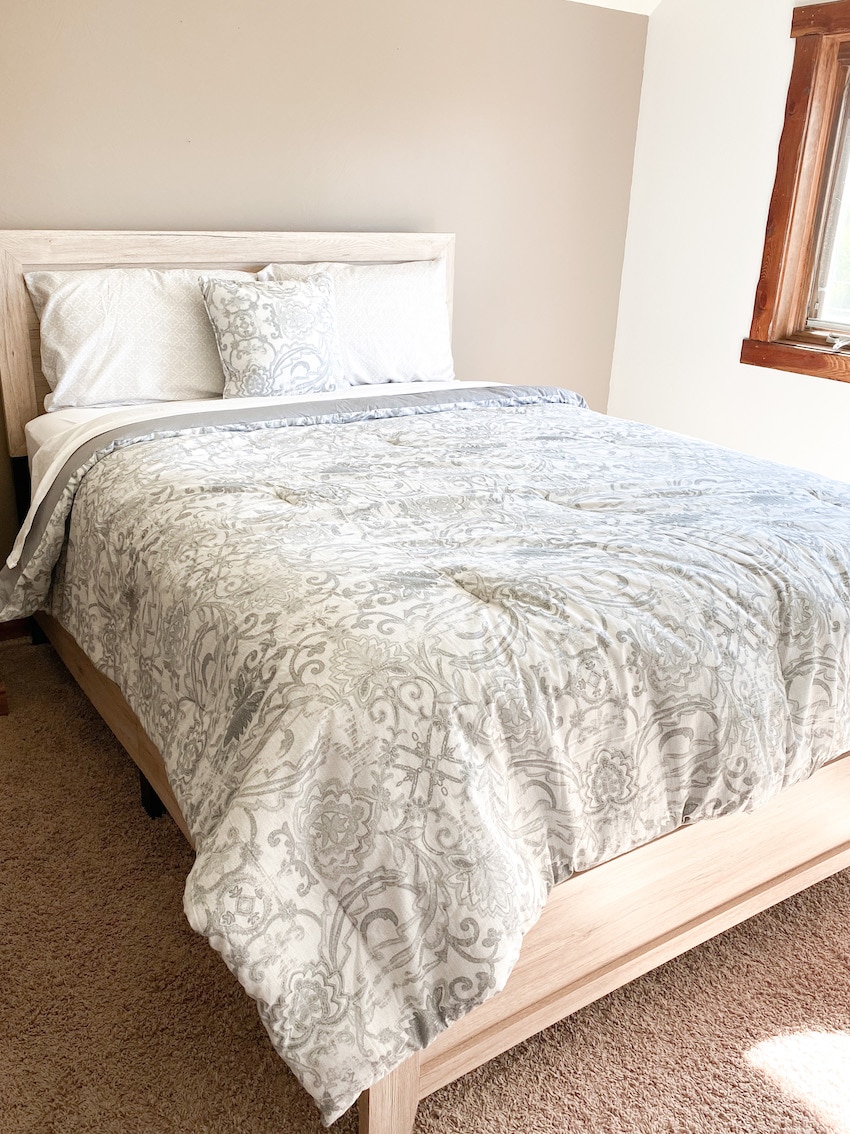 And with a little hard work (hence why I picked Aleve® to sponsor this "Montana Living Update" for you) I'm settling in to this "new normal", stepping out of my comfort zone, and most importantly… soaking in every bit of this adventure we're on. And, I'm excited to do it relieved of minor muscle aches and pains thanks to Aleve®.
It's All So Worth It…
At the end of the day, I'm usually whipped… tired from all of the day's activities and honestly…
I don't know if there's anything better than being curled up in bed, knowing that my little family is right where we're supposed to be and looking out at that Montana sky.
Preparing for Winter
Now, I know the chances of you getting snowed in this winter like me, may not be very high.
But it is 2020… and that means you never know what can happen.