I've been patiently waiting for the day to arrive that I could give you the tour around our first Airbnb rental home .
Since being in the construction and rental business for well over 10 years now, my husband knew the moment that Airbnb launched, that he wanted some of his own one day. So now a few years later, our first Airbnb is completed, and ready for out-of-towners! I can't WAIT to show you around, and spill the details!
Airbnb Vacation Rental Reveal
The IKEA Haul…
Yes ladies and gents… remember the first IKEA haul that was made for the Airbnb? I'm so happy to see it all in place, rather than in the back of my vehicle. But I will tell you… running loose in IKEA with a list to buy something in almost every stinking department, was a bit pleasurable. Not gonna lie. So I'd do it again in a heartbeat. We bought a lot of the decor at IKEA, Home Goods (TJ Maxx), and Target. But if I'm able to link to something directly, you'll see the clickable link under the photo!
Let's get with it…
I have to give MAD props to the gal who did almost ALL of the decorating and planning for this unit. My husband's assistant has amazing taste, and can decorate just about anything. She did such a wonderful job, and I loved being there for moral support. Ok, so I pretty much just stuck around for the IKEA shopping, but it was a heck of a good time.
Living Area & Kitchen:
The living area contains a sectional, with a pull-out bed, offering space for more to sleep over at night!
Metal Counter Stools // Make sure to measure if you need counter or bar stools, if needing similar!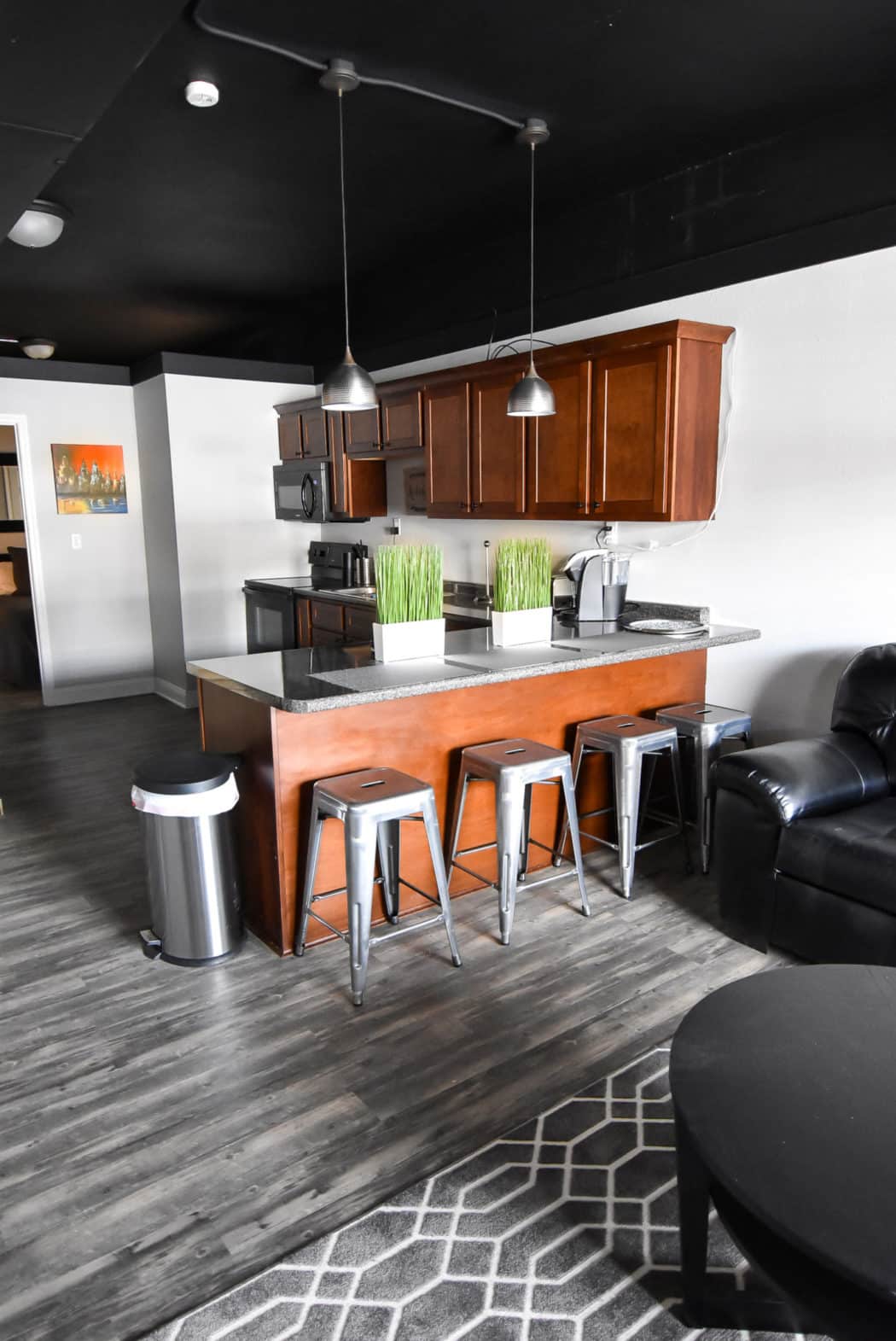 Breakfast Area & a Little Shiplap:
To break up the large room, and give a bit of dimension, we built a small shiplap wall that added a TON of character to the space.
Buy the breakfast table chairs here: Metal Tub Chairs
Bedroom:
With a bed for two, the closed off bedroom sits right next to the bathroom.
Bathroom:
The shower calls my name every time I walk in the bathroom of this place. I'm not going to lie, when/if we build again, I'm feelin' the gray tile in the shower. We have dark tile in ours at home, and although I love it, I'm totally digging this light gray.
It was incredibly hard to take this photo without awkwardly getting myself in the mirror. (But I should be honest, I didn't really try that hard. I thought, "Oh well… it's just a sink anyway, right?") 🙂
Location:
Our Airbnb is located in downtown, by one of the best restaurants around, and located within 10 minutes of the start to wine country!
I so wish I would have snapped these photos during the Spring and Summer when the flowers in the flower boxes were blooming and beautimous. But… it's Fall here, and we haven't yet put in the mums. I may just do that tomorrow.
Thank you so much for swinging by and going on the tour with me!
Book This:
If you're looking to book our Airbnb, we are ecstatic to announce that it's now live, and able to book. Check your dates for availability!
If you haven't been on our personal home tour (ahem, grab a cocktail or a cup of coffee, because there are seventeen posts that you can get lost in, if you like! Start here.)