Hello all you beautiful people! It has been a while since I have talked with y'all! I have missed y'all and Jessica so much. I live over at Southern Couture and would love to have you over.
It brings me great joy to bring this super fun Easter basket idea for all the party lovers and hostesses out there. (Plus it even comes with a free printable gift tag! Stay tuned.)
An Easter Basket for All Party Planning Enthusiasts
One thing Jessica loves to do is host parties for her friends and family. She has shared some gorgeous party plans before that I have absolutely fell in love with. I loved it so much because I finally found that I wasn't the only crazy person (no offense Jessica) that loved to find a theme for a party and go crazy with it.
I'm sure we aren't the only ones (or you know someone who does too) or you wouldn't be reading this. For all those party planning hostesses in your life, they are about to get the best Easter surprise of their life.
An Easter Basket for All Party Planning Enthusiasts
I absolutely love planning parties and having a theme and decorations down to the smallest and cutest detail. I have also found that there are a few "go-to" supplies that I seem to always turn to (especially when I'm running behind).
That's when I got the idea of why not gifting someone else with these same fun supplies that they can use for their next party. This would also be a great gift to give to a family member who hosts Easter dinner for a special hostess gift to really surprise them.
Are you ready to get this party started?! I know I am! Below you will see a few of my favorites and how I've used them in the past too. (Feel free to share this post with your special someone to give them ideas for your basket too. There is nothing wrong with getting an Easter basket as an adult. Am I right?)
Crepe Paper:
You can't go wrong with this stuff. I know it may seem old school to some people, but it works perfectly to add extra color. It even works perfect to use as a backdrop and dress up a blank wall. Be sure to look at your local dollar store. They always have tons of colors and it only cost $1. Even better!
I used crepe paper as the backdrop for this carnival party below and love the way it turned out. Simple yet stunning!
Treat bags:
It is always fun to leave from a party with a little something to take with you. That's why I included the adorable paper bags with the gold accent. Fill them with candy, popcorn, or whatever you can think of that fits with your theme.
Washi tape:
You can't go wrong with this stuff. I am seriously addicted. A host can use this stuff to seal off their treat bags, accent the party invites with it, or even add it to the table decorations. The possibilities really are endless. Plus it's so fun because you can find it in so many different designs and colors.
Balloons:
A party just isn't a party without balloons. I love the super giant 24 inch circular balloons that are so popular right now too. An idea would be to hang them from the ceiling above the food table and drape crepe paper out from around them.
Paper straws:
These are all the party rage right now. What makes them so fun is that you can find them in so many different colors and styles for whatever theme you have in mind. I love using them for cake pops too.
Bakers twine:
This stuff is sort of like washi tape to me. I can find so many different uses for it that I love to keep an assortment of colors on hand. I have used it to tie off treat bags, hang pendant flags from it, and much more.
Napkins:
The small dessert napkins are fun to find in all different designs. Pick a plain colored plate and dress it up with colorful napkins.
A Sweet treat:
Now what's an Easter basket without something for their sweet tooth. One of my favorite chocolates is truffles. I just had to throw a few of those in there as well.
Hot tea:
I also added a stacking tin can of a variety of different hot teas for them to pamper themselves with over a hot bubble bath after all that party planning and entertaining.
I placed a piece of scrapbook paper into the bottom of the basket first to keep the paper shreds from falling out the bottom.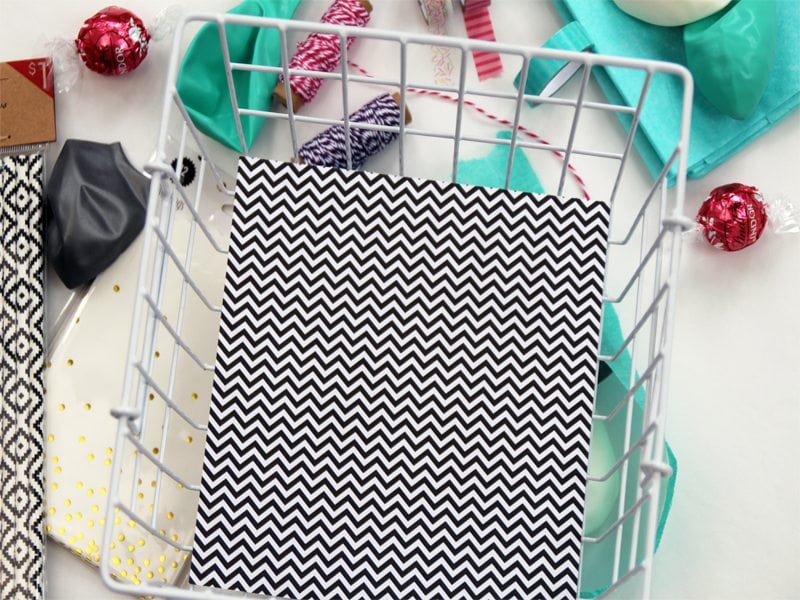 Then I placed all the little goodies inside and arranged them the way I like.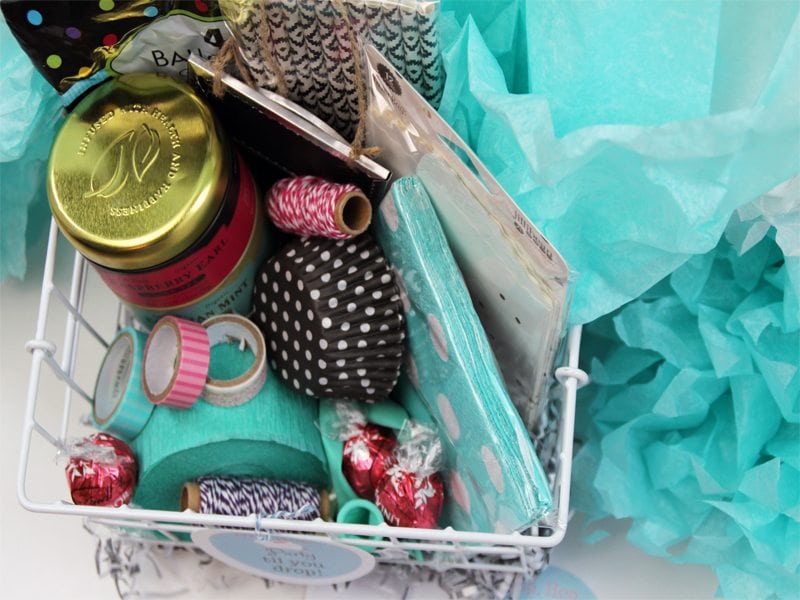 Now for the fun part…This adorable FREE printable gift tag to hang on your basket. Let that special someone "Hip Hop, Party til you Drop!"
I used a hole punch to make a hole and then used a piece of bakers twine to attach it to the front of the basket.
Add some tissue to the back of the basket for a little extra color and you have the perfect Easter basket or really a gift basket for a hostess any time of year that loves to throw parties.
Hoppy Easter! (Yes, I said that. I couldn't resist.) I can't wait to see y'all again next month! And don't forget to print your free gift tag HERE too.
Connect with Southern Couture
Facebook // Pinterest // Instagram // Twitter // Google+ // Bloglovin // Hometalk