Hospital Bag Must-Have Checklist for Mom and Baby: A free printable to help make your life a little easier come "baby-time," so you can make sure to have the essentials!
Post created in August 2013 – No longer pregnant and we have two beautiful little boys! Read more about us here!
Pregnant Girl Speaking Here…
I'm 4 weeks away from "popping," with my 2nd little bundle of joy. Eeeek… did I really just say that? Wow… I'm a little nervous. We have to move in to a new house before then, get set up for baby, AND pack my hospital bag, for when I go into labor. Problem??? All of our baby stuff is still in storage. YES.. STORAGE!!!! So we have to get everything out, wipe everything down, set it all up, and do everything that a "nesting" momma wants to do. Prayers requested for my sanity, please! 😉
After having a baby a couple of years ago, I realized what I actually needed, and what I really didn't need at all.
So if you're a minimalist (or at least strive to be, and to make life a little easier on you), I have a checklist that can be printed and used to make sure all of the necessities are included in your hospital bag!
Hospital Bag Must-Have's Checklist
Download the free checklist HERE!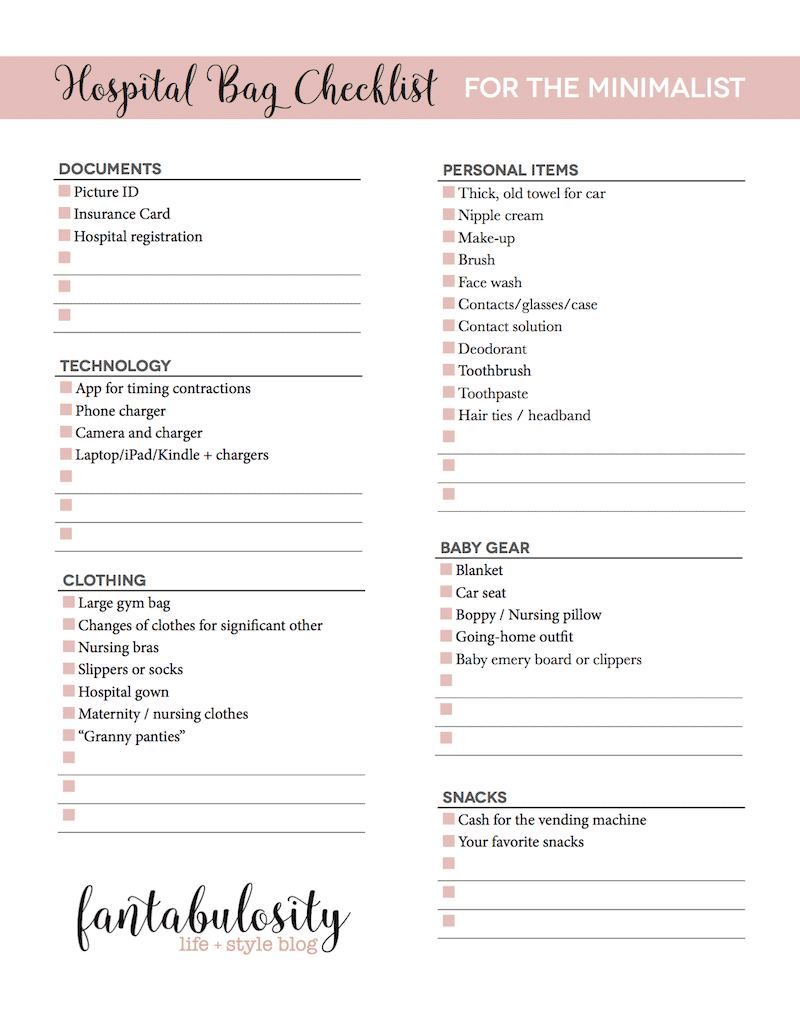 Ok… now, I want to explain a bit about some of the items on the checklist, in case you find yourself going, "Huh?"
What do I Really Need for my Hospital Bag?
Although I've listed everything on the list, I thought I'd mention a few things below to explain why and important notes to help make your hospital stay a little more enjoyable. Make sure you grab the list for EVERYTHING I recommend.
Hospital Bag Checklist for Mom
I'm a bit addicted to bags. So I could go on and on about where to get a bag, but I'll spare you. Just a large duffel bag will do!
Download an app on your phone, so you can time contractions on your way to the hospital
Hospital Registration Paperwork, if not already submitted
Changes of clothes for your Significant Other, along with their must-have toiletries
Camera and Charger (Tip: Make sure you fully charge your camera battery before the big day, and make sure your SIM card isn't full.)
A thick, old towel or old blanket to sit on in the car, in case you're leaking from your water breaking.
If planning to breastfeed, you may want to bring nipple cream. (I wish I would have had that with my first one because I was super sore.)
Hospital Gown (I can't WAIT to wear the hospital gowns that I bought from, ModMum. They will fit WAY better than those baggy-saggy hospital gowns that the hospital provides. Bonus: you'll look super cute wearing one.)
Slippers or socks. (I actually threw mine away when I got home because I didn't want to bring the germies in to my house. So cheap slippers/flip flops would be perfect, so you can toss them if you want.)
Make-up, brush, face-wash, toothbrush and toothpaste, deodorant, any other toiletries you must have to feel clean and pretty.
Cash for the vending machine, for your Significant Other.
Your favorite snacks. You may want something to eat in the middle of the night after a feeding, and won't feel like calling the nurse.
Maternity/Nursing clothing for the day(s) after labor while guests are visiting. You won't believe how good it will feel to get out of hospital gown.
The hospital should provide mesh underwear for after delivery, but if you're not into that… pack your own "granny panties."
Hospital Checklist for Baby
Boppy Pillow (I didn't bring this with my first one, and I wish I would have.)
Baby emery boards or clippers. A lot of hospitals will not cut fingernails anymore, and you don't want your little one scratching the heck out of their face.
You may want to have your car seat installed beforehand, so you're not fumbling around, trying to get it set up in the car when it's time to FINALLY leave the hospital.
I totally forgot a blanket with my last one. The nurse looked at me and asked if I had one, and I looked like a deer in headlights I'm sure. She let me take one from the hospital, but she acted like I committed a crime because I took it. Lol. So I'll remember to take one this time, so I can cover the baby up on the way home.
Did I forget anything?
I just got "pumped" all over again, making that list for you. Yes, still nervous, but so excited to have another little baby that I can hold in my arms. If you're expecting, good luck to you, and I hope this list helps you as much as it helps me when preparing!
Did I forget something on my list? Let me know in the comments below!!!
If you're expecting your bundle to arrive soon, check out my latest tips for life with baby!
Baby Packing Checklist–Free Printable!
Toddler Travel Packing List–Free Printable!
Preparing a Toddler for a New Baby