BBQ Chicken Pasta: An easy dinner idea that is ready in a flash, especially when using a rotisserie chicken and bottled bbq sauce!
Oh ladies…
I MAY have just come up with a dish, that will speak right to your man's heart.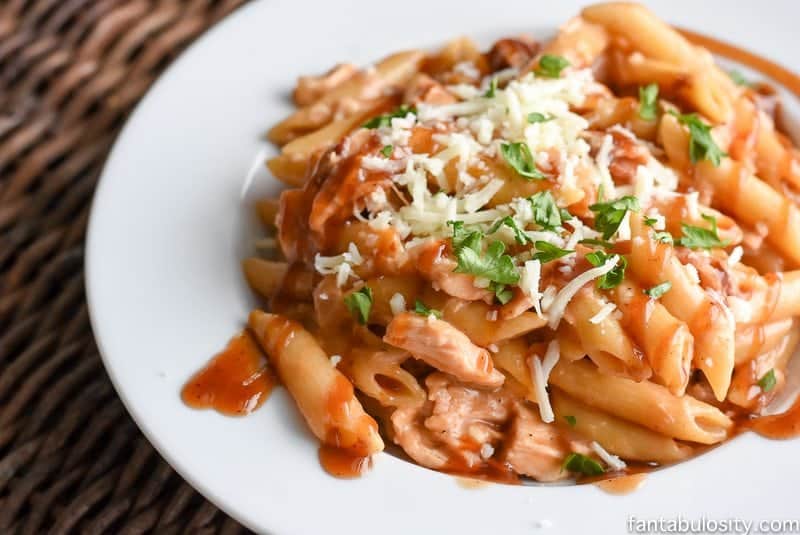 Last week, we had friends over… and we did the standard, "pizza carry-out," for dinner. We ordered the same ole pepperoni & cheese, but then I wanted to get a little on the wild side and order a "specialty," pizza. BBQ Chicken pizza was the winner.
Ok, ok… that's sooo not on the "wild side," but compared to the standard popular pepperoni option…it's a little on the crazy side for us.
In no exaggeration at all, I've been trying to justify how I can order that same pizza, every night since then.
Usually, around the holiday's I try and cook meals for those that may live by themselves, have a newborn, or could just use a helping hand. I recently had someone in mind that could probably use a good comfort-food dish, and I knew it HAD to be pasta. Pasta = Comfort.
Then it was like one of those cartoons where the light bulb literally appears above the character's head? I swear, I think that really happened to me, in my kitchen.  I had conquered my BBQ Chicken craving and was able to come up with a dish to deliver to friends!
BBQ Chicken Pasta
I ran to the grocery store, grabbed the goodies that I needed, and I was ready to rock and roll.
NOTE: Don't worry if you don't have all of the ingredients I list in the recipe below. I've made this numerous times with just chicken, pasta, salt, water, heavy cream, onion powder, and bbq sauce for a super quick and easy dish. I simply boil a little water (enough that will slightly cover my noodles in my saucepan) until noodles are al dente. Then, I throw the chicken, heavy cream, onion powder and bbq sauce right in.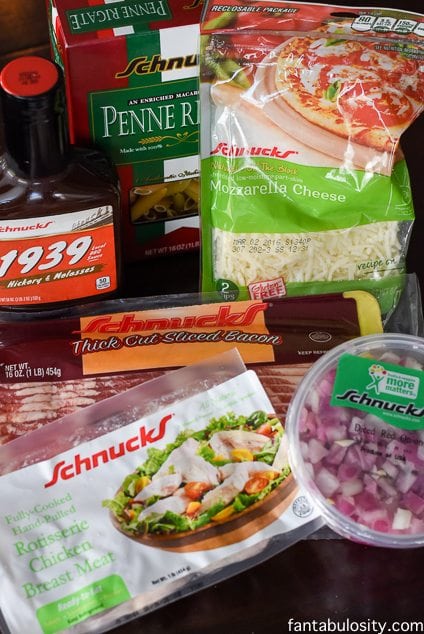 I started cooking, and soon realized that I needed to share a couple of very important kitchen hacks with you, that have CHANGED the way some people prepare their ingredients in the kitchen.
Kitchen Hacks:
For instance… this rotisserie chicken breast meat that you can now buy at certain grocery stores, has saved me TONS of time in the kitchen. When I first started buying rotisserie chickens at the grocery store, as a time-saving hack for my chicken dishes… I thought it could never get better. Um… it did. Now, I don't even have to pull it off of the bone. It's done for me!
But let's get real… pulling meat off of the rotisserie chicken isn't that hard and doesn't take much time at all anyway.
Kitchen Shears… this may be no surprise to some of my readers, but if you're new here, you may not know how I adore my kitchen shears.
I literally cut as much as I can with these amazing little things. No cutting board, no knife… just kitchen shears, cutting whatever I need to cut in to small pieces for a dish. Things like pancakes, french toast, hot dogs, grapes and so many other things for my kiddos.
For this recipe, I used my kitchen shears to "chop" the bacon, and cut up the chicken.
See my video below that I shared with my Facebook followers the other day about this…
excuse my "cooking hair." 😉
This is the glorious deliciousness of the pasta before adding the BBQ sauce and shredded cheese. I tried a bite of it just like this, and I could have even stopped right there. But I didn't…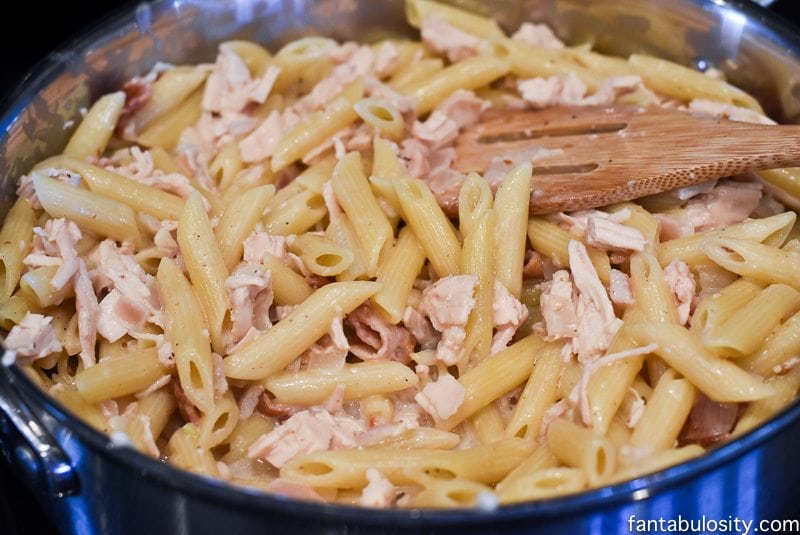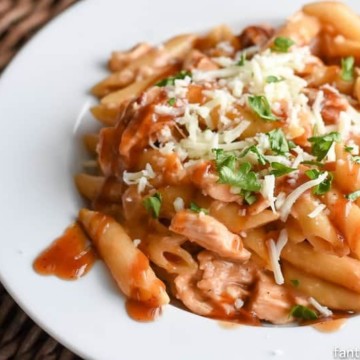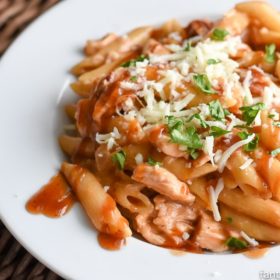 BBQ Chicken Pasta
Whip up this quick and easy weeknight meal in under 30 minutes. Cheesy BBQ pasta with bacon and chicken makes the ultimate comfort meal.
Ingredients
3

slices

bacon

cut in to small pieces

1

cup

shredded or chopped rotisserie chicken

2

garlic cloves

chopped

1/2

cup

red onion

chopped

16

oz

penne pasta

3

cups

chicken broth

1/2

cup

heavy cream

pinch

red pepper flakes

optional

salt and pepper

to taste ( I used 1 tsp kosher salt & 2 pinches of black pepper)

1

cup

BBQ sauce

1

cup

shredded mozzarella cheese

plus more for garnish; optional

fresh parsley

for garnish; optional
Instructions
In a large saucepan, cook bacon

Add chicken, garlic, and red onion, and cook over medium heat for about 2 minutes to allow everything to cook and flavor together

Add in pasta, chicken broth, heavy cream, and spices

Bring to a boil, reduce heat, and cover

Let simmer for about 15 minutes, or until pasta is tender

Add in BBQ Sauce and shredded mozzarella, stirring gently to combine

When cheese is fully melted, Serve

Garnish with extra BBQ drizzle, shredded mozzarella, and parsley if desired
Nutrition
Serving:
1
serving (1/8 recipe)
Calories:
439
kcal
Carbohydrates:
59
g
Protein:
15
g
Fat:
15
g
Saturated Fat:
7
g
Cholesterol:
47
mg
Sodium:
851
mg
Potassium:
359
mg
Fiber:
2
g
Sugar:
13
g
Vitamin A:
415
IU
Vitamin C:
7.6
mg
Calcium:
115
mg
Iron:
1.4
mg
What to Serve with BBQ Chicken Pasta
If you're whipping this up on a busy weeknight, then keeping your side dishes easy is ideal too, right? Here are our favorites to serve with this pasta:
The BEST Side Salad (Make a lot the night before and eat on it for a couple of days!)
Frozen Garlic Toast
Love Easy Dinner Recipes? Me Too… and You'll Love This:
If you struggle with coming up with dinner ideas that your family will love, while making sure you don't spend a ton of time in the kitchen… then make sure to get your hands on the NEW Fabulously Fast Dinners Cookbook where I give you easy main dish recipes and pair each one with a side dish recipe!
Pin this image to remember: