Camping Birthday Party Ideas for Indoors: Grab a few tents, and celebrate the outdoors, indoors with a "camp-in," sleepover party and activities for kids!
I am THRILLED to share with you, one of my latest party themes…a Camping Birthday Party for indoors, inspired by Pottery Barn Kids!
It's one of my favorite party themes for a slumber party for boys or girls! But don't forget these slumber party ideas if you're nailing down the perfect one for your kiddo!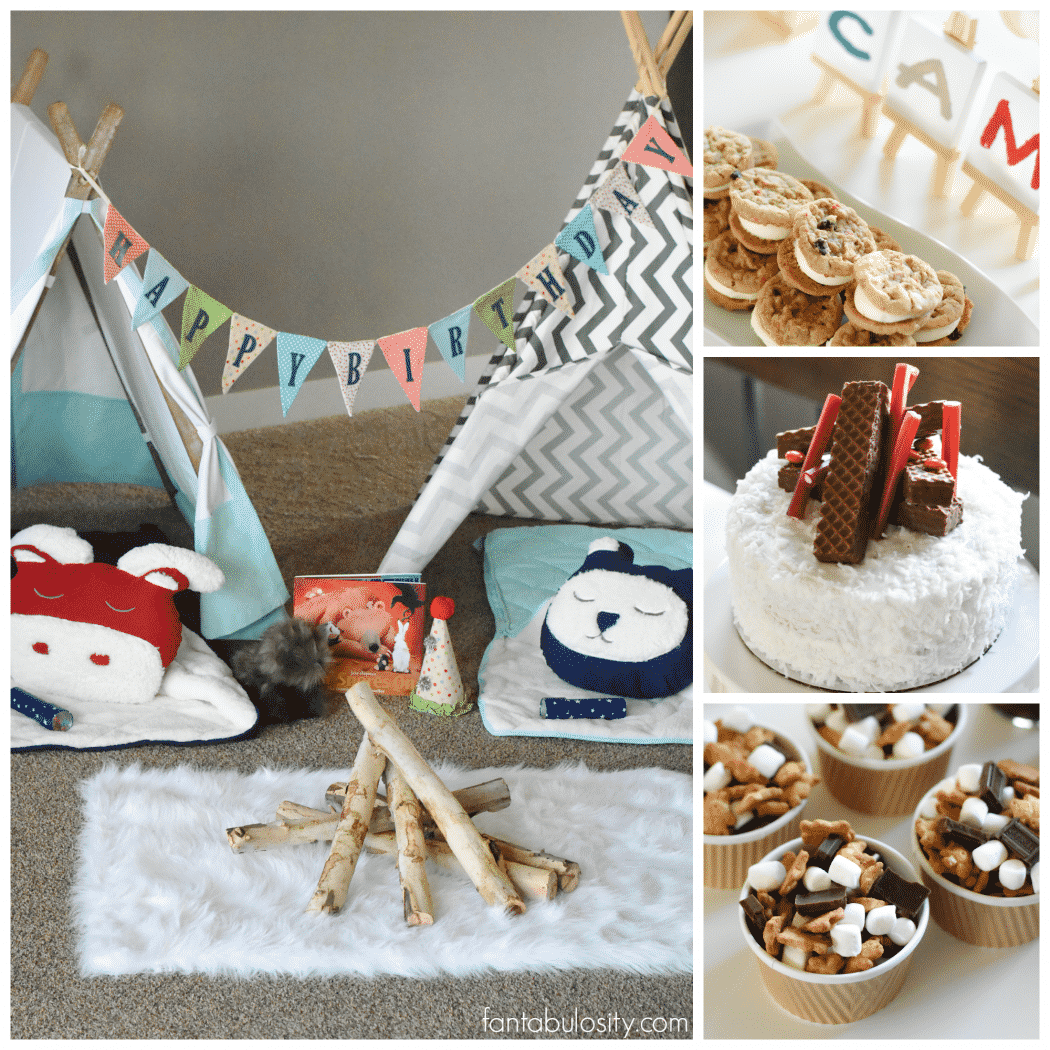 Camping Birthday Party Ideas
This camping party theme is ideal for any age boy or girl! You can really turn it into a sleepover, or you can just "pretend," it's a sleepover, with the younger little guys and gals. Can you imagine how excited the kiddos would be if they were able to wear their pj's to a birthday party!?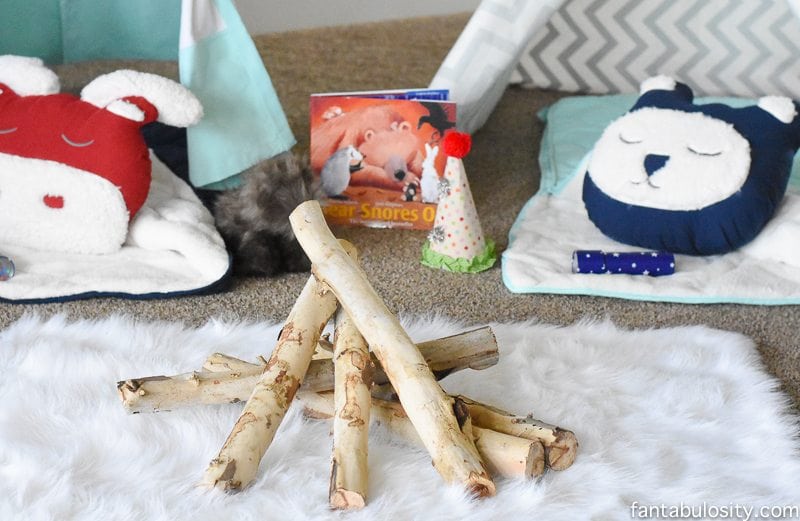 Shopping online the other day, I fell in LOVE with Pottery Barn Kids, tents and sleeping bags, and I knew a camp-in sleepover HAD to be my next styled party theme.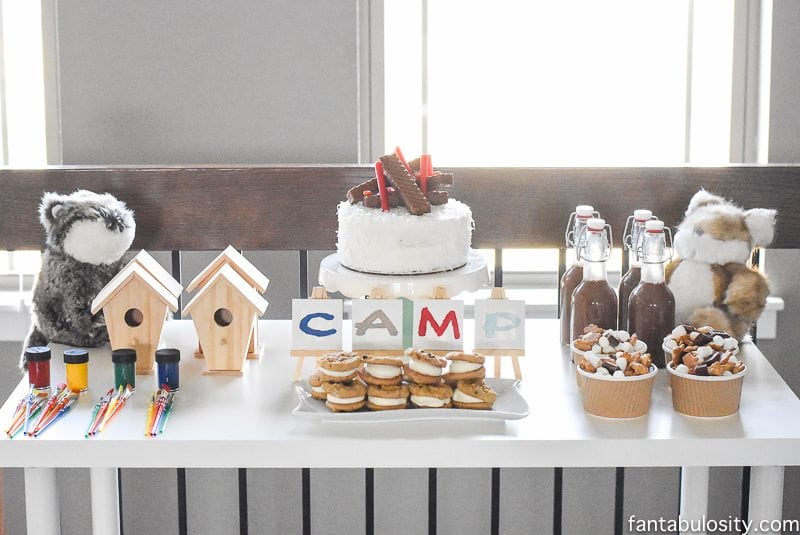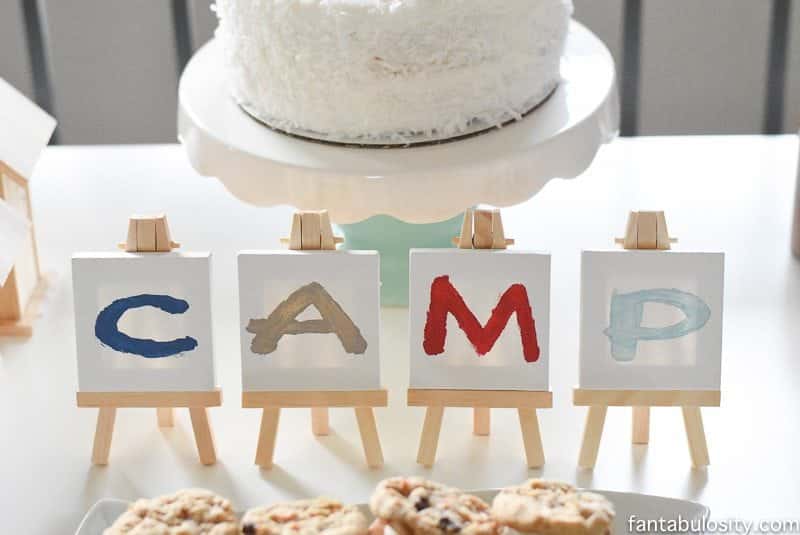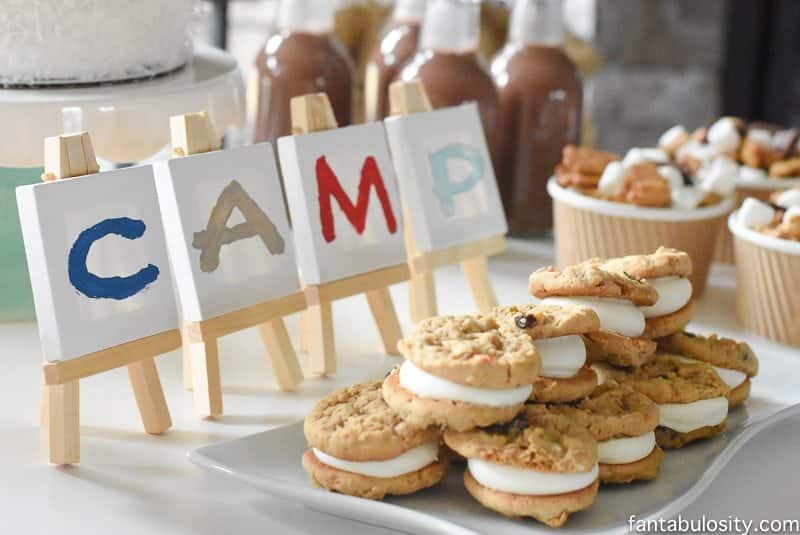 My creative juices started flowing, and I knew I wanted to create a "fire," as a cake topper, to carry on with the camping theme. Various candies and sweets made a yummy, perfect topper.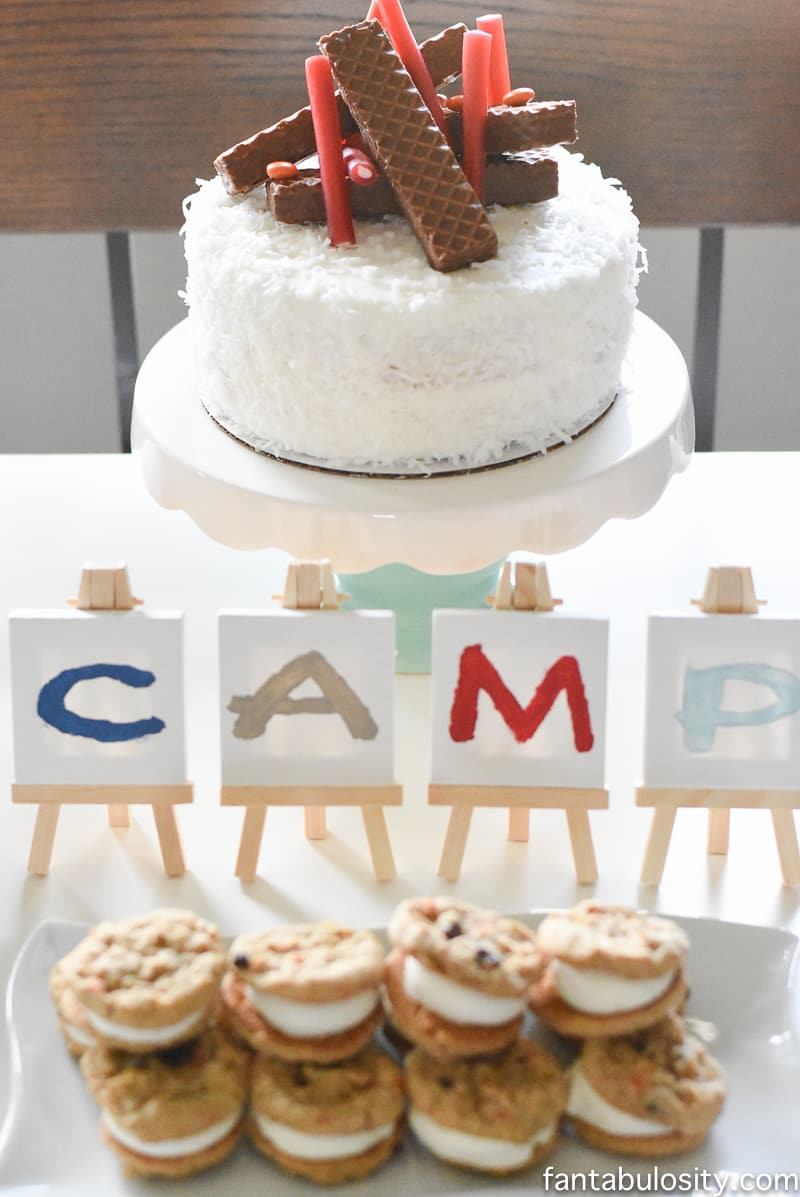 I found these mini easels and set them up to inspire the kids when it was time for them to paint!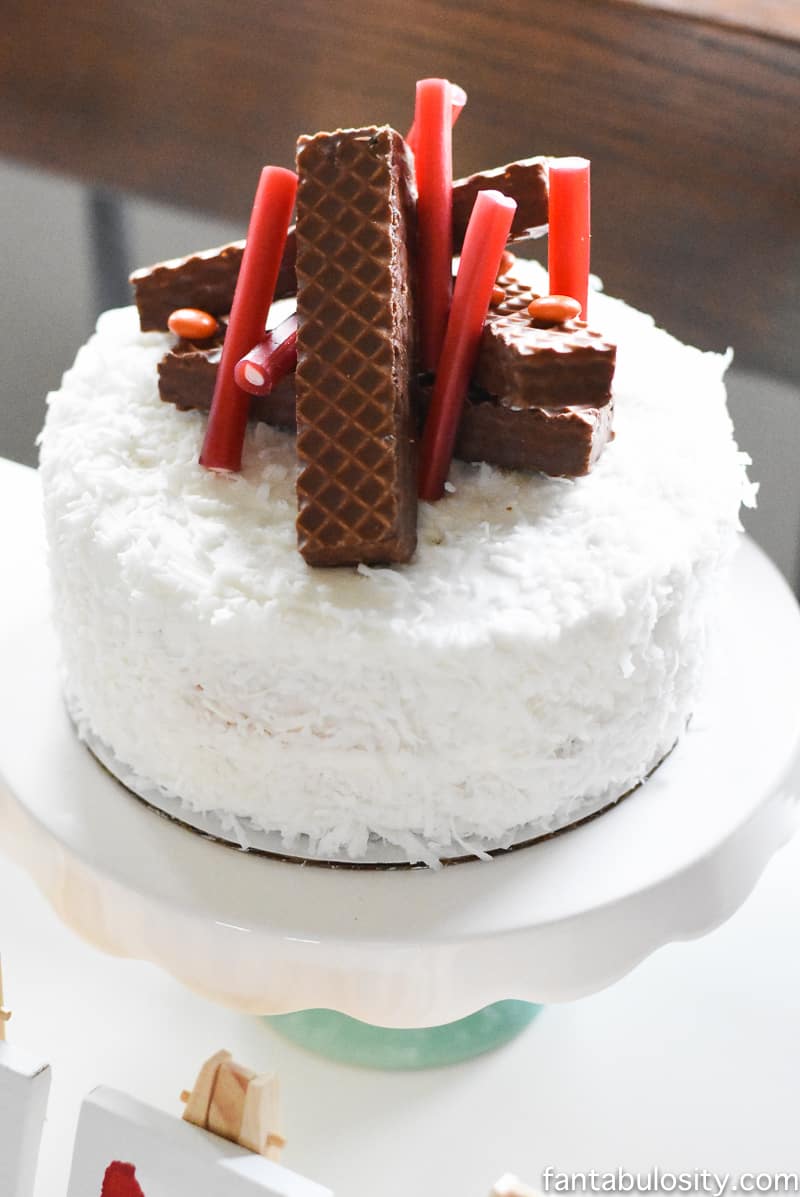 The kids loved (and maybe fought over?) the yummy logs and fire I built all by myself!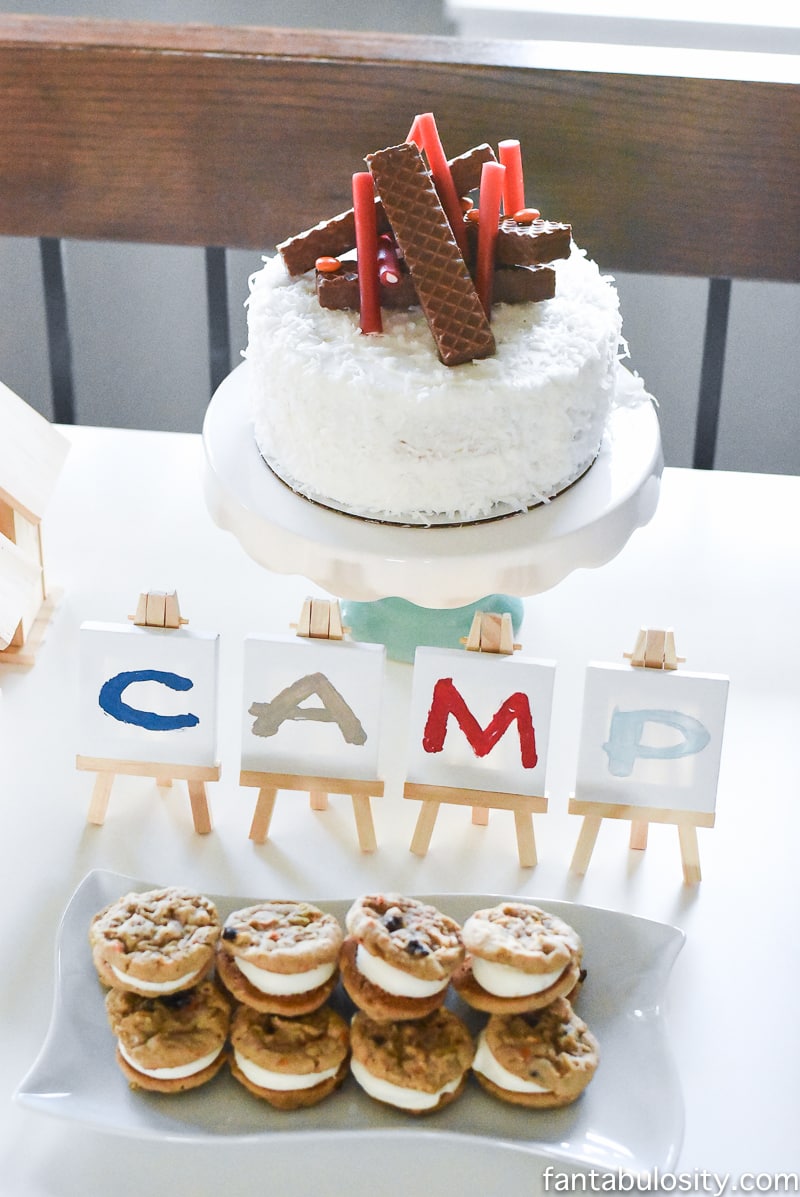 Carrot Cake Cookies, stuffed with vanilla icing perfectly complimented the sugar rush I was well on my way to creating. But hey, you have to have cookies at a camp-in, right?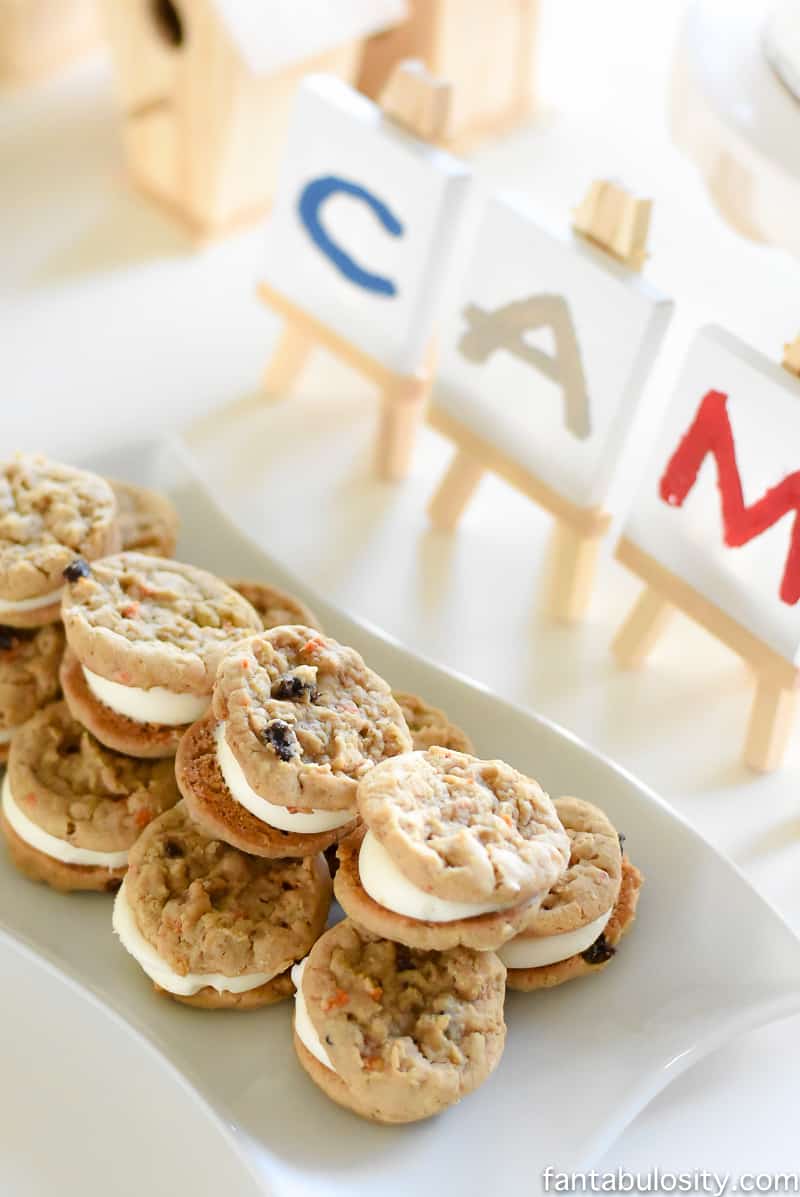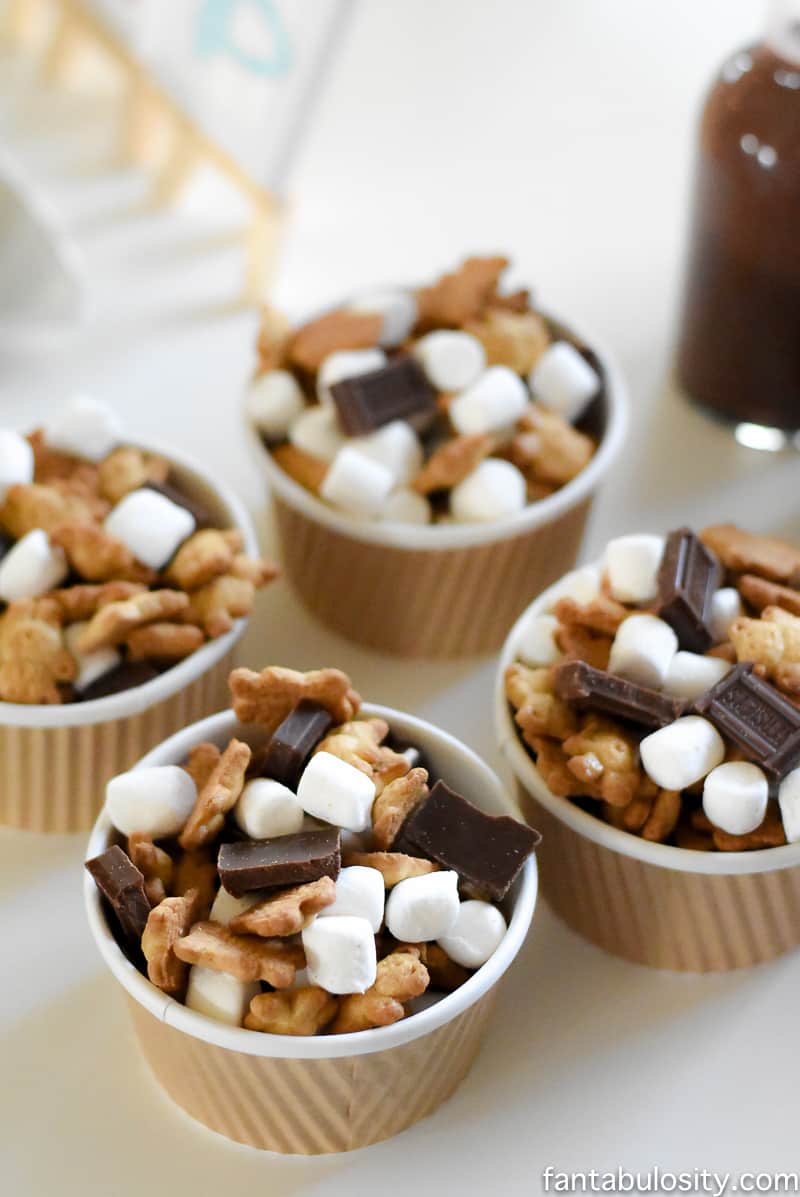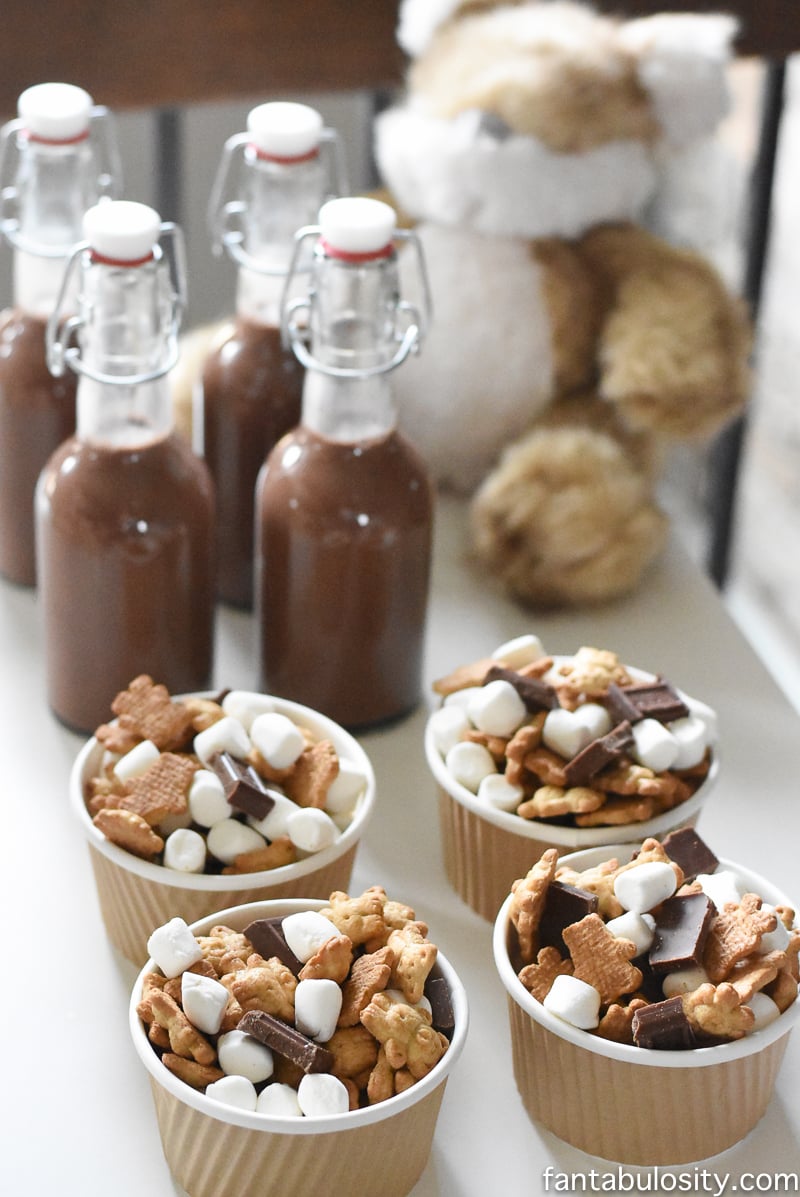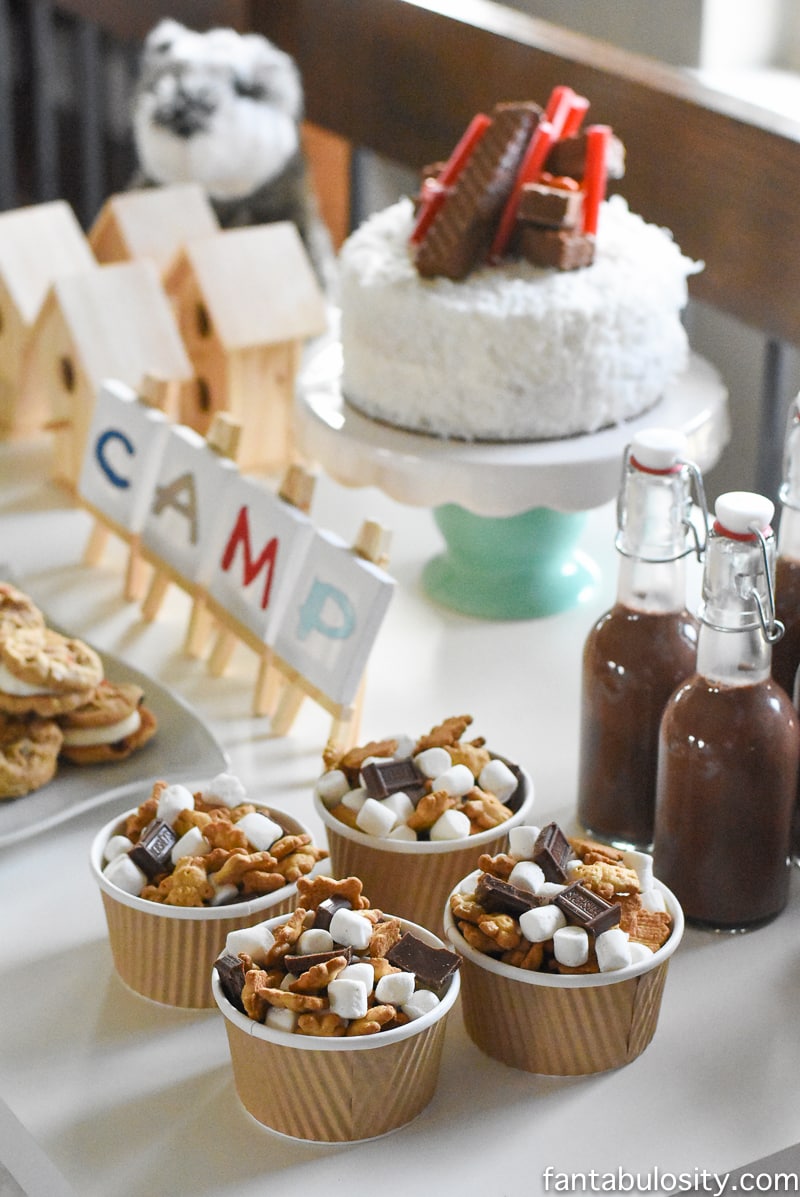 Right when the kids were coming down from the thrill of "TENTS! TENTS in the living room!" I brought out these trail mix s'mores cups with teddy grahams, chocolate and marshmallows.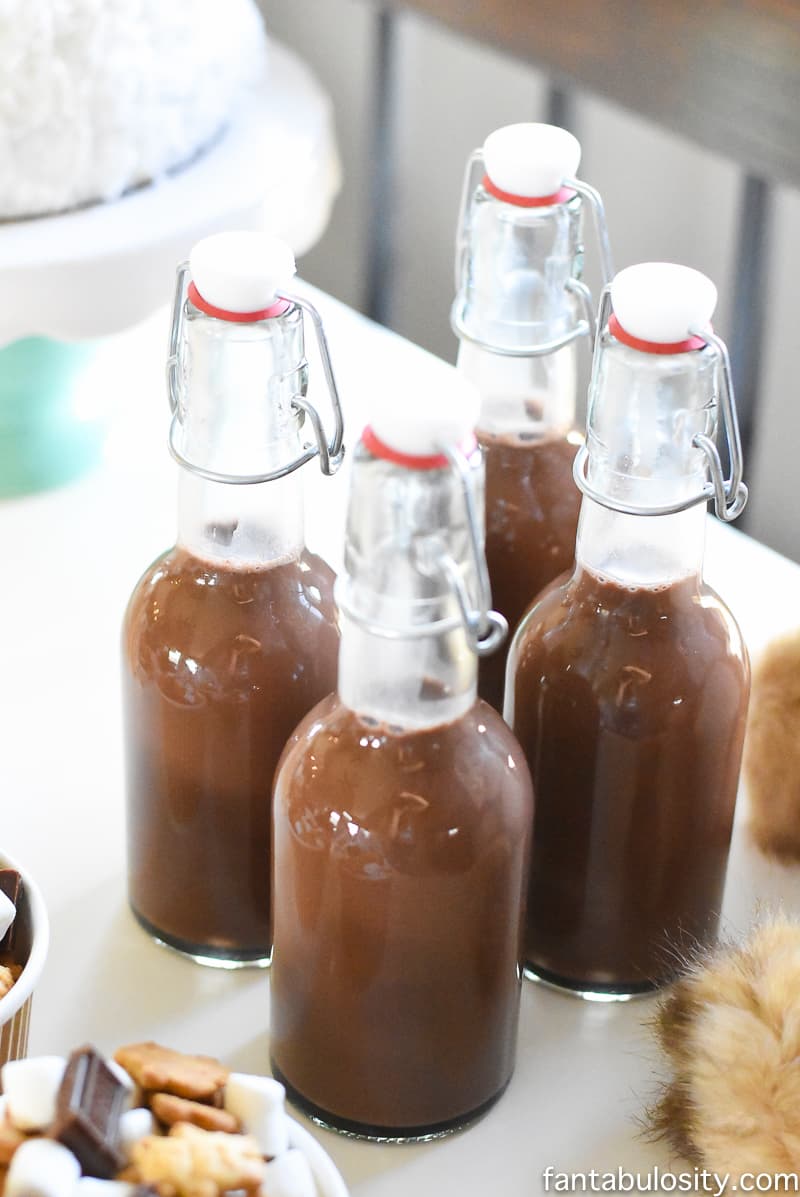 And see this deliciousness? The kids had a blast mixing chocolate milk, which I quickly zapped in the microwave and turned in to hot chocolate, perfect telling (and reading) stories around the campfire!
Camping Birthday Party Activity + Party Favors
Every party needs a little hands-on activity, right? But turning a hands-on activity in to a party favor, works even better! Allowing the guests to paint their own bird houses, and take home, is the perfect all-around party idea!
A room FULL of tents, can lead to a crazy amount of fun for the kids. Hours and hours of Hide and Seek, getting cozy in the sleeping bags, and cuddling up around the "fire," for story time, is something the kiddos love!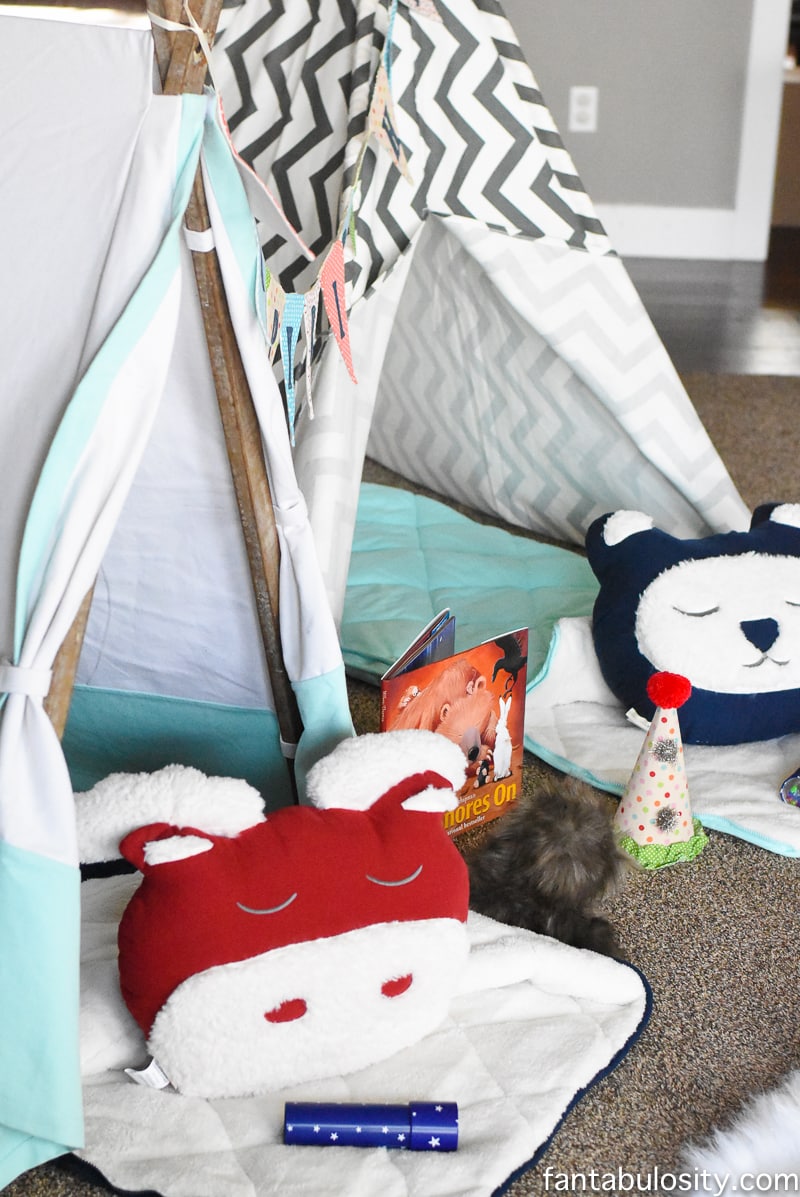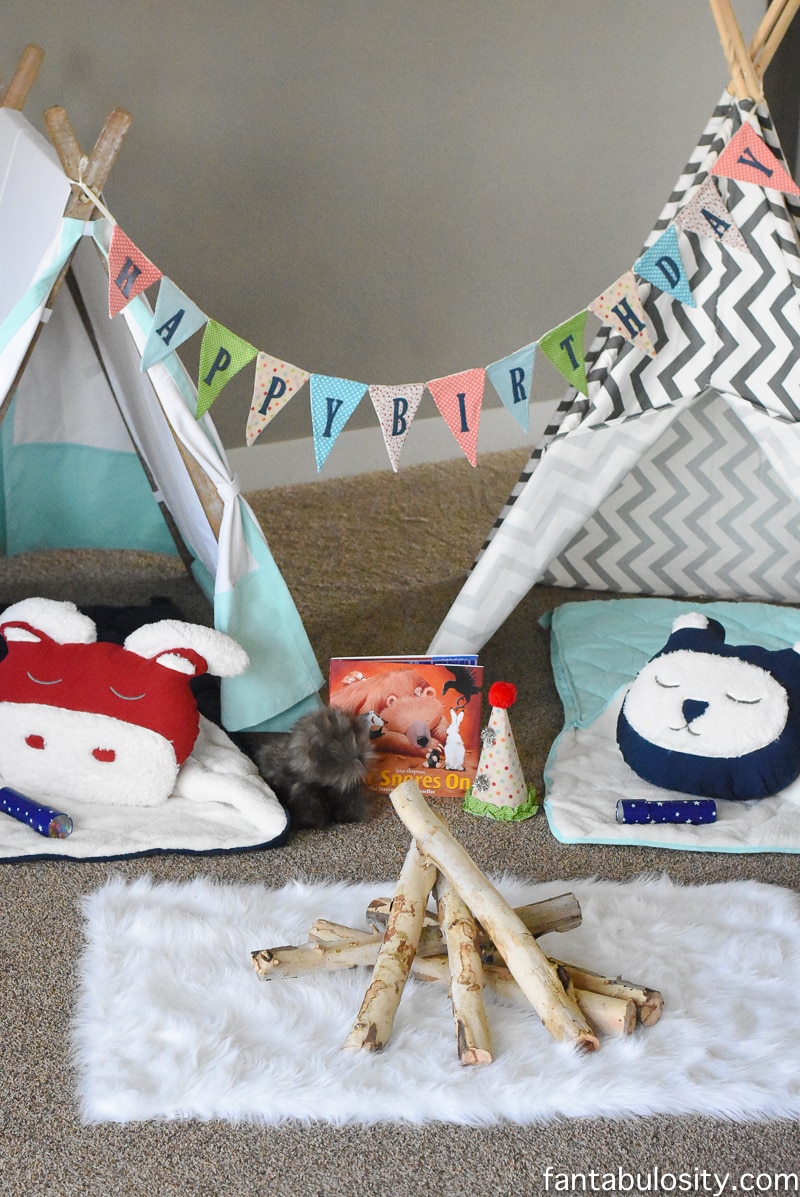 Shop Pottery Barn Kids Sleeping Bags HERE!
You can't forget the ADORABLE "Happy Birthday," banner from Pottery Barn Kids. Not only cute, it simply looped around the tent poles, and was ready for display!
We get SOOO many compliments on this fun tent from Pottery Barn Kids. The color, the window, the tent poles… they all go crazy over it! Talk about hour and hours of entertainment for the kids. (During the party, and stored in the playroom, after the party!)
While shopping at Pottery Barn Kids, for extra goodies, I found the cutest book, "Bear Snores on." The kids LOVE listening to a woodland story, while "camping."
Browse their books here!
The bear. I couldn't resist, THE BEAR. The kids went NUTS over how big he was, and loved wrestling him!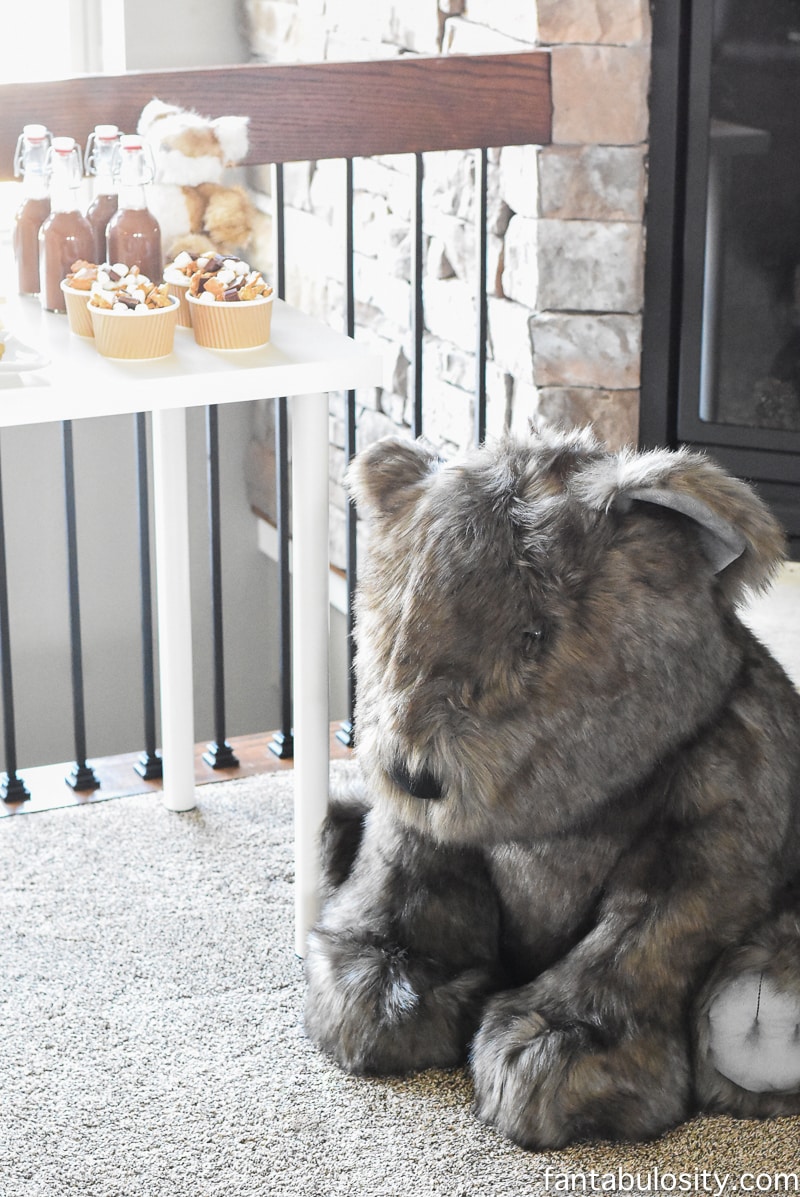 Who knew a camp-in sleepover, would make it so easy for the kiddos to get ready for bed?!
And these Pottery Barn Kids PJ's, made star gazing indoors a breeze and went perfectly with the theme…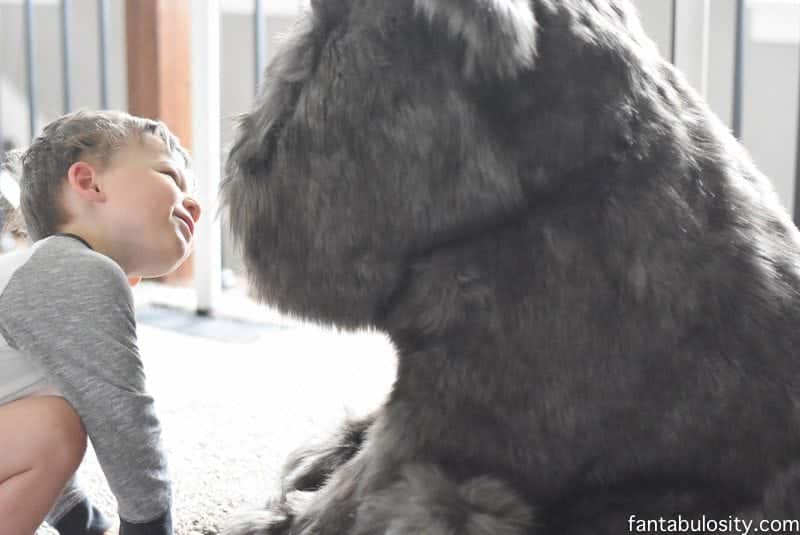 Party Styling: Fantabulosity
Party Photography: Fantabulosity