Capsule Wardrobe: An overview of how to create a capsule wardrobe this summer and for any time of the year!
As a mom shopping for clothes I've found that having STAPLE pieces can make such a huge difference! A capsule wardrobe can be a tool to simplify life as a busy mom and I can't wait to share with you how to have your own!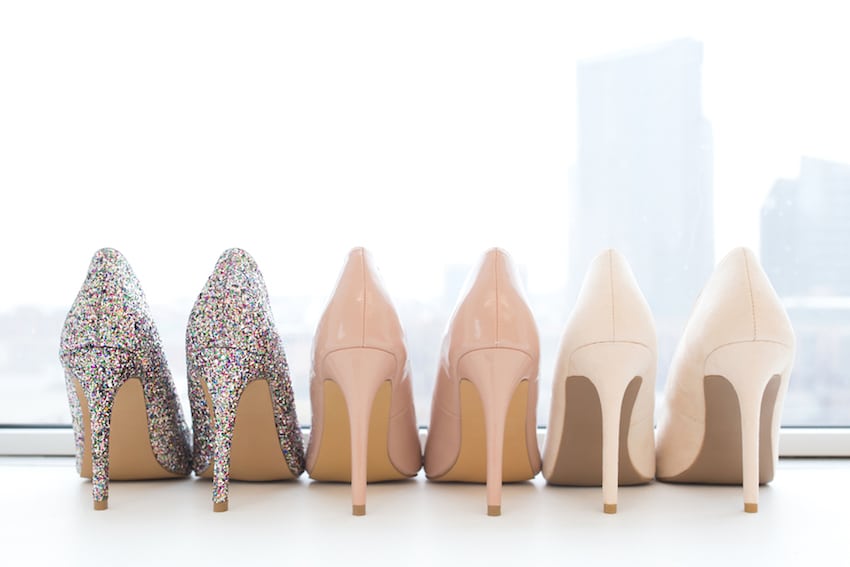 Since moving to Montana, I've shared a bit on my Instagram stories about how we left most of our belongings at home and only brought a few pieces of clothing with us.
I've also shared with you just how nice it is not having a TON of clothes to wash each week or even pick through when I need something to wear.
And this got me thinking… why can't it be like this all of the time? So when I asked those in the Fab Society group (our private Facebook group that you can join here!) so many were intrigued as well about how it works and what they need to do.
What is a Capsule Wardrobe?
Now, you're talking to a gal who just grabbed a few items from her home and brought it along to Montana. I didn't really have a rhyme or reason behind what I brought (besides bringing a lot of neutral colors that could pair well with one another) so I definitely wouldn't consider myself an expert in the field…
Which is why I reached out to Karla at "The Happy Mustard Seed" (who IS an expert in capsule wardrobes) and asked her to share her hot tips with us!
Today she's sharing with us what a capsule wardrobe is and how you can have one this summer! (Or really, any time of year because her tips are so versatile!) So grab a note sheet because she's delivering the goods!
How to Start a Capsule Wardrobe
What's in your capsule wardrobe this summer? I consider myself an expert at creating capsule wardrobes because of my past experience with extensive clothes hoarding. From my teenage years to my adult life, I found myself wanting to always have new clothes for summertime.
Have you ever looked into creating a summer capsule wardrobe? Or for any time of year for that matter? Do you know how to curate a wardrobe?
Today I want to share a few simple and easy tips on how to curate the perfect capsule wardrobe.
Summertime is full of fun, laughter, and memories. The one thing I do not want to do is search for something to wear.
I would rather spend that time searching for an amazing weekend getaway with amazing food or relaxing wine tours. And this is how I do it.
Why You'll Want a Capsule Wardrobe:
Having a summer capsule wardrobe allows me to save so much time, energy, and money to do other things. If you are planning on doing a little travel this summer, you will want to be sure to get a travel capsule wardrobe too.
I know it doesn't sound like a lot, but how many pieces of clothing do you really love and wear each week?
I found that 30-50 pieces work well for me. And according to the original creator, Susie Faux, who owned a boutique in London, and created the capsule wardrobe in the 1970s, you just need a few essential pieces for you to be able to wear that can be used with other pieces depending on the season.
What Should Be in a Capsule Wardrobe?
Regardless of how many pieces you choose, they must be pieces that you will love and wear. If they are not, they should not be a part of your wardrobe.
The basics listed here are everything you will need to know to start creating your actual wardrobe.
Base Color – You can select either navy or black. Once you decide what your base color will be, it will make it easier for you to choose your coordinating colors.
Neutral Color – You can choose white, tan, ivory, beige, and/or grey. (Jessica wears a LOT of neutral-colored tops – like white, cream white short sleeves, tanks, and long sleeves because they go with any color of bottoms and she'll occasionally add a pop of color to them with a cardigan or sweater! This makes it super convenient because she can easily piece multiple items together that are in her closet.)
Accent Colors – This can be any other color not mentioned. Choose up to three accent colors.
Patterns – This can be any pattern you want. Floral, stripe, polka dots, checkered. It really is up to you.
Shoes – You can select neutral shoes or shoes in an accent color. Choose up to three pairs.
Outerwear – Yes, we all need a jacket or sweater during certain seasons, so select one that is perfect for your location. You can even choose three: A cardigan, a peacoat, and a winter coat (I chose leather for mine to layer). All are great choices and cover each season.
Accessories – Five essential pieces are all you need. If you don't wear a lot of jewelry, you can use this section for fun pieces. I just chose more sunglasses, hats, scarves, and purses.
Now I want to give you the basics to build your own capsule wardrobe.
How Many Clothes Should be in a Capsule Wardrobe?
You will want to be sure to select something from each category, minus anything you know you will not wear. For me, I know I will not wear dresses or skirts, so they are excluded from my categories. So I just add more jeans.
10 Tops
6 bottoms
5 skirts/dresses
5 shoes
Wallet
Purse
(Note from Jessica: When it comes to bottoms… she usually only has two pairs of jeans that she loves and rotates them. One pair that can be dressed up for date night and one casual pair that she can wear out in the woods and that are "ok" to get dirty!)
Summer Wardrobe Checklist
Now let's work on building your summer minimalist wardrobe items including shoes and accessories. Grab these goodies and you will be set for every day whether it is just a quick run to grab a coffee or any day to day activities.
Summer shoes
Summer dresses
Tops and basic tees
Summer bags and accessories
You can also put together a themed travel wardrobe for your quick getaways and staycations during the summer.
Use what you already have:
Going out and buying a new wardrobe can be both time consuming and expensive. Part of the benefit of a capsule wardrobe is to avoid wasting money and time, so there's really no need to go out and buy a ton of clothing all at once.
If you use what you have, you can work your way through the items and learn what works for you and what doesn't. Then, with some adjustments, and time under your belt, you'll be able to choose items that you know you will love and wear. Those are the pieces that can be the more expensive pieces for your capsule wardrobe.
Choose 30 pieces Only
I know that there really is no guideline for the number of pieces you should choose. But I think giving yourself a hard and fast number can be beneficial – you can start with 30, and if you need more or less, you can always adjust.
What will your capsule wardrobe look like this summer? I'd love to hear in the comments below if you're going to try this or if you do this!
Pin the image below to save it for when you need it:
More resources you'll love:
You will also love this article from my friend Tina, how how to clean out your closet! That way, you can be prepared to style your capsule wardrobe with a fresh start!