"Celebrations Binder" with Cultivate What Matters – If you've been craving a simple system and a place to keep it all together, THIS is the answer, in one beautiful product!
Celebrations Binder
We all know how I feel about parties, and entertaining, right? And you KNOW how I feel about making time for what matters too…
I introduce (or reintroduce, if you've already been lucky enough to hear about it) the Celebrations Binder.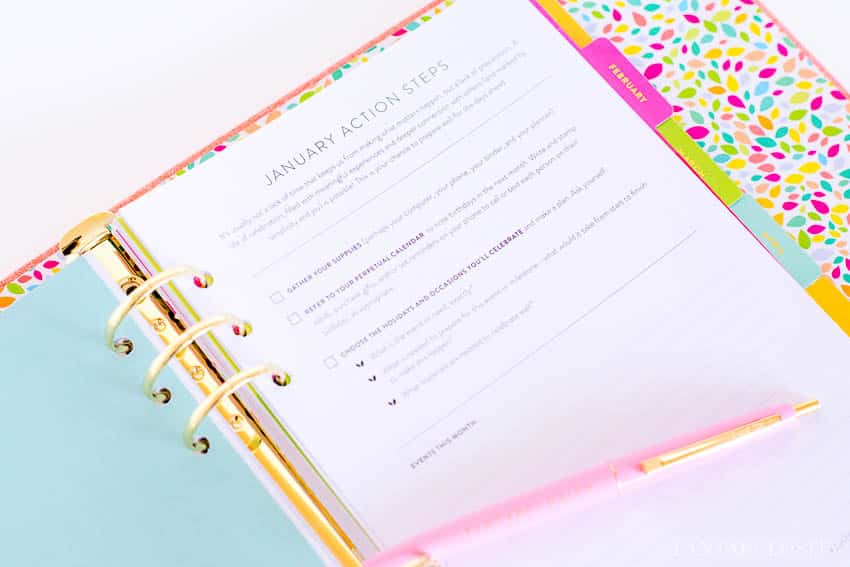 After chatting and working with the Cultivate What Matters team a few weeks back in the Ask a Cultivator series, where I shared how I prioritize celebrating those I love each and every day—in big and small ways, they were so incredibly kind to send me my very own Celebrations Binder, and I couldn't WAIT to share it with you. I fell in love when I got this in my hands, and I know you will too.
Plus, I know just how much you love tackling things in style, staying on top of things and prioritizing what matters most in everyday life, so I thought you may want to get this precious little thing on your Christmas list or just as a treat to yourself to help conquer the new year.
What's Inside the Celebrations Binder?
When I opened it up on my Instagram stories the other day, I SWOONED over all of the details and pretty colors, and gave you a sneak peek at the inside.
But for those of you who missed that, or that just want to know more about this beautiful thing…
Inside, you'll find:
prep work, where you'll determine your celebration priorities and make a plan for the year

a perpetual calendar to track important birthdays, anniversaries, and milestones

monthly checklists and planning pages

tips for celebrating well
The NEW Celebrations Binder will help you prepare for what matters, in any season of life. A great companion product to your PowerSheets Goal Planner, the Celebrations Binder will help you define the memories, traditions, and experiences that matter to you and prepare for them with ease.
Wall Calendar
I am a sucker for a good wall calendar too (there's just something about putting a pen to paper) and I HAD to show you the adorable calendar they also sent to me!
It's super encouraging and just makes you smile when you take a peek at it in your home office!
Goals, Traditions + Memories
What goals, traditions, and memories are you hoping to make this year? I'd LOVE to hear them below. Sometimes saying them "out loud" helps us accomplish whatever we put our mind to!
Creating Your Happy – FREE Facebook Group
If you enjoy goal setting, being intentional and making time for what matters, we encourage women just like you in our Fab Society Facebook group, and we'd love to have you!