This shop has been compensated by Collective Bias, Inc. and its advertiser. All opinions are mine alone. #BigLotsHoliday #CollectiveBias
Christmas Decorating for Small Spaces: Christmas at the Airbnb. Guests are coming for the holiday's, and here's a simple and easy way to add a little Christmas cheer & decorating for a small space.
Happy Holiday's from all of us here in Fantabulosity world! I couldn't be more excited to show you how we decorated for Christmas, at the Airbnb that I just revealed to you the other day!
Christmas Decorating for Small Spaces
Every year, we host a Santa Party, where we invite all of our friends and their kiddos to come over to our home, to sit on Santa's lap, and visit for a bit, during the rush of the holiday season. (I don't know about you, but in our hometown, to sit on Santa's lap, it takes a good couple of hours of standing in line to sit on the jolly ole guys lap. I'd much rather visit with friends for a couple of hours, than stand in a long line.)
This year, we have guests coming from all over to attend the Santa party, and help celebrate the holiday season with us, so we decided to give the Airbnb some holiday cheer, to make their stay a little more comfortable.
Since recently finishing the remodel of the Airbnb, that meant we needed all new Christmas decor for the small space, and a shopping we went! (I can't wait to show you were we went to snag ALL of it.) But something I quickly learned, was that decorating for a small space, was a bit different than shopping for our current home. So I want to pass along a few tips for decorating in a small space, while I show you what all we picked up at one of my favorite stores!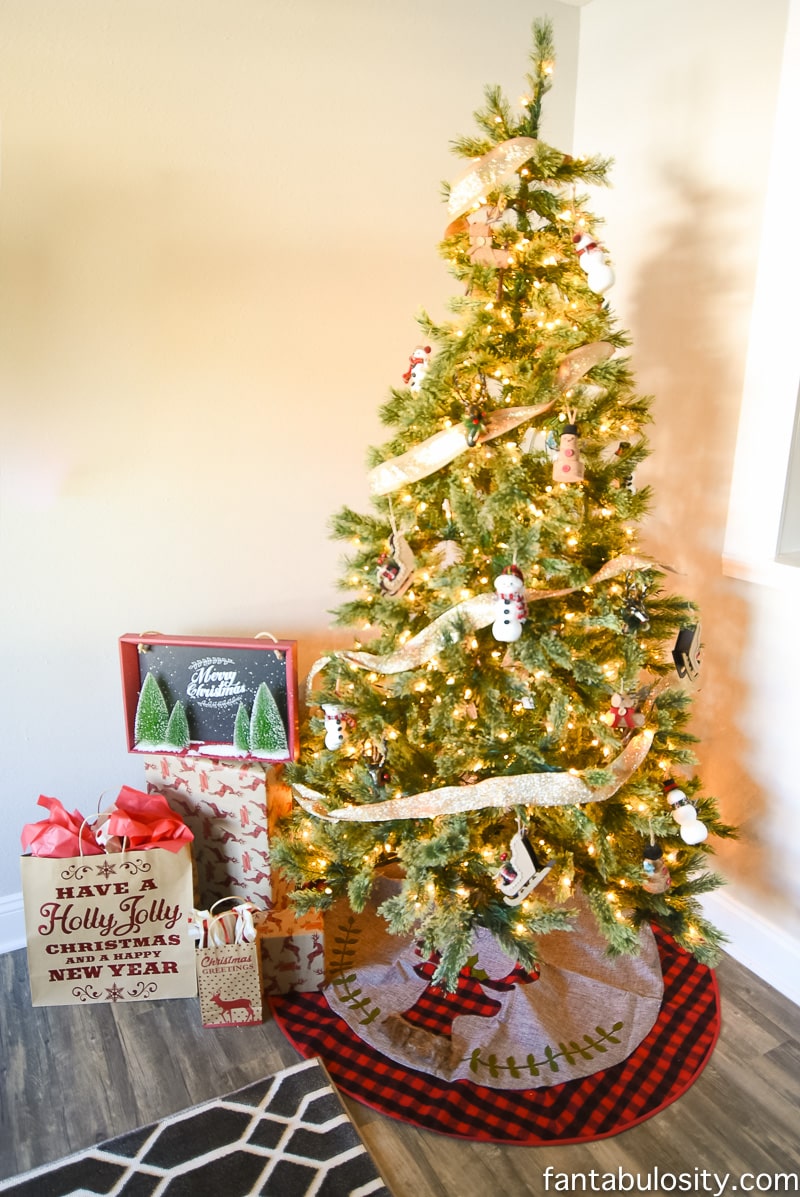 Tip for Decorating in a Small Space:
Don't feel like you have to decorate EVERYWHERE.

Finding a small corner of the room, apartment, condo, or space, is really all you need! You'd be amazed how much holiday cheer a decked out corner of the home can bring to the entire space.

Skinny tree.

A skinny tree was my secret for this space. The last thing you need is a big ole tree hogging up more room than it needs to. This is quite possibly my favorite item to show you… Along with everything else, we found the PERFECT tree at Big Lots. Yes!! Big Lots. If you remember Part 15 of our Home Tour: The Living Area, I fell in love with Big Lots and all of the home furnishings that they have, and how affordable it really was. We hit the jackpot this year when we found the Winter Wonder Lane 7′ Whistler Pre-Lit Cashmere Artificial Christmas Tree. I can't explain how beautiful and cozy this tree looks, with the cashmere touch:
Not-so-real presents.

If you have little kiddos at home, it gets a little risky putting real-wrapped presents under the tree ahead of time. My kiddos always seem to rip them open when I'm not looking. So for a while, I wouldn't put any gifts under the tree, and I really, really missed the homey look of presents.
So at home, I'll let them help me wrap a few "empty" boxes, to put them under the tree. This way they know there's nothing in the boxes, and they're just for decorating. For the airbnb, I wanted to have "presents," under the tree as well, so we wrapped a few extra empty boxes, and it suddenly gave the corner a "homier," feel. Big Lots has the most adorable Christmas wrapping paper, tissue paper, and gift bags this year. I'm such a sucker for the holiday plaid and reds.
Layer the decor.

Using a vertical approach, to maximize the decor in a small space, decorate "up." You'll see how we stacked the presents, and even added the cutest little sign to the top of the stack. I couldn't resist the little "Merry Christmas," chalkboard. If you've seen the chalkboard that I decorate for each holiday in my home, then you totally understand. But with this small space, I don't have the room to hang a large chalkboard. This was the perfect way to incorporate the look that I was going for, all while keeping it in the same corner of the room.
Load up the tree.

Ribbons, ornaments, tree skirt, tinsel, lights, and whatever tickles your fancy! Decorating the tree with all of your favorites, doesn't require a ton of space at all! So if you're more of a minimalist when it comes to Christmas decorating, or one who loves to go wild, decorating the tree won't take up much space at all! Along with everything else, Big Lots surprised me with the cutest ornaments. Plaid snowmen, sleighs, reindeer, and so much more.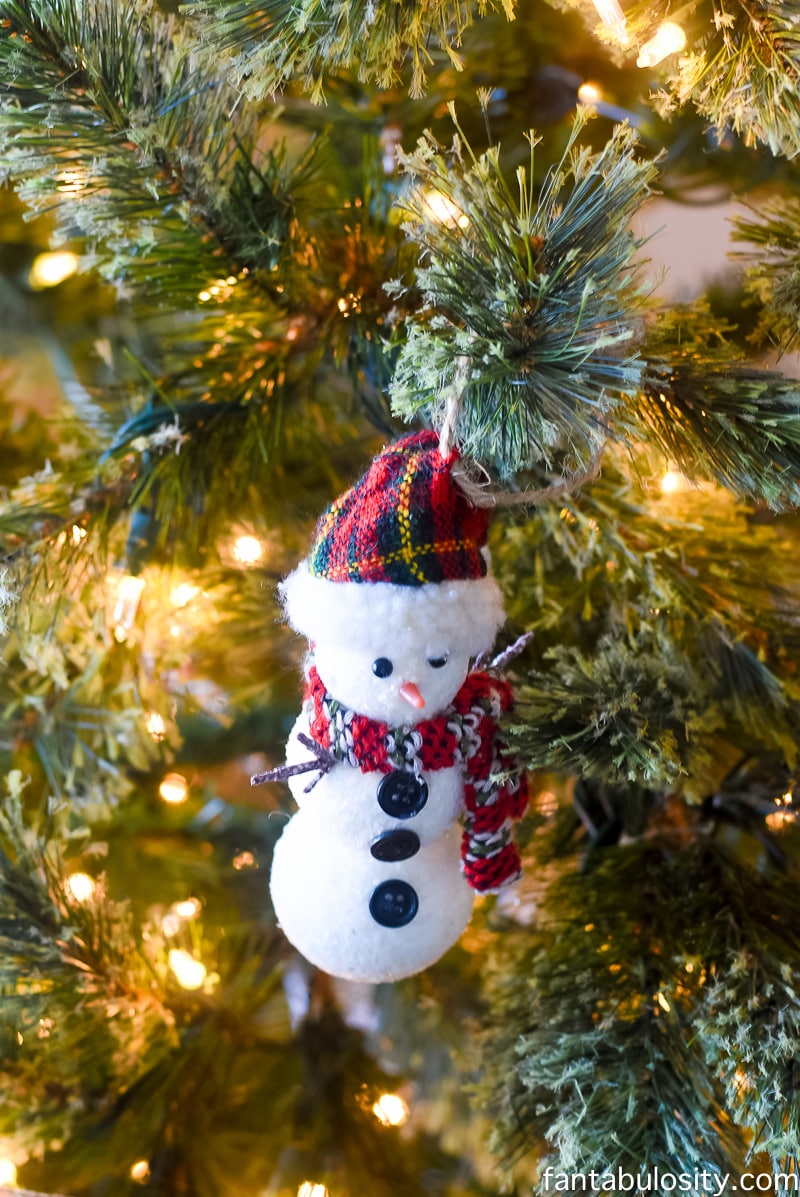 For the love of all things plaid. If only I would have had this tree skirt last year during my Favorite Things Party. I kind of yanked this off of the Big Lots shelf the moment I found it. The faux fur, the red and black buffalo plaid… oh my goodness. Absolutely stinking adorable.
Remember how I mentioned layering the decorating, and going vertical? I could have easily placed this small plaid Christmas tree along side the presents, but I had a small coffee table staring at me that looked incredibly lonely. So placing the small tree on the center of the table, on a dish that was already there, helped decorate "up," and add a little holiday decor to the center of the room.
There you have it! The airbnb is all decked out and ready for Christmas guests! If you have a small space to decorate this season, try starting in one corner. You may be surprised that it's all you need!
A "Big" Big Lots Thank You
Also a big thank you to Big Lots for helping us decorate our airbnb for holiday guests. As you can see, my cart was filled with a lot of love when I went in the other day! Their employees were so fun. We chit chatted about decorating for Christmas early, and how fun it was to start decorating a small space from scratch.