Cozy Neutrals & A Bootie Must-Have: Fall fashion staples that you'll want in your closet this season, and all Winter long!
Cozy Neutrals & a Bootie Must-Have
Hey fashion friends! I've missed you all so much, and know that you've been asking for more fashion related posts. Ever since my June Stitch Fix review, and deciding to cancel it, I told you that I promised to fill in the "fashion gap," with the outfits and accessories that I find when shopping at my favorite stores.
THEN, I had an idea that would help move things along a little faster, and decided to reach out to a fab friend of mine, Megan, with Roussin Photography, to see if she'd snag some photos of my outfits, so I could reduce the amount of weird-angle selfie shots… that no one likes to see this uncoordinated gal attempt.
I'm absolutely tickled to feature my first Fall-weathered-outfit, and fill you in on where I found all of the good things! Make sure to click on the links directly below the images, and it will take you RIGHT to the place where you can add them to your shopping cart too!
Similar Oatmeal Cardigan // Similar White Sleeveless Blouse) // Skinny Jeans (Buy similar Skinny Jeans // Buy Similar Brown Booties // Similar necklace)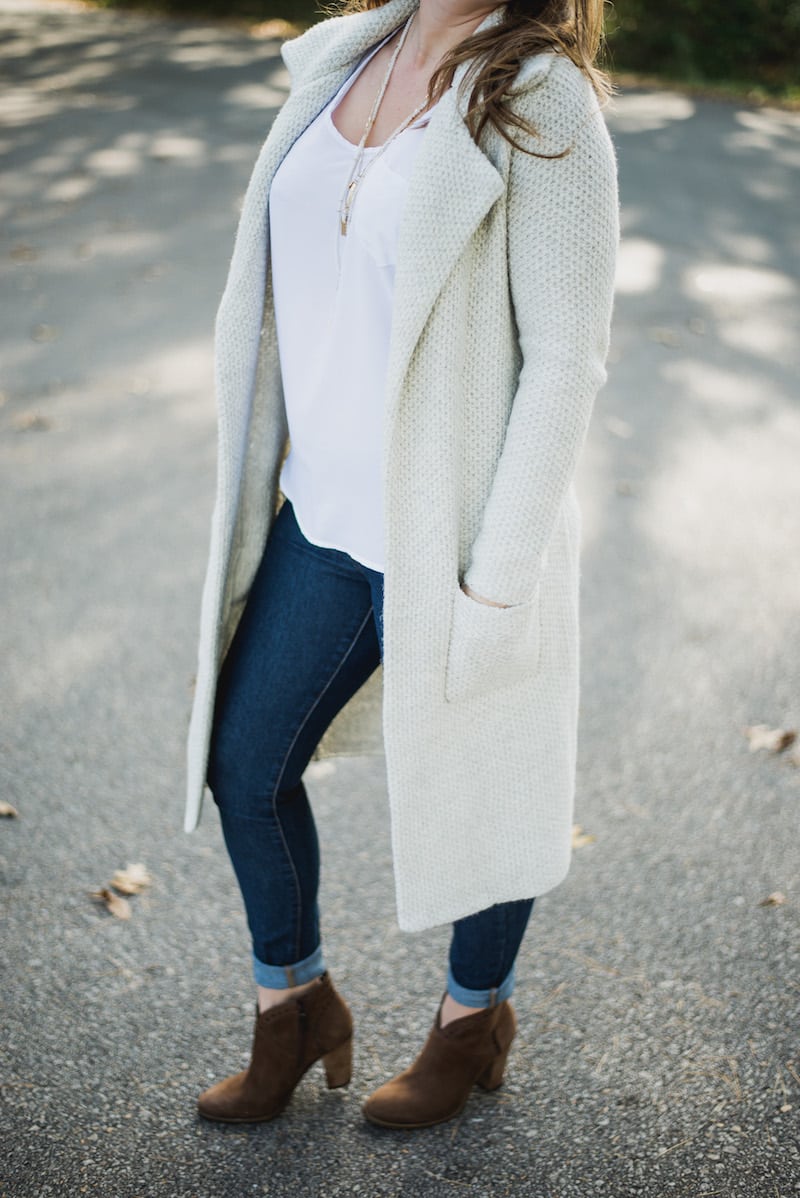 Outfit Recap:
As I'm sure you saw above, I snagged the oatmeal cardigan from Target. When I look online, I can't find it anymore, but they do have similar cardigans similar cardigans here!
The jeans. You all, I've sworn by LOFT jeans for a few years now. To be honest, when I started buying them about 3 years ago, I bought a few pairs right away and I haven't purchased new ones since. Why? Because they have been lasting me forever, and I STILL love them.
So although their jeans can be pricier than say, Target's… I feel like these last so much longer and hold their shape so much better.
Oh and the booties. Quite possibly my favorite pair of boots to wear with just about anything.
If you saw my unboxing video the other day from my Nordstrom boot and shoe haul, then you're not surprised that I wear these just about every stinking day too. They're no longer available, but there's good news:
Nordstrom has similar booties similar booties!
Don't forget to check out my CURRENT favorite fashion for moms and shop what I'm wearing at the moment. Shop Fantabulosity Outfits!