This shop has been compensated by Collective Bias, Inc. and its advertiser. All opinions are mine alone. #FreschettaFresh #CollectiveBias
Cozy Tablescape + Girls : Getting the girls together for a day of shopping, while ending it by having them back at your house for pizza and a movie can be the ULTIMATE girl time that you're looking for!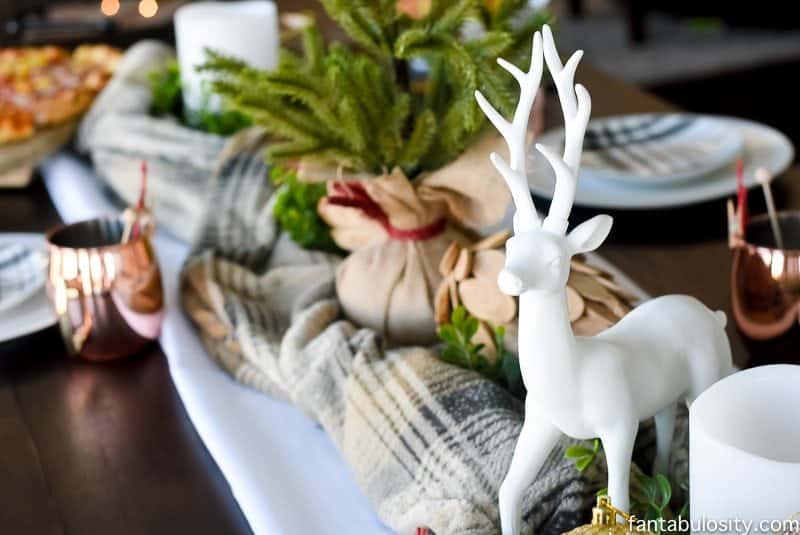 Cozy Tablescape + Girls Night In
One of my favorite party styling techniques is using items that I have on hand, to create a tablescape that fits whatever theme I'm going for. What kind of every day items? I've used everything from fruit, fabric, cake stands, baskets, pitchers, and scarves!
So for a small get together with some friends the other night, I wanted to keep tradition alive, and use what I had on hand to create a cozy tablescape.
Items You Can Use
• White tablecloth (turned table runner)
• Plaid throw
• Ornaments
• Other Christmas decor
You don't always have to go out and buy all new items to create a tablescape for a dinner party. Look around your house with an opened mind, and you may be surprised at what you can come up with!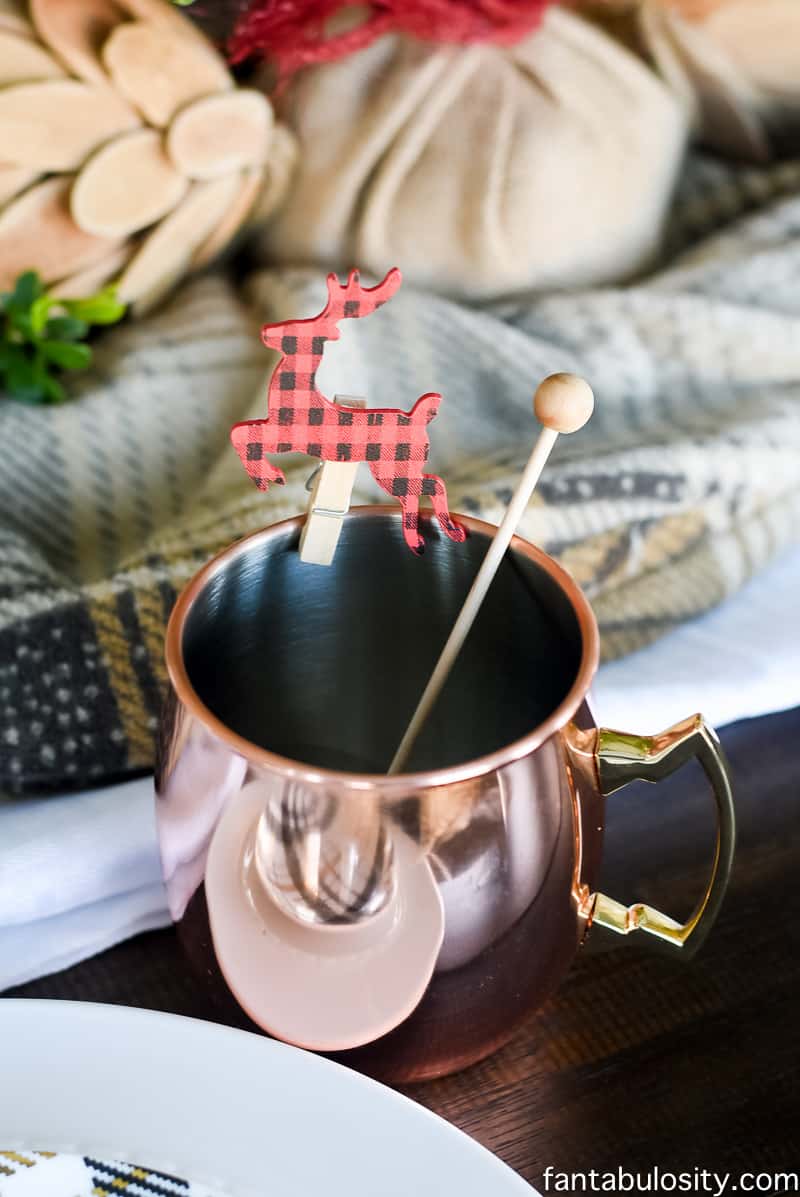 Dinner for Girls Night In
After a full day of Christmas shopping, I wanted a quick and easy way to fill up their bellies, before sending them out the door and back to their homes. Keeping it simple, I baked two of my favorite pizzas, the Freschetta Naturally Rising Canadian Bacon and Pineapple, and paired them with a Garlic + Pesto Pull-Apart bread, and a side salad that never disappoints.
Why I like this Brand
Freschetta pizza with the naturally rising crust has this "freshness," that you can taste, which makes it feel more like a homemade pizza, rather than one you pick up in the frozen section at Walmart!
Freschetta ingredients set this pizza apart from other frozen pizza brands. It's made up of 3 grains that are kneaded and rolled for dough that rises naturally…Sauce that is made with 4 vine-ripened tomatoes, and topped with 100% real provolone and mozzarella cheeses. It's a pizza that doesn't taste like a cardboard box, like I feel some other do.
Garlic + Pesto Pull-Apart Bread
Recipe:
Using an artisan loaf, slice the bread horizontally and vertically into 1-inch cubes.
Using 1/4 butter (melted) first, drizzle the butter over the entire loaf. Then, using shredded cheeses (I used an Italian blend), prepared pesto (I used store-bought), begin filling the spaces in the bread that were cut. Sprinkle the entire loaf with garlic powder, according to taste preference. Make sure each space is filled, so when serving, each piece is coated with delicious toppings!
Bake
Bake the Garlic + Pesto Pull-Apart Bread in the oven on 375 degrees for 10 minutes, or until the toppings are melted and bread is heated through.
Serve additional pesto alongside the bread for additional dipping if desired.
The BEST Salad Recipe
With any pizza, I can't help but pair it alongside a good salad! But there are KEY factors when it comes to making the best salad! Let me walk you through the "secret" steps in to creating this simple side dish that's PERFECT for pizza.
Steps for making it the BEST
First, using leaf or romaine (romaine if you can, for a sweeter taste), pull all of the individual leaves off.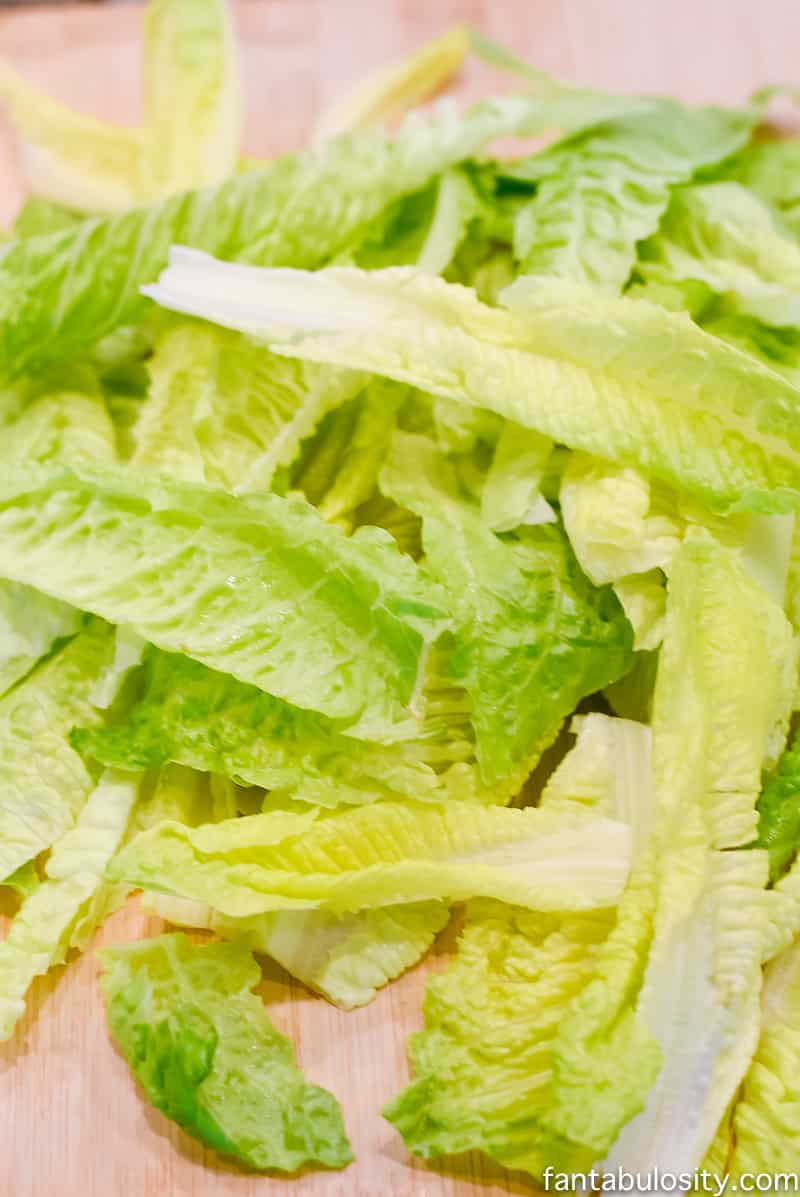 Using a knife, cut off the "leafy" green part of each lettuce leaf. The goal here is to discard the white, stalk portion of the lettuce that can tend to leave a salad tasteless and bitter.
Then, once all of the lettuce leaves are cut from the stalks… chop the lettuce in to bite size pieces. (Resembling lettuce that you'd see in a chopped salad.)
Salad Toppings
Then this is where the fun part comes in! When I was at Walmart picking up the Freschetta Naturally Rising Canadian Bacon and Pineapple pizza, I grabbed topping ingredients for our salad. You can experiment and alternate ingredients from time to time. Toppings like: boiled egg, bacon, tomatoes, shredded cheese, sunflower seeds, carrots, celery, and whatever you little heart desires.
HOWEVER, another KEY step to making the best salad is to sprinkle it with garlic powder and basil. The two seasonings combined on a salad can change your salad world! Top it with your favorite dressing and your dinner party is complete!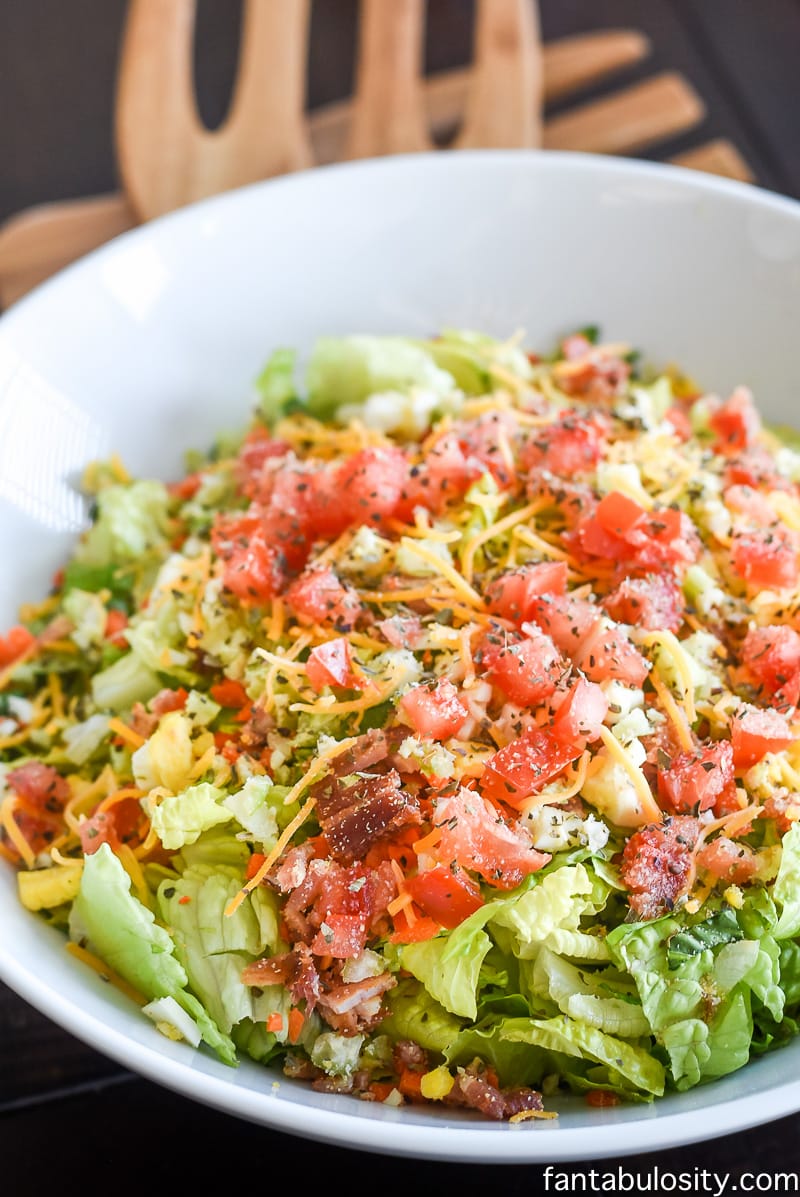 Easy Dinner Party Success
The dinner was a hit, delicious, and JUST what we needed after a busy day. With Christmas movies on while we wrapped up our day, we chowed down on all of the delicious food and ended the day with a bang.
So remember, creating a tablescape and making a dinner for friends doesn't have to be hard, or consist of a lot of work. Keep it simple, and use things that you have on hand. Entertaining just got a whole lot easier, and you can be a non-stressed host.