Cute Baby Nursery Ideas: This little girl bedroom is adorable with pinks and yellows, with gorgeous gray walls! Fun decor ideas make this a special room for the baby!
My gosh, where do I even start with this baby girl nursery?! Ok… I'll start here:
My dear friend "Roseanna," from Picture Perfect by Roseanna, is one of the most amazing women I know. She's not only one of the sweetest, and most caring people in my life, but what a TALENTED individual! Her photography is exquisite, (check out her website to see just what I mean) and she manages to run her super successful photography business, all while being a fantabulous wife and mother to two little girls.
When she posted photos of the nursery that she designed for her newest little addition on Facebook, I immediately contacted her and asked if I could "show it off," on Fantabulosity. She graciously said "yes," and sent me the photos of this SUPER cute baby girl nursery, and info to share with you all! Thanks Roseanna!
So here we go: (Head's up… this baby girl nursery is unbelievable!)
Cute Baby Nursery Ideas
Everything on the wall (besides the little dress) came from Hobby Lobby. Roseanna painted the bike yellow, and the cardboard "G."
Here's where super money saving strategies come in: The Dresser/Changing Table came from Pottery Barn, and was given to her by her sister, but it was black and she repainted it, using a Coral Martha Stewart paint.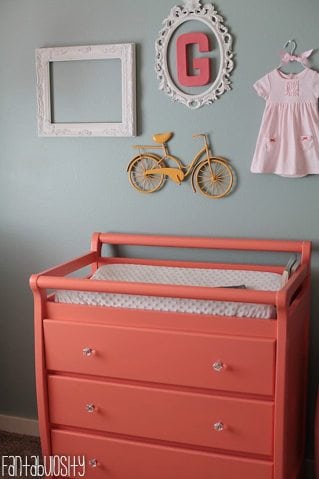 Her curtain's were purchased from Urban Outfitters, and I think it's safe to say they were MADE for this nursery. Sheesh they're gordge!
Roseanna definitely has an eye for this type of thing. If I were in a store, and saw this bird cage, I'd probably think to myself, "That's so neat," and keep walking… NEVER thinking how perfect it would look in a room like this! I just adore this piece for this nursery! She purchased this at "Real Deals."
She has chosen to incorporate nursery chairs, in such a creative way! Why not take an old chair, paint it the color you want… and viola! You have a gorgeous way to add color to the nursery, and a place to sit down while getting some snuggle time with the little one.
Roseanna picked this chair up at a craft bazaar!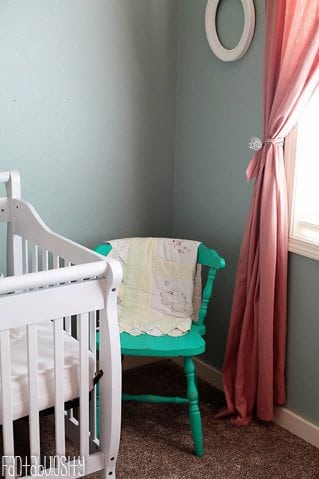 There is something about sentiment when you're creating a nursery for your own children. Roseanna's mother rocked her in this chair when she was just a wee little one. She re-stained it, and gave it a fresh look for her little one's room. Sweet sweet!
The crib was also from Pottery Barn, and also given to her by her sister. It was once black, but she painted it white. The throw came from Urban Outfitters!
What an awesome idea for nursery wall art! She purchased the map from Urban Outfitters too! Simple, but what a HUGE statement! I ADORE how the colors mesh so well with everything else, but that little baby will be studying that map every day, and will probably know every continent before she's one. 🙂
Oh my goodness, a nursery chandelier!!! Oh how I LOVE this chandelier. She purchased this adorable light fixture from IKEA. I will be adding this to my store list so I can put it in my office. Absolutely precious for nursery lighting!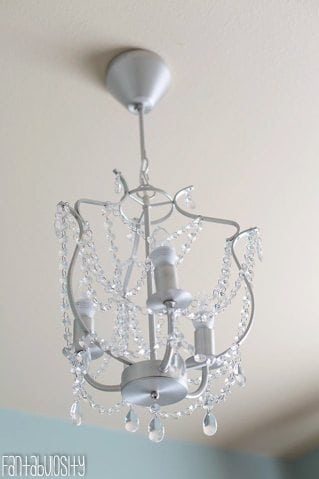 Urban Outfitters is once again the go-to location to buy amazing things for this baby girl nursery! The chevron rug is a must! (I'm thinking she hit the jackpot for nursery décor with this store!) I love, love, love, rugs in a child's room. It can always add a touch of color, and extra added "softness," to the playing area in the floor, for their little tushies.
Eeeek… what is it about baby clothes hanging up in a closet? They're just so small and petite, and look so stinkin' cute on baby hangers. The totes in the closet help keep her organized (perfect for general nursery storage) and also add a pop of color to even the "hidden" area of the room. She thought of EVERYTHING!
So will you join me in saying that this chick is talented and creative, or what? I'm totally jealous of her creativity, and her knack for refinishing and repurposing items to make it look like she wants. I think she totally supplied you with cute baby nursery ideas, right?
Follow her on Facebook to follow all of her amazing photography sessions: Picture Perfect by Roseanna Facebook