This is a sponsored conversation written by me on behalf of Kohls. All opinions are mine alone.
Dudes + Dirt: Days of adventures with my little boys, include a lot of dirt and laughter, and when we play hard, we play HARD.
Dudes + Dirt
Oh little boys… and oh how my days as a #boymom are filled with bugs, dirt, and wrestling. But when they play hard, they NAP hard. (Can I get an amen?)
Since my little guys are always on the move, I try to make sure that they have clothes on with "play-proof" durability.
I found the CUTEST clothes on Kohls.com the other day, and I'm THRILLED to show you what I snagged for the boys, (and myself) just in time for playtime in the Spring.
SONOMA Goods for Life™ + Jumping Beans®
Adventure Guy:
My oldest is a TRUE boy when it comes to adventure and playing outside. Whether it's exploring in the woods on my parents farm, or pretending that he's jumping off a mountain outside in the backyard… he's quite the adventurer. So this SONOMA "Adventure Explore," shirt, was a MUST. I paired it with the navy Jumping Beans shorts and the "adventure-friendly," SONOMA sandals.
Preppy Guy:
When it comes to my youngest, he does tend to follow in his big brother's footsteps on some items, but he takes a little more after momma with everything else. So I had a little fun with the preppy side of things and found him this adorable aqua sky Jumping Beans shirt and plaid canvas shorts. When I finished off the outfit with his new Adidas NEO Baseline Toddlers' Sneakers, his whole outfit was swoon worthy!
Did you see how cute my little boys looked in these preppy Myself belts?
These little guys are so fun. Now that they've gotten older, I'm thankful they still love letting me share photos of them, especially my oldest, in this Befitting review! So precious.
Day #1 – The Park:
With busy season here, I wanted to make an effort to set aside two days to really spend some major time with my kids, since the remainder of the week would be filled with launches, deadlines and appointments.
They LOVE being outside, so I had a feeling that our two days would be filled with a ton of park and water time.
So on the first day, after letting this blogger momma snag a few photos of their adorable new Spring clothes, it was off to the park to get a TAD too close to the creek that they love playing in.
Mom Too:
While shopping online for my kids, SOMETIMES my mouse tends to venture over to the pretty little dresses and adorable new spring fashion finds.
I scored this adorable Speechless Lace Shift Dress from Kohls too! It's casual for day wear and classy enough for date night! Paired with my new LC Lauren Conrad Firefli Women's Sandals for the park, the outfit was casual, cool on a warm day, and CUTE!
LC Lauren Conrad Circle Stud Earring Set
Are these not the cutest stud earrings you've ever seen? I immediately fell in love with the variety of colors that this set came with. I can think of a TON of items in my closet that these Lauren Conrad Stud Earrings will look adorable with!
Boys Will Be Boys…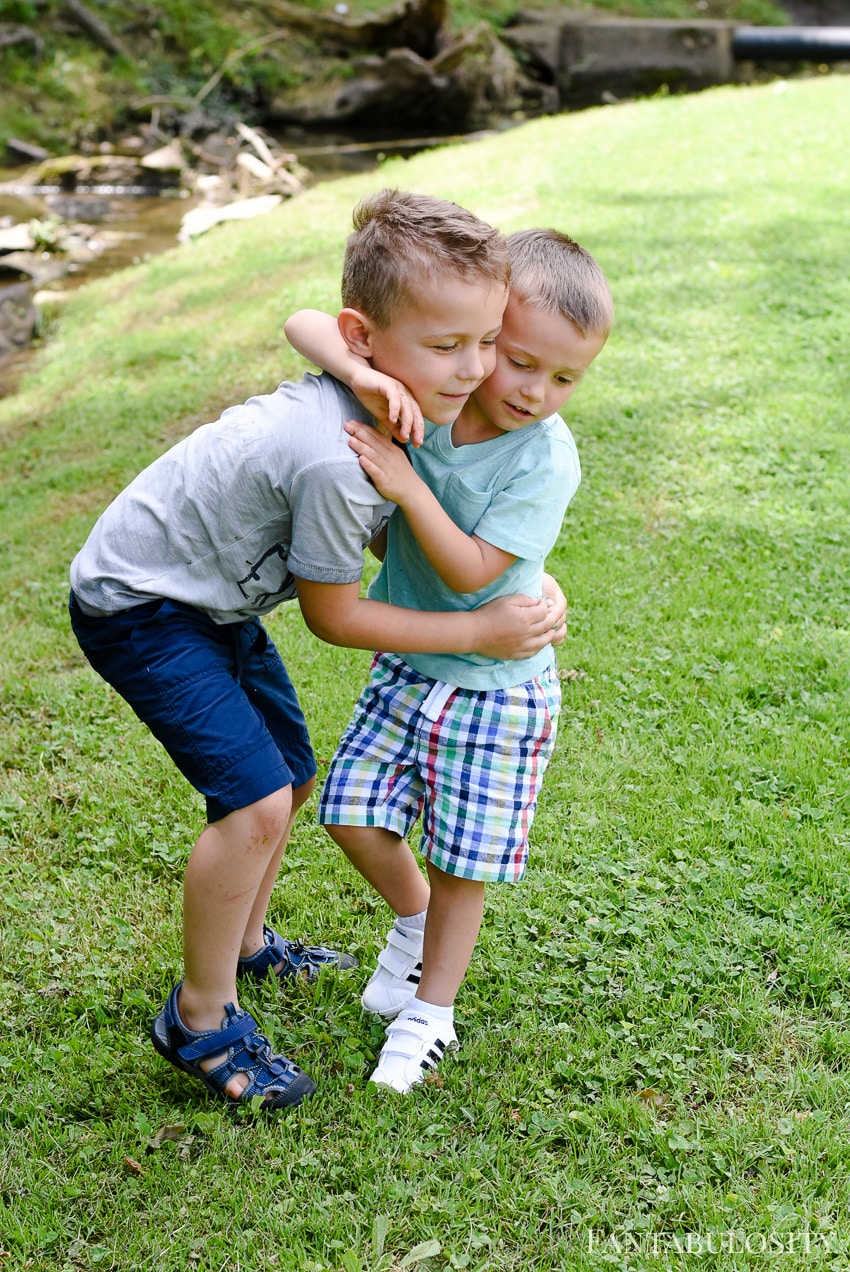 Clover Hunting:
Our park time wrapped up with a 4-leaf clover hunt. My oldest has been so determined to find his lucky clover, and performs a big search each time we're out…
Sorry kiddo, it's only a 3-leaf clover. But we'll keep looking!
We've still yet to find one, but you can almost bet that he won't stop looking until he succeeds.
Day #2: Play Hard at the Playground
It was day #2 and the boys were begging for a playground. We made a pitstop before having lunch at their favorite restaurant, and they dominated those playground structures!
Under Armour:
For my adventure guy, and some major "play," expected in our day, I dressed my oldest in an outfit that was sure to please! I found his new Under Armour Linear Logo Graphic Tee and Under Armour Logo Zinger Shorts at Kohls too. The look on his face was priceless when he saw his new outfit!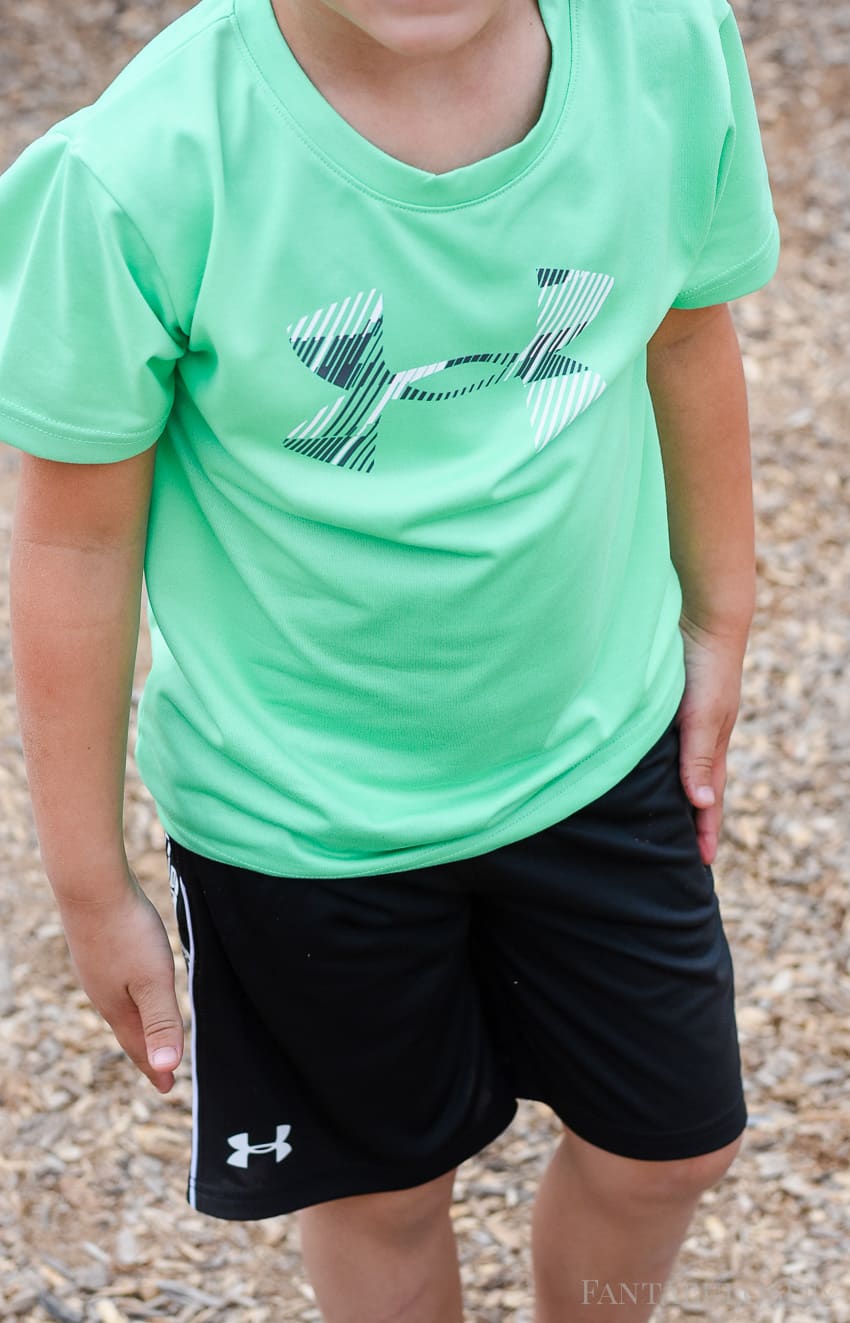 Canvas Shorts + Pocket Tee:
For my little hipster and preppy guy, I found him the cutest Jumping Beans® Patterned Canvas Shorts, and a Jumping Beans® Nep Pocket Tee. I'm a sucker for pocket tees on little guys. Plus, when he can carry one of his trinkets around in his little pocket all day, he feels "SO big."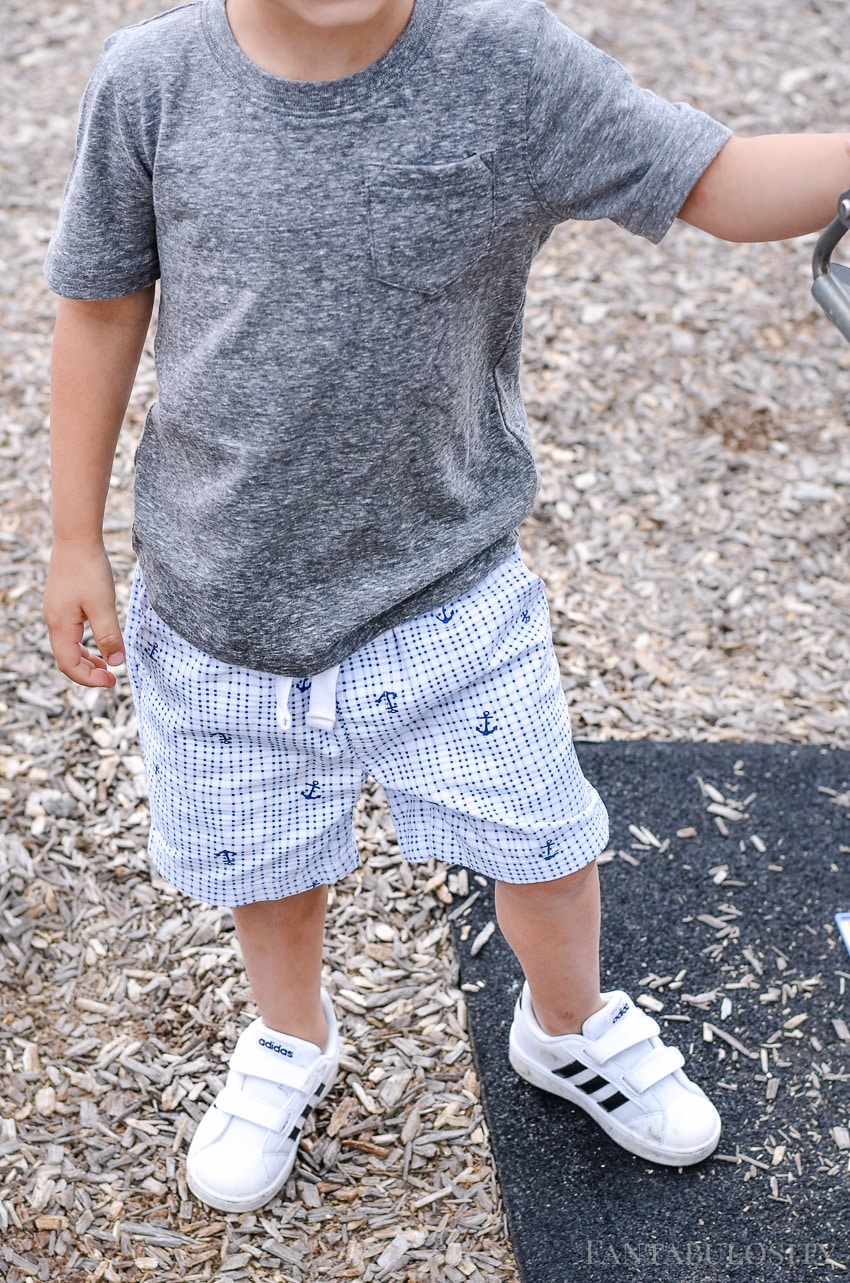 Playground Mom:
I wanted to get in on the action a bit more on day #2, so I dressed for the occasion. This outfit from Kohls was PERFECT for a day at the playground!
The Mudd® Short Sleeve V-Neck Tee and the "blue stripe" SO® Chino Shortie Shorts paired with the Apt. 9® Women's Kiki Silhouette Thong Sandals, are right up my ally in style + comfort as a boy mom!
We had a BLAST touring our own hometown, filling as much "fun," in to our days as we could. The boys played so hard, and slept ALL night… smiling in their dreams. I'd say that's a successful couple of days!
You all, I found all of these adorable clothes and accessories at Kohls.com, plus a load of other goodies and good deals.