Okay so yeah you are probably thinking side salad and a sandwich bag? What kind of weird and twisted combination is that? Well I have the EASIEST side salad recipe made using a sandwich bag that you will absolutely love. Keep reading to see how awesome this sandwich bag really is.
So before we dive into that deliciousness, my name is Bethany! It is so good to meet all of y'all. I blog at Southern Couture and love stopping by once a month to share something fun with everyone. I hope you enjoy!
Easiest and Delicious Side Salad Recipe
I don't know about y'all, but I love a salad recipe to keep on hand that is delicious and also easy to make at the same time. This recipe is definitely one of those. And it all comes down to one simple item that we all keep in our pantries…A SANDWICH BAG.
Ingredients:
4 Romaine lettuce leaves
½ Tbsp Lemon juice
½-1 Tbsp Olive oil
Salt, to taste
Pepper, to taste
1 Tbsp Shredded Parmesan cheese
Few croutons
All you really have to do is toss all your ingredients into the bag and start shaking.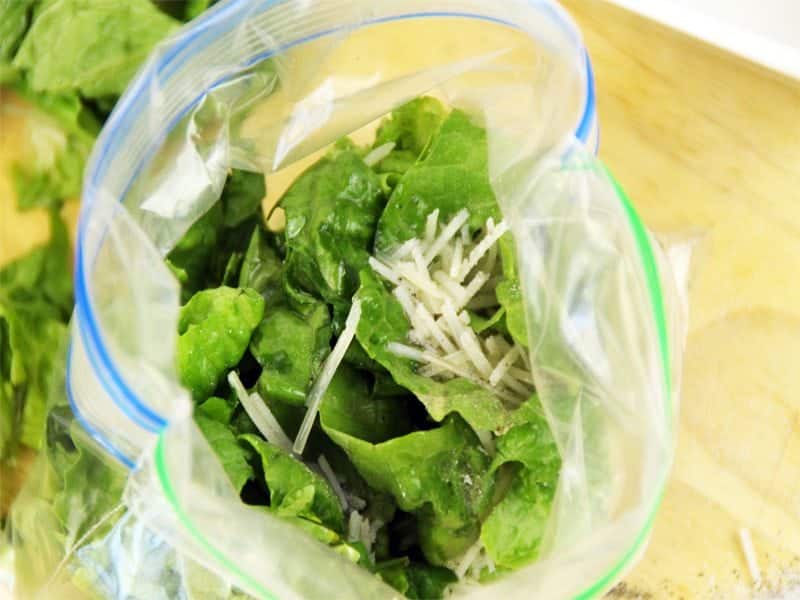 The sandwich bag is key to having all of my lettuce leaves coated in dressing and cheese which is very important to me.
I will usually top mine with a few croutons just to give an extra crunch or maybe some grilled chicken for that extra protein.
If you are having to run out the door in a hurry, then no worries about missing lunch. You could even eat this salad right out of the bag if you had to. The bonus is that it is also a skinnier version of a salad that taste delicious without the creamy, heavy dressings.
*This recipe is for one serving. Just double, triple, or quadruple depending on how many you are serving. Get a bigger bag and start shaking it all together.
I hope you will enjoy this side salad and also the kitchen hack that makes it so much easier too. When it comes to cooking, the easier the better right?
I would also love to have y'all check out this delicious recipe for blackened tilapia tacos that is topped with an avocado cream sauce. Talk about yummy! It would pair perfectly with this salad recipe too.
Connect with Southern Couture
Facebook // Pinterest // Instagram // Twitter // Google+ // Bloglovin // Hometalk