Easy Broccoli Raisin Salad with Bacon resting in a creamy dressing using everyday ingredients that will give you this cold side dish recipe in a flash!
Broccoli Raisin Salad
If you're new around here, then you may not know that I'm kind of a fan of salad recipes.
Adding this recipe to the list was a no-brainer, and adding it to your "must-make" list on Pinterest should be a no-brainer too!
More Salads and Recipes You'll Love:
Broccoli, Raisins, Bacon, Sunflower Seeds, Mayo and More!
The crunch of the broccoli and bacon, combined with the chewiness of the raisins and creaminess of the dressing will ignite your tastebuds and leave your friends and family begging you to bring this to the next gathering!
Cook and Crumble Bacon
First things first, you'll want to cook your bacon in a cast-iron skillet. (Or, feel free to use pre-cooked bacon, or cook the bacon however you prefer to!)
Once the bacon is cooked through, remove from the cast iron and place on to paper towels to cool.
Tip: Letting bacon cool on paper towels will help the bacon stay crispy!
Cut Broccoli or Use Pre-Cut
I'm all about time-savers in the kitchen and believe that shortcuts can be sanity savers too! So feel free to grab a bag of the pre-cut broccoli in the produce section at your local grocery store.
Or, if using a stalk of broccoli, cut off the florets and place in a large mixing bowl.
You'll need about 8 cups of broccoli!
Sliced Red Onion
I don't know if I'm alone here, but red onion is one of my absolute favorite veggies out there. Whether it's on a simple cheeseburger recipe or chopped up in the world's best guacamole… you can almost bet you'll see me adding it into just about anything that will work.
Well this salad is no exception and it's the perfect flavor addition. Slice up one red onion, really thin and add it to the bowl of broccoli!
Dressing for Broccoli Salad
In a separate bowl, whisk together 1 cup mayo, 2 tablespoons of vinegar, and 1/2 cup of sugar to make the creamy dressing to toss with the veggies!
How do you Make Keto Broccoli Salad?
Instead of using sugar like in this recipe, using something like a low-carb sweetener (perhaps something like Stevia or Erythritol) will give this the sweetness that it needs, but without the sugar! The perfect solution for a healthy broccoli salad!
Just remember that ingredients like Erythritol or Stevia, will have a much stronger taste than regular sugar, so reduce the amount (maybe 1/8 or 1/4 cup) to start with and taste test. You can always add more sweetness, but you can't take it away!
You'll also want to nix the raisins if you're trying to make this more of a keto or low carb raisin salad!
Ingredients to Toss In (Optional)
You can stop right with the dressing if you desire, but to bump up the flavor and texture of this broccoli salad even more, you can add things like:
bacon
gold and red raisins
cranberries
sunflower seeds
to give it a crunch that's hard to deny!
Vegetarian Broccoli Salad
If you're looking for a vegetarian broccoli salad, ixnay the bacon and carry on with the fun ingredients below!
What Kind of Raisins to Use for Salad?
In this recipe, it's fun to mix up different kinds of raisins, but feel free to use your favorite or mix up different types!
Broccoli Salad with Nuts?
If sunflower seeds aren't your thing, feel free to substitute with nuts such as almonds, pecans or your favorite kind!
Toss and Serve…
or make-ahead! Sometimes it's MUCH easier to make things ahead of time, and with this salad, it even gives it a little more time for the flavors to absorb into the veggies!
Check out my other favorite make-ahead salads for a crowd!
Easy Side Dish Recipe for the Win!
Well this broccoli raisin salad is definitely going on my easy side dishes list, and you'll probably want it on yours too!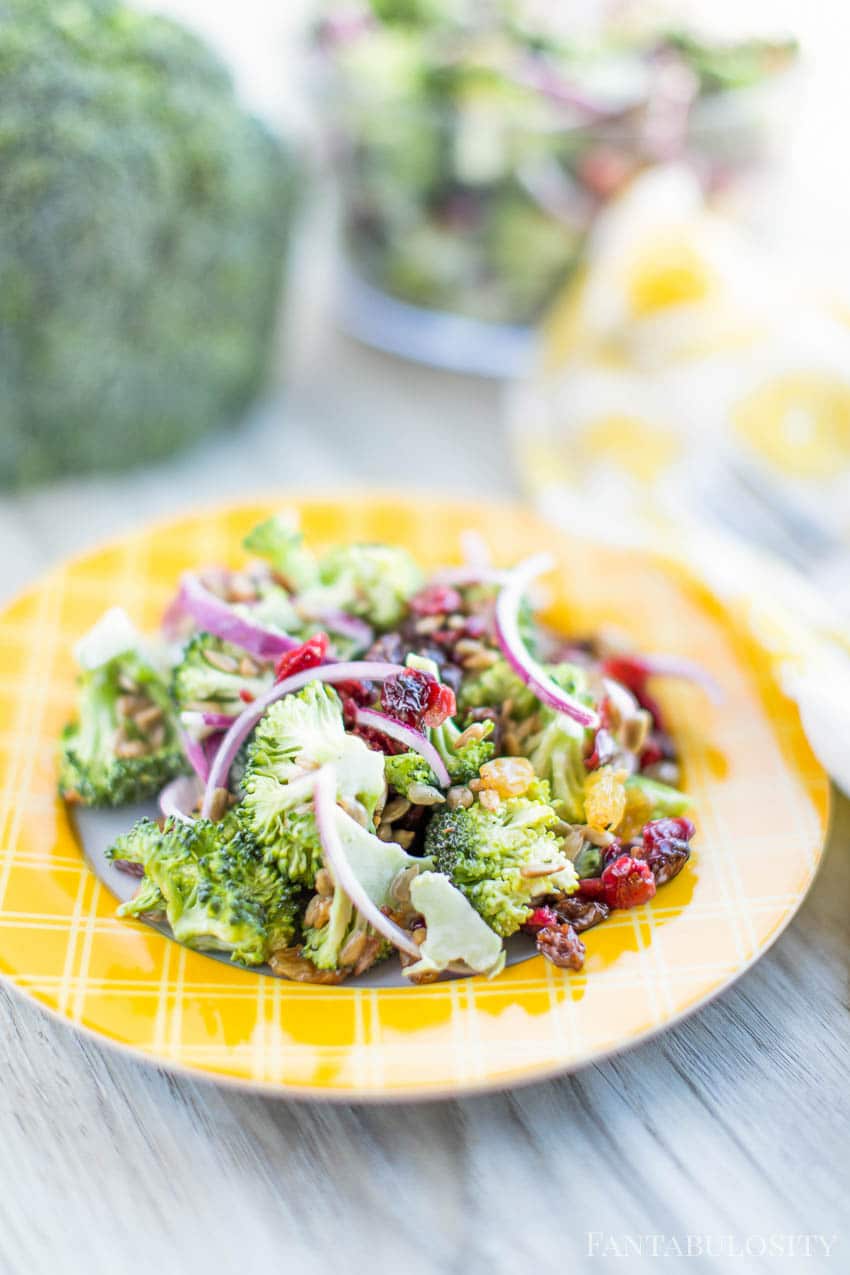 If you love recipes like this, check out all of my side dish recipes and fill up your Pinterest boards!
Easy Broccoli Raisin Salad
Easy Broccoli Raisin Salad with Bacon resting in a creamy dressing using everyday ingredients that will give you this cold side dish recipe in a flash!
Ingredients
8

cups

broccoli

.5

lb

bacon

1

cup

sunflower seeds

1

red onion

sliced thin

1

cup

mayonnaise

2

tablespoon

vinegar

.5

cup

granulated sugar

1

cup

golden raisins

1

cup

red raisins

1

cup

dried cranberries
Instructions
In a large skillet, brown bacon. Lay on paper
towels to cool, then crumble.

Wash and cut up broccoli, then place in a large
mixing bowl and add onion slices.

In a separate bowl, whisk together mayo,
vinegar, and sugar.

Pour dressing over broccoli and mix to coat.

Add bacon, raisins, cranberries, and seeds.

Mix well and serve. Refrigerate.
Notes
TIP: Feel free to mix up the toppings and add-in ingredients!
SPEED THIS UP: Use pre-cooked bacon or real bacon bits for a major time saver!
Nutrition
Serving:
1
g
|
Calories:
681
kcal
|
Carbohydrates:
66
g
|
Protein:
12
g
|
Fat:
45
g
|
Saturated Fat:
10
g
|
Cholesterol:
31
mg
|
Sodium:
408
mg
|
Potassium:
734
mg
|
Fiber:
6
g
|
Sugar:
50
g
|
Vitamin A:
624
IU
|
Vitamin C:
83
mg
|
Calcium:
93
mg
|
Iron:
3
mg
Nutritional information is based on third-party calculations and should be considered estimates. Actual nutritional content will vary with brands used, measuring methods, portion sizes and more.
Let me know what you think by leaving a review or a note in the comments, and feel free to browse around!