Easy Chicken Broth Recipe – How to Make Chicken Broth: Don't throw away the left over chicken bones skin, and fatty pieces! Make homemade chicken broth!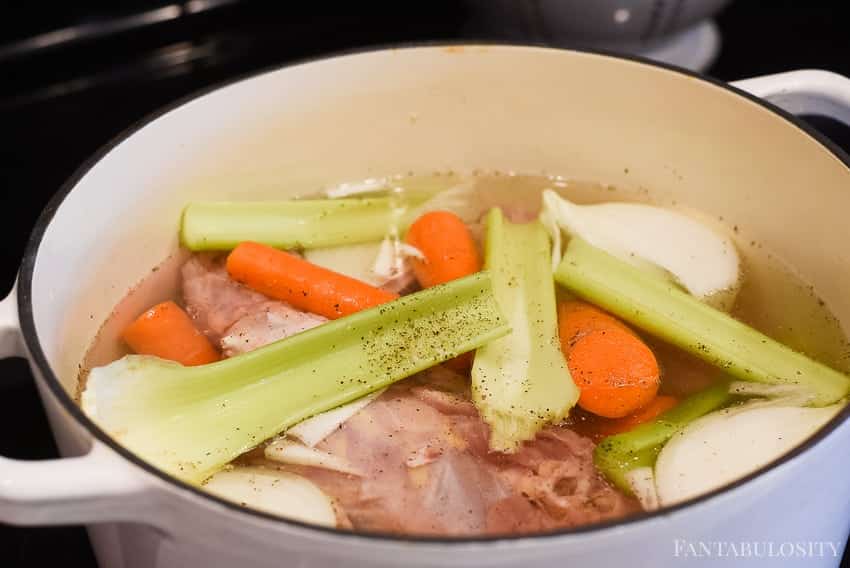 Easy Chicken Broth Recipe
Remember when my husband brought home a chicken the other day, and we made the Easy Fried Chicken Recipe?
Well I've been on quite the kick lately to use the most out of everything I can, instead of wasting. I've been doing things like "the pantry challenge" where I make dinner and a full meal out of what we only have on hand. It's difficult at times, but it turns out to be a lot of fun.
So when we were cutting up the fryer chicken, I snagged the remains of the chicken (bones, skin, fat, etc.) and threw it all in a stock pot. It was then that I realized that I have never shared with you how we make homemade chicken broth.
I Still Love Store Bought Too
Now don't get me wrong… I love a good carton of store bought chicken broth. I use it a lot. But when we have a rotisserie chicken that's nearing expiration, or a fryer chicken needing to be utilized… I don't let it go to waste!
My recipe is simple, and definitely something that can be altered. I've seen homemade chicken broth recipes all over that include spices like oregano, thyme, onion, etc., and that's totally fine to add!
But with mine, I like to stick to salt, pepper and a few veggies to create a base for whatever else I may use it for. For instance, I may not know if I'm going to use the broth for my favorite chicken noodle soup recipe or my 15 bean soup recipe that already have a lot of fun spices and herbs in them. Or, if I'm going to use it for a buffalo chicken soup recipe that I don't want a lot of herbs and spices in it.
So that leaves me with sharing this basic broth with you too, because I have no idea what you plan to use it for either!
Broth for Sipping When You're Sick
Now, if you're making broth to sip on when you're under the weather, then you may want to add more herbs and spice like:
Bay Leaves
Oregano
Thyme
Rosemary
Garlic Powder
Parsley
How to Make Chicken Broth
Full recipe card is below, but I'll walk you through with photos too, just in case you prefer to "see" it!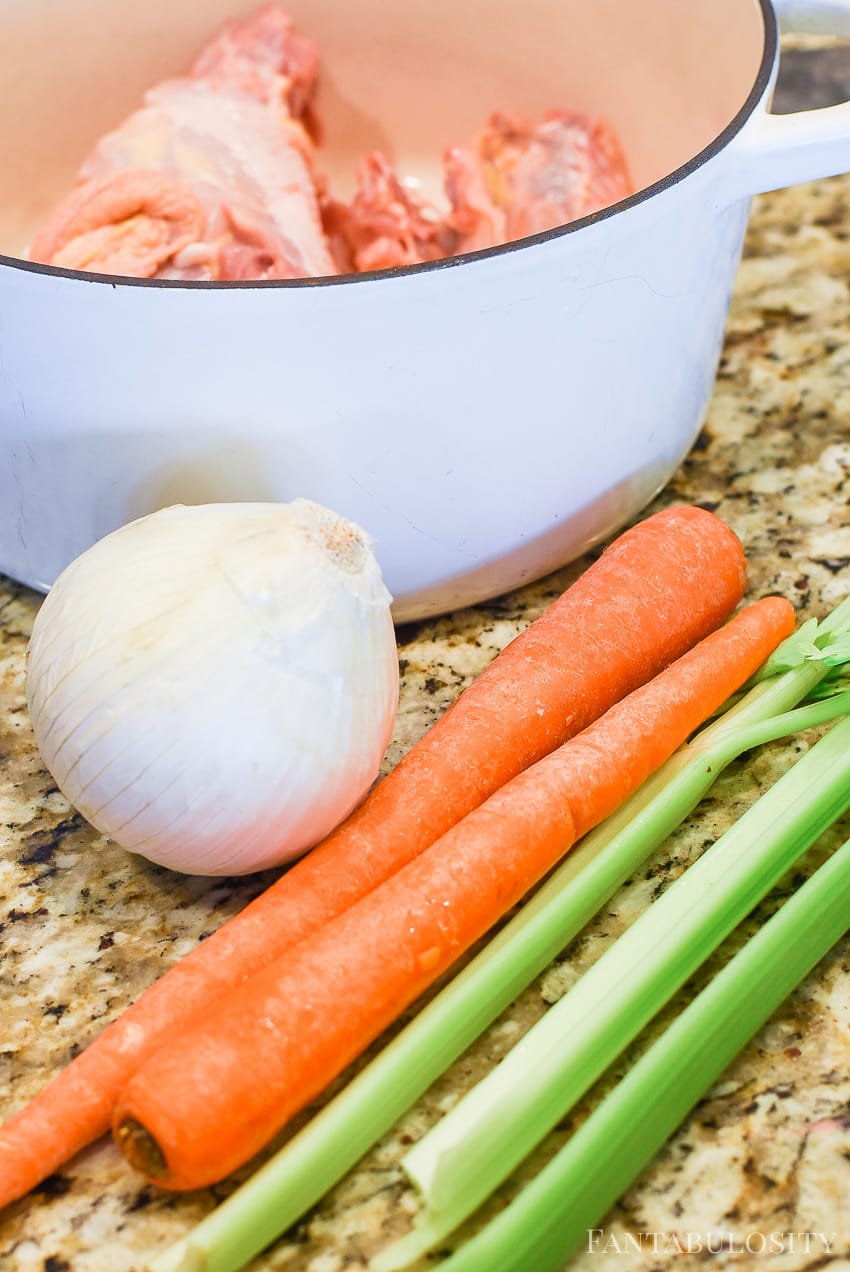 I just grab my favorite stock pot (buy a similar one here), and throw in all of the chicken pieces that I plan to use.
I also cut up a couple of carrots, a few (3 or so) stalks of celery, and quarter a white onion. (Or yellow if that's what I have on hand.)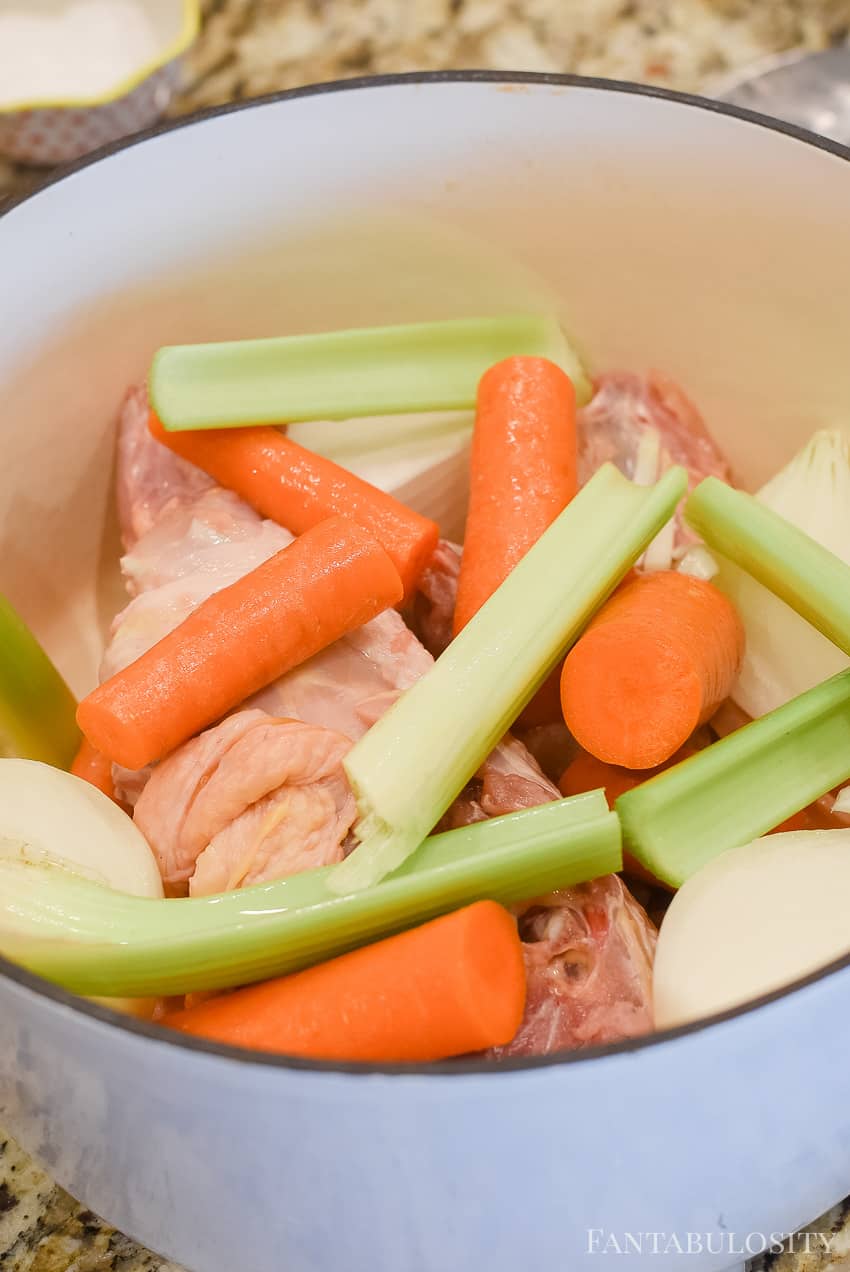 It then all goes in to the stock pot and I fill it with water, just until everything is submerged. (I may fill it a half an inch or so above the top of everything in the pot.) Then I sprinkle in some salt and pepper. Kosher salt and a peppercorn grinder are my favorite to use for this!
I stir it around a little bit, and bring it to a boil.
When it begins to boil, I reduce it to "low," and let it simmer for an hour and a half to two hours. (Or until the raw chicken is cooked and falls off the bone easily. If I'm using an already cooked rotisserie chicken, I simmer for about the same time.)
Then, once the chicken is cooked and the veggies look like they've had all of the nutrients sucked out of them (I can't really tell… but they look pretty bland and cooked to death), I remove it from the heat and let it cool. I then strain the broth from the goods in the pot, store the broth (or use it for something right away if I'm feeling like super-woman-cook) and discard the chicken/veggies.
Here's the recipe card for easier reading if you're making this today!
Recipes to Use Chicken Broth
If you're looking for easy recipes to use your chicken broth in, you'll want to try:
Easy Chicken Broth Recipe – How to Make Chicken Broth
Save those chicken bones and make your own chicken broth! Broth is so simple to make and you can put your once waste to good use! Way less sodium than the store-bought stuff too!
Ingredients
chicken carcass

bones, skins, fat – We cut up a chicken and fry it, and then use the remaining chicken pieces to make broth. But you can put a whole chicken in and use the meat for something else later if desired.

2-3

carrots

2-3

stalks of celery

1

white onion

1

Tablespoon

Kosher Salt

or to taste

1

teaspoon

black pepper

We love peppercorn

water
Instructions
Place chicken bones, skins, and fat in to your stock pot along with carrots, celery, onion, salt & pepper.

Fill stock pot with water until all ingredients are submerged and covered with water.

Bring to boil and let simmer for 1-1/2 – 2 hours or until chicken pieces are fully cooked and is falling off of the bones.

Remove from burner and when cool, strain the broth from the chicken and veggies. Discard veggies and chicken pieces and use chicken broth for a recipe like this

Best Chicken Noodle Soup

, or save it for later.
Nutrition
Serving:
1
cup
|
Calories:
13
kcal
|
Carbohydrates:
3
g
|
Sodium:
891
mg
|
Potassium:
94
mg
|
Sugar:
1
g
|
Vitamin A:
2595
IU
|
Vitamin C:
2.2
mg
|
Calcium:
12
mg
|
Iron:
0.1
mg
Nutritional information is based on third-party calculations and should be considered estimates. Actual nutritional content will vary with brands used, measuring methods, portion sizes and more.
Don't Worry…
I so hope you enjoyed this, and are encouraged to make your own broth out of chicken you have laying around, instead of tossing it out! But trust me… if you still toss it out, and decide store bought is much easier… I totally get that. I do too sometimes.
For more easy and slightly homemade recipes, you can browse all of ours HERE! You can count on them being quick, easy, and pretty tasty.