It seems like this Summer has FLOWN by, and I was so scared it would slip away without doing some of the things I've been dying to do all season!
I'm one of those, "If I don't see it, I won't do it kind of people. So… I decided to make an end of summer checklist (and this summer printable for the house)for myself, so I can hang it on the fridge and be reminded of the things that I want to do before school starts.
Here's what's on my End of Summer Checklist:
Are you cracking up at some of my checklist items? I am. Some of them are so simple and easy, but yet I keep forgetting to do them!
Others… well some are a little more time consuming and require some major prep. Like the parties…
But I've been wanting to throw those kinds of parties for ages, and I need constant reminder to get to planning…
Your Free End of Summer Checklist:
You didn't think I'd show you this checklist and not share it, did you? 🙂
Download it here —–> FREE End of Summer Checklist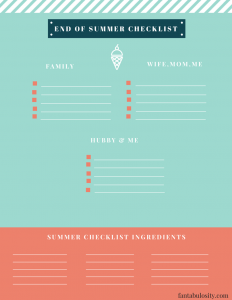 Hey, life gets busy and sometimes we forget about the things that we really really want to do, and we just need a reminder. So take my challenge, print out this checklist, and get to brainstorming. Put it on your fridge, drop-zone, or wherever you like to keep those things to remind you often.
Make sure to also check out these easy summer recipe ideas to help make your summer even better!