Fall is here ladies, and if that means one thing for me, it means it's a time of year where I feel like I can eat that extra piece of pie, and throw a vest on to cover up the "bloat," in the belly.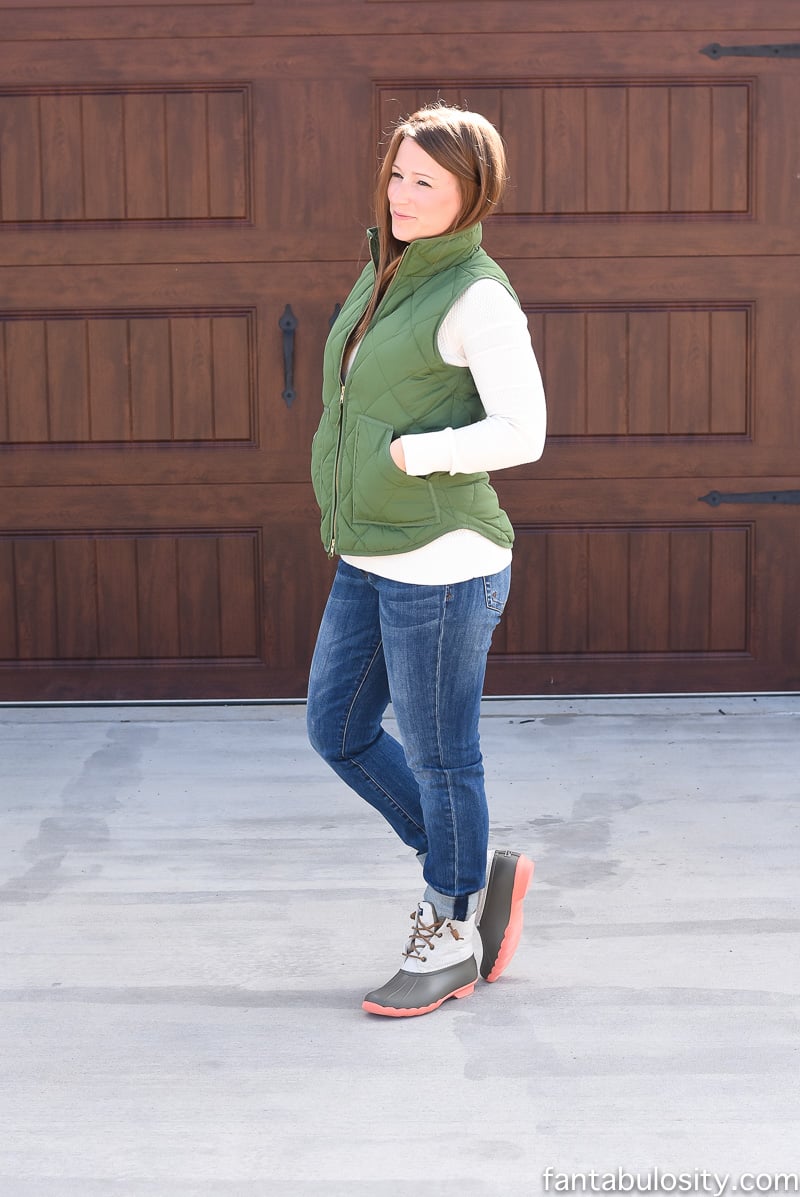 This post may contain affiliate links.
If you follow me over on Facebook, you may have seen my recent shopping trip to J.Crew Factory, and Banana Republic Factory, when I was on the hunt for a little retail therapy. The outlet mall had JUST put out their Fall line. New Fall Line + Retail Therapy = GLEE.
The only thing that would have completed this look is by adding another layer of warmth with a trendy blanket scarf for those cooler mornings or winter days!
Sperry Boots:
Then… I saw the boots. The Sperry boots. I fell in LOVE with them, as I walked past the store front, in a hurry with my husband the other day. I knew I wouldn't be able to talk him in to turning around so I could stare at these beauties for a bit. So when I got home, I barely sat my purse down before I Google'd to find them.
Luckily I found them, and couldn't WAIT to get them on as soon as I could. (Even though it was 90 degrees outside, here in sweet ole Missouri.)
Vest:
I bought quite a few vests that day at J.Crew, and stocked up during one of their sales. The military green has been on my eye since last season, but they were sold out every time I went to snag one.
Sweater:
The white sweaters were also on sale at Banana Republic Factory, and there's nothing more cozy than a warm sweater and vest paired together on a cold day. So I may or may not have snagged a few of those sweaters too. (So stay tuned for those beauties to pop up too!)
Shop Banana Republic Sweaters HERE!
Gals, get ready for more fashion posts! I just nailed down a photographer to work with me on taking photos of my new fashion finds, which means my fashion posts will be back! I can use a tripod all day, but there's just something about having someone with me, that can take a photo a lot better than I can, and in a much quicker time frame!
When I stopped using Stitch Fix, I realized how many of you loved my fashion posts, and I couldn't resist having a reason to go shopping! 🙂 So starting very soon, you'll be seeing a lot more of those pop up!