Fall is here.
If you've been on my home tour, you know I'm a sucker for decorating, and snagging each new and upcoming design that Target has.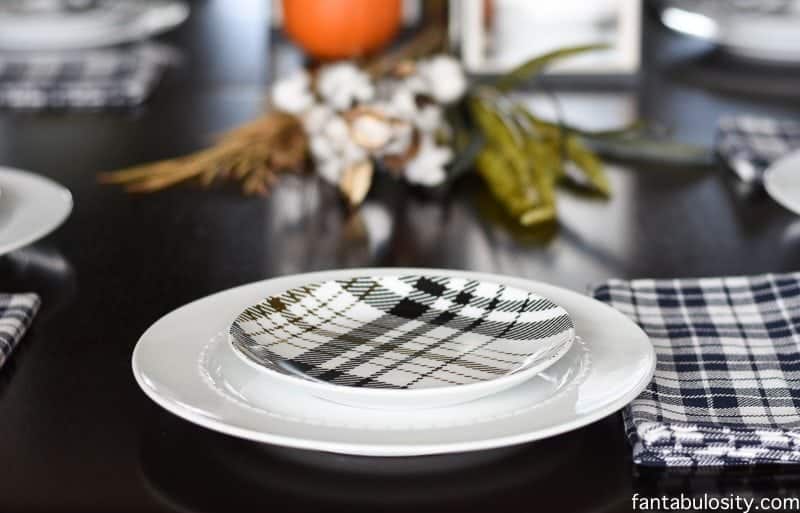 Fall Dining Room Table Decor
This Fall season, Target came out with a plaid line of plates, serve ware & linens.
I'm not kidding when I say… I immediately got in my car, the moment I saw a snapshot of plaid plates and linens on TargetStyle's Instagram.
A little black, a little white, and a little gold… paired together with a plaid design, and I was in hog heaven. It was just the right about of "class," that my dining room table needed.
Now pardon me if I get a bit carried away with my photos. I may or may not be, a little obsessed with my Fall tablescape.
You know my favorite part… the beauty of this new plaid line, is that I can easily transition it in to a Christmas tablescape!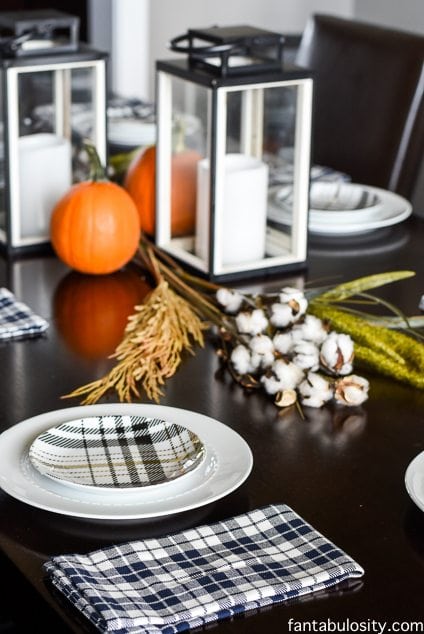 So let me break it down for you…
The precious little plates and linen napkin, all came from Target. As hard as it was to break away from the plaid decor end cap, I headed over to the isle where they have an abundant supply of white dishes, & if you know me… white is the BEST thing to have on hand for any entertaining you plan to do.
I knew adding a pop of white under the plaid dessert plate, would really accent the plaid look, and the plaid wouldn't get washed in the dark brown background.
Look at the itty bitty detail on the white plates. I didn't want anything with a ton of detail, to wash out the plaid… but I did want a little somethin'-somethin'. I didn't even think twice, and tossed them in the cart. (Well.. gently placed them in the cart.)
I've had the lanterns from Pier 1 for a while, and grabbed a few small pumpkins for a pop of Fall color.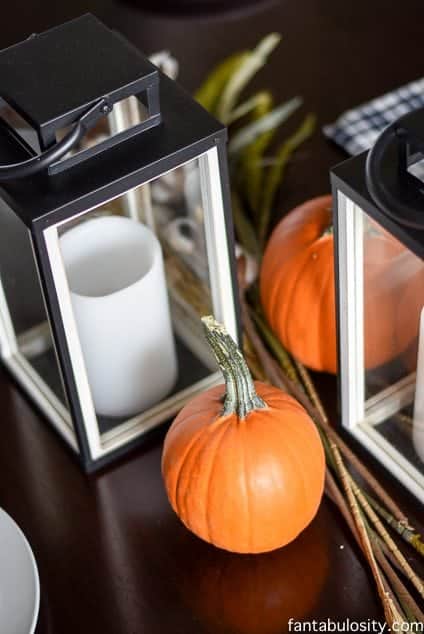 Have you ever seen cotton plants, used as decor? I'll never forget the first time I saw it on my Pinterest feed… it was a must have, and I was lucky enough to find them at Michaels
.
I'm happy to say I hosted my first dinner party with my new tableware the other night,
… and I may or may not have even purchased white bowls, from Target to add to the top of the plaid plate. It was perfect to serve my favorite chili recipe in, and it all tied together SUPERB!
Have you browsed my whole dining room yet?
Do you decorate your house/dining room table for every season?  Tell me about it. Or goodness, show me! I'd love to see how you decorate your house for the holiday's!
… and pa-lease… tell me I'm not the only one obsessed with Target, every stinking season?