Favorite Things Party Invitation Ideas: Every year, I host a Favorite Things Party, and try to have one big "wow" factor. This year, it's the invites. Well… maybe.
So we all know I love a good "WOW," factor at all of the parties that I style and host. With the first Favorite Things Party, the "wow," factor was the food. The second party, the "martini bar." This year… I'm thinking it's the invites.
I wanted each and every lady to feel pretty, and fabulous, when she received the invitation for my Favorite Things Party. You see, a lot of my girlfriends are always changing diapers, cooking dinner, cleaning, driving their kids to the next sporting event, and so much more. Rarely do my girlfriends set aside time for "gettin' pretty," and doing something for themselves, so I wanted to add some "prettiness," to their lives, if able.
Favorite Things Party Invitations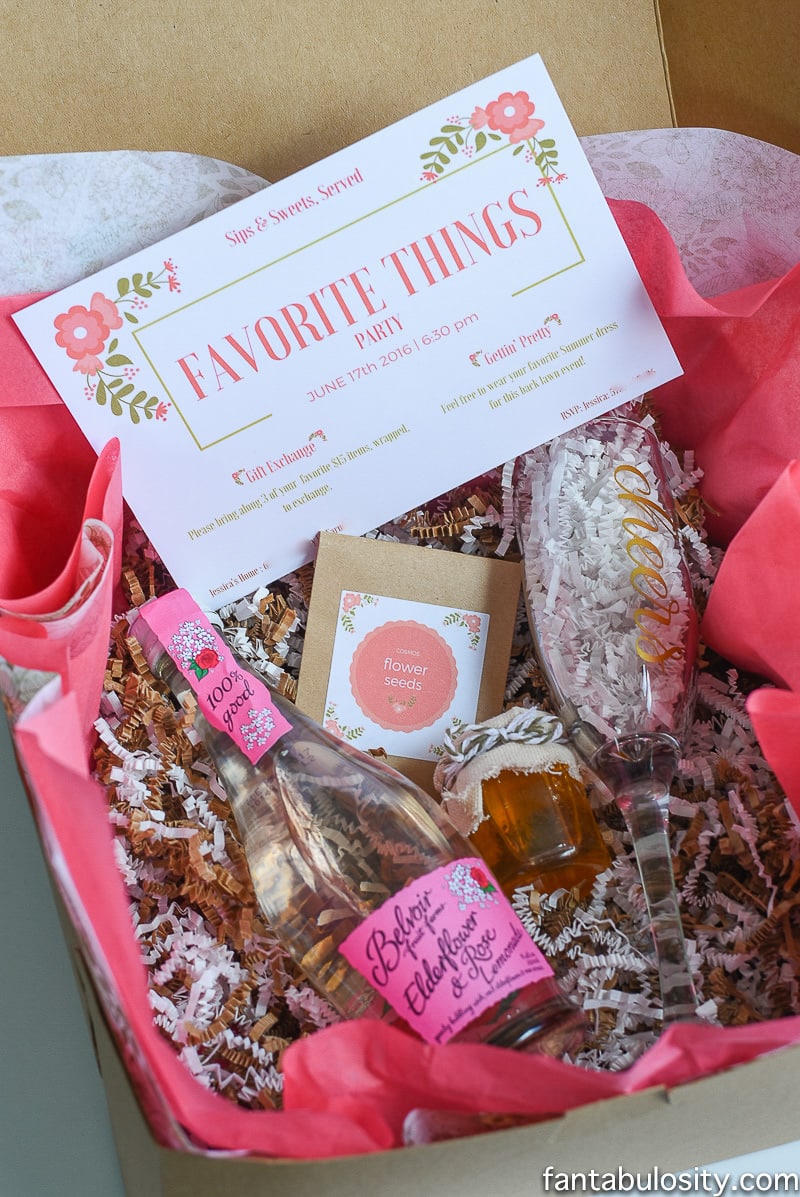 The box:
It all started with a search for the "right," box. I knew I wanted to create a box full of fun little fancy thangs, but the box had to be just right. The right size, the right color, the right… everything. So I found a kraft colored, 10-in. cake box, on Amazon, and I was ready to roll. I only had to order 150 at one time though, to get the 25 that I needed. Don't tell my husband. 
Filler:
I knew I wanted to "puff," up the goodies that I put in the box, and need some sort of filler. I'm typically against "paper shreds," but when I put it on top of the tissue paper, I kind of became quite fond of it. It gave the goodies the boost it needed, and gave the colors a great contrast! I found the paper shreds from Hobby Lobby, but I'm sure you can find them at almost any party store.
The Contents:
You. Guys. I have never in my life, been more excited about a stinking invitation. I wanted to keep costs down, (since I had so many invites to create) but didn't want to lack the "prettiness," or quality. So I cut corners where I could, and tried to be as unique as possible!
Flower Seeds:
During my recent visit to the Inspired Retreat, I became sooo in love with the pink floral themes that Amber used in almost every aspect of the retreat. Before the retreat, she sent out the cutest little packets of poppy seeds to all of the attendees. I HAD to create something similar to this idea, because I knew how much I loved receiving them, so I wanted my gal pals to feel the same way.
I went to Wal-Mart, and found flower seeds that produced different shades of pink, called, "Cosmos," (which I had never heard of), and I knew they were they were the ones!
I found small Kraft Bags from Wal-Mart, and made my own labels, using Avery square labels. I folded the top down, and sealed the back flap with fun washi tape!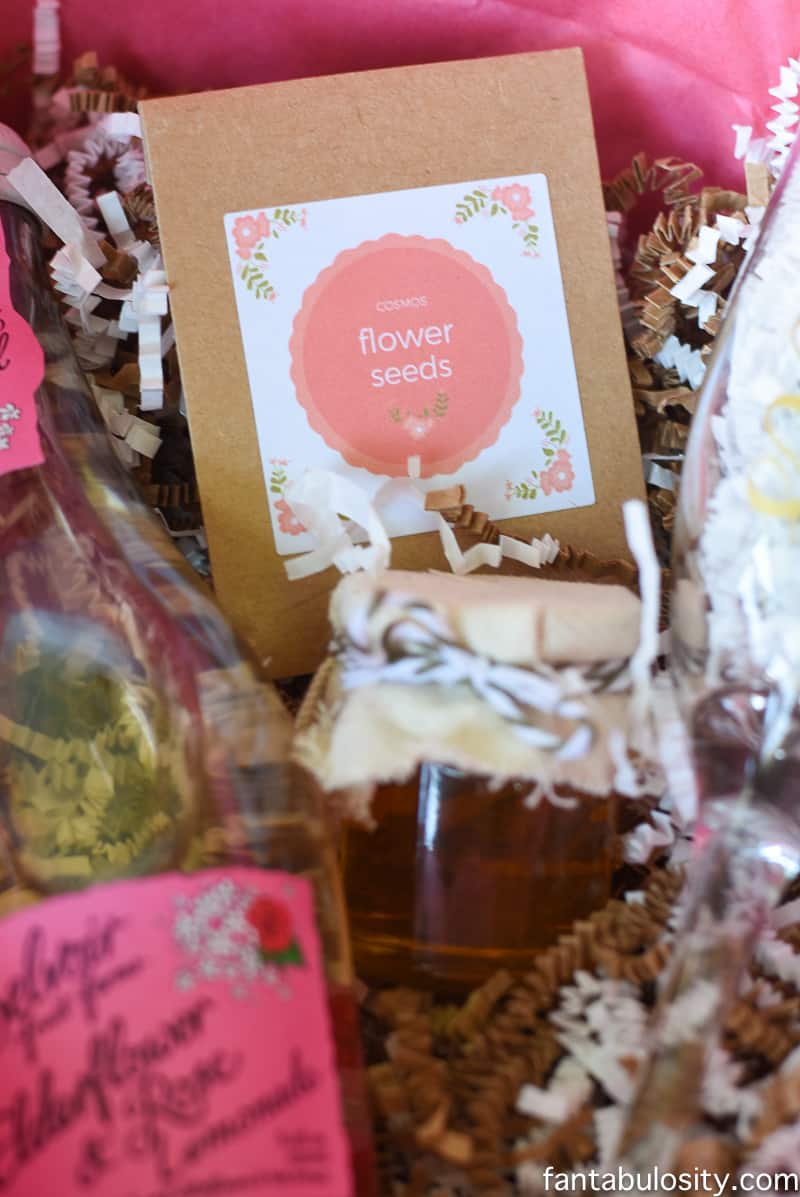 Honey Jars:
Next on the list were the cutest little jars
that I found at Walmart
, and I filled them with honey. They were the PERFECT small addition to this invitation!
Beverage:
So I fell in love with Belvoir Elderflower & Rose Lemonade Bottle, when I was standing in Whole Foods one day, waiting for my husband to finish "yacking," with his sister, who works there. It was like it was screaming at me, telling me it needed to be in the box. So… I bought all that they had, and STILL found myself needing more…
But lucky enough, there was a bottle sitting next to these, with the cutest little flamingo on the label. So I filled my cart up with all that they had, and called it a day! No matter which box my gal pals received… they got a super cute drink with it.
Champagne Glass:
During my first Favorite Things Party, we had a champagne bar that was CRAZY good. Champagne always has a bit of fancy "flair," so I knew a glass, had to be in the box. But we all know how much I like to use my Silhouette Machine
too, so adding some "wordage," to everyone's champagne glass, was a must. I figured "cheers," was appropriate. I mean… it will be totally appropriate once you see the whole party. 😉
Invite Card:
Then it was down to the invite card. I used the same floral images and colors, to tie everything in together.
"Sips & Sweets, Served" | "Gift Exchange" Details | "Gettin" Pretty Details | Location & Times 
I simply placed the invite card on top of everything in the box, folded the tissue paper over to enclose, and sealed the box!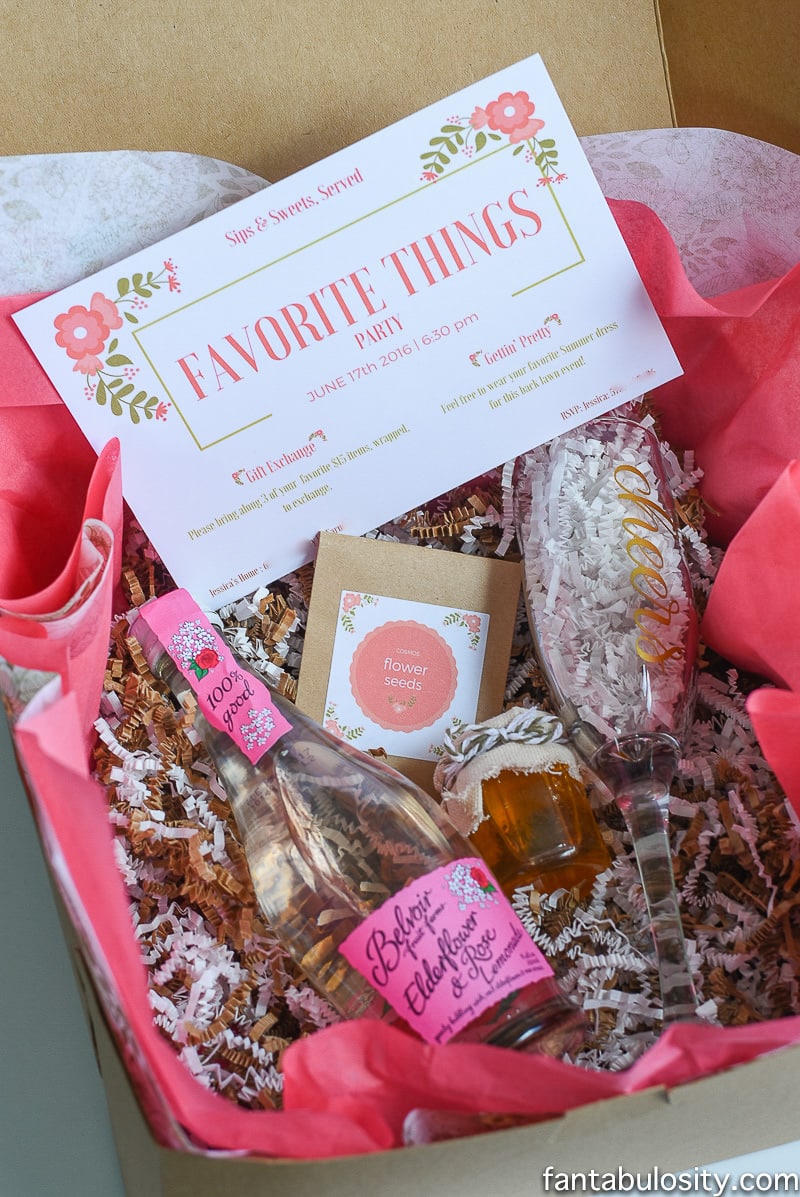 Wrapping:
I created another tag, using the same florals and colors, and tied it around the box with the most ADORABLE ribbon from Hobby Lobby. It was now ready to hand out to everyone on the guest list!
This years Favorite Things Party is turning out to be better than EVER! I can't wait to keep you posted on the party planning details, and share the overall party with you this Summer! Make sure to follow along on Instagram and Facebook, to see all of the behind the scene photos of the planning process!