I couldn't resist. I had to create another free printable (a FREE Fourth of July printable) for you all, so I could add to our printables.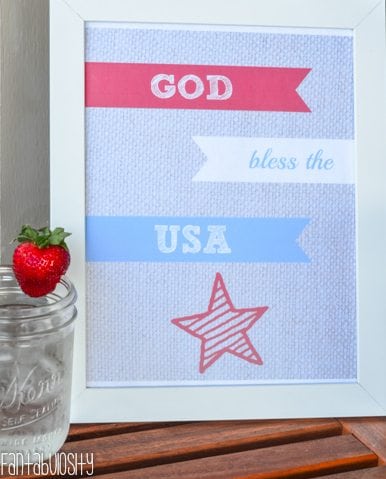 If you're just joining me, you may not know that I LOVE to have a printable in my house at all times. Whether it be for the season we are in here in Missouri, or if a holiday is right around the corner… I want to showcase it.
Back in the day, I'd scour Pinterest for free printables. That was until I figured out how to do it on my own. This way… I get to express my creativity, and I get to share my creations with you.
Fourth of July is such an exciting holiday for me. I adore summer, and when the 4th of July rolls around, it seems like we are always attending a shindig outside in the gorgeous weather, and that's A-OK with me.
If you've been on my home tour, you know that I like a "modern," look in my home. To me… the 4th of July decor always tends to have a "primitive," look it, so I decided to make a "modern-primitive," printable this time. That way… it looks "Fourth of July'ish," and "Modern."
So if you're like me, and you gotta have a little bit of seasonal décor in your home, save your free Fourth of July printable here:
Click here to save the God Bless the USA printable
Just save and choose which size you'd like to print…