How is it already part 13 of my home tour?
Sadly, it's only taken me close to two years to get almost the whole house featured on this home tour, but already sharing part 13, just seems crazy!
I'll Admit: My husband and I have been considering putting this house up for sale, and building on another lot that we own. (For no other reason than… it's just what we do. We have moved 5 times in the last 3 years, living in this house for 2 of those… and that's the longest we've ever lived in one. So we are starting to get the "itch," to do something. Yes, I know. We are probably insane.)
 Modern Craftsman Dining Room
Oh yes. That's an elk on the wall.
Gals: Unfortunately this elk is small compared to the one in our living room. But this one hangs over us while we eat our dinner, and stares at me. I love my husband.  I'll just keep telling myself that.
Men: Did you see this thing? It's huge! My manly man of a husband is crazy talented in hunting big game. It looks perfect in the dining room. Don't you think? 
(Yes, I totally played both sides there.)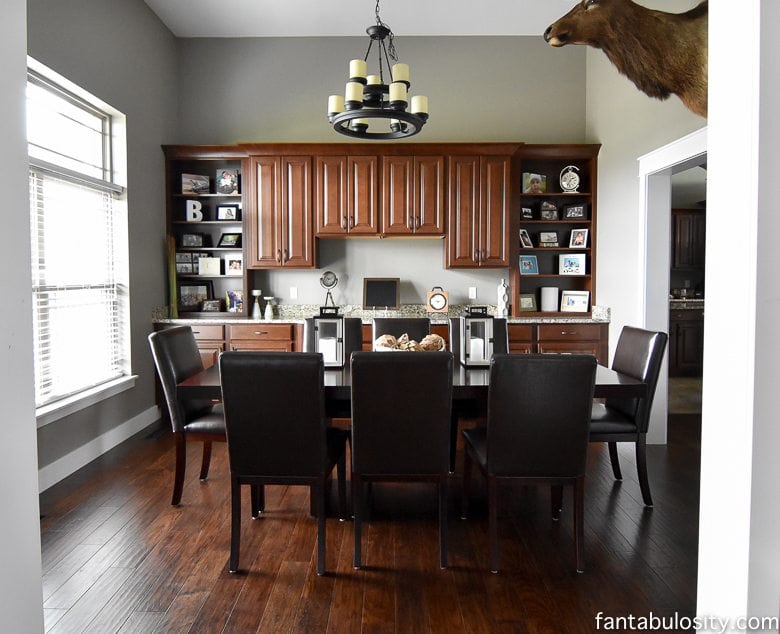 For Better or For Worse…
Oh yeah. There's the full thing. You can kind of see the other elk in the living area, through the doorway there. See it? Yeah, that's just the very bottom of it. I love my husband.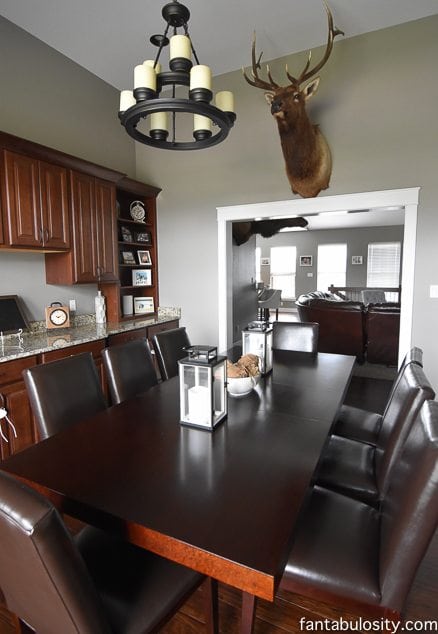 Dining Room Decor
Cabinets
Our original house plan didn't call for cabinets in the dining room. But with my addiction to cake stands, and entertaining, we knew we better make a change. The storage we have with these cabinets is crazy fabulous. Don't ask me to open them. You may start searching for a "cake stand obsessed," support group to admit me to. #cakestandaddict
Office or Formal Dining Room?
The dining room is off to the left when you walk in our front door. We considered turning this room in to an office in the beginning, because we weren't sure if we would utilize the formal dining room. Boy am I glad we decided on a dining room. We entertain A LOT, and this room comes in super handy.
Clocks are Easy
I MAY have a slight addiction to clocks too. I didn't realize it until my sisters pointed it out to me on a recent girls shopping trip. I have three clock in my dining room alone. #clockaddict
This stool. The poor stool. I found it on sale at Target and HAD to have it. But I didn't have a place for it. I just couldn't stand going home without it. So here it sits.
A Personal Touch
My mom made this cute little "B," for me! (Isn't she just "Miss Pinterest!?")  I absolutely adore it. It couldn't have went more perfect with our decor. I just hope the "B" stands for my last name, and not something else. 😉
Modern Craftsman Foyer
Here's a shot of our foyer. I decided to include this in on the dining room home tour, because… well frankly… the foyer isn't big enough to host it's own post.
To see my post about the trick to removing chalk marker from a chalkboard, head over here:
I have a coat rack shelf that I want to hang above the little bench, but I need a handyman to do that… and well… I wanted to share the dining room with you before we moved. Lol! (In other words… the coat rack may never get hung if I'm waiting for someone else to do it.)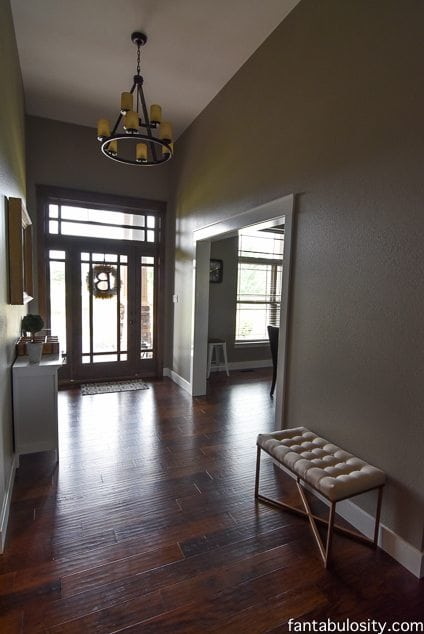 That wraps up Part 13 of our home tour! If you're just joining me on this crazy adventure,
Quick Links to see the rest:
Part 1: The Exterior
Part 2: The Master Bedroom
Part 3:  The Master Bath
Part 4: The Kitchen
Part 5: The Playroom
Part 6: The Guest Bath
Part 7: The Pantry
Part 8: The Patio/Deck
Part 9: The Nursery
Part 10: *Old* The Office/Craft Room
Part 11: Big Boy Room
Part 12: The NEW Nursery
Part 13: The Dining Room/Foyer
Part 14: The Guest Bedroom
Part 15: The Living Room
Part 16: New Office Reveal
Until next time,