Well I need to apologize… today's post isn't THAT exciting. The guest bath is just that… a guest bathroom. But I do love the shower curtain and our bathroom fixtures, so I thought it was "post" worthy!
If you missed the other rooms on the tour, you can start with Part 1 here: "The Exterior."
Typically this bathroom is overrun by a potty training toddler: potty seats, potty charts, and M&M's for rewards, but I CLEARED it out for picture time.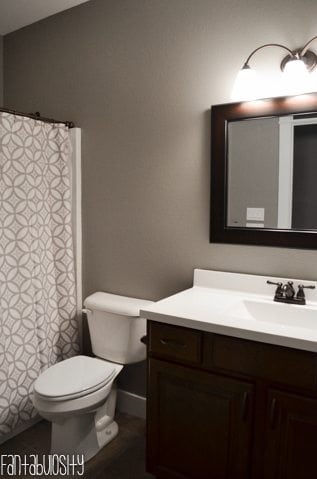 I carried over the white and gray décor, from the rest of the house, and I may throw a dark brown hand towel in every once in a while to give it an extra touch of "color."
We have "ADA" height vanities in all of our bathrooms. It's crazy how you don't realize how much you bend over to wash your hands, at other sinks, but with ADA height vanities you just reach right out. We receive a lot of compliments on the style of vanities that we have.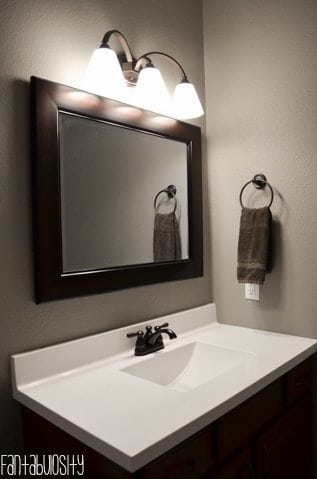 That's it! Sorry it was short and sweet! But no fear… if you haven't checked out the rest of the rooms on the tour, you can find them below:
Other Rooms on the Tour:
Part 1: The Exterior
Part 2: The Master Bedroom
Part 3: The Master Bath
Part 4: The Kitchen
Part 5: The Playroom
Part 6: The Guest Bath
Part 7: The Pantry
Part 8: The Patio/Deck
Part 9: The Nursery
Part 10: *Old* The Office/Craft Room
Part 11: Big Boy Room
Part 12: The NEW Nursery
Part 13: The Dining Room/Foyer
Part 14: The Guest Bedroom
Part 15: The Living Room
Part 16: New Office Reveal
Part 18: Craftsman Home Patio Reveal
Part 19: Breakfast Nook