UPDATE: Our patio has had a makeover! To see what it looks like now, you can head over
The patio. FINALLY… Part 8 of our home tour is up. I've been waiting for warm weather and my final pieces to come together before I added it to the tour, and it's finally accomplished! If you've missed the first 7 parts of the Home Tour, start here: Part 1: The Exterior. If you see anything that you'd like to have to design your patio this spring, make sure you see my shopping list at the end of this post!
Ok let's walk out the back door…
The Patio
A few months back, I asked my Facebook followers how navy blue chevron patio cushions would look as a nautical theme for a patio. Everyone gave me the green light, and I ran with it. YET… about halfway through the design process, I fell in love with a blue and green color scheme. I can blame IKEA and Pier 1 Imports
 for that.
So it all started when I fell in love with the blue chevron patio cushions from Walmart.com. You know good and well I love chevron—look at the rest of my home tour, and you'll probably find chevron in every room.
(I've had this set of patio furniture for about 5 years now, and I bought it at Garden Ridge. But… I've seen this same set at a few places this year.)
THEN, the green started sweet talkin' me, and I had to add it. The pillow covers are the best at IKEA this spring. YES, they're outdoor/indoor, and that made me VERY happy. The green rug also came from IKEA (but I'm afraid you have to buy these particular covers and rug in-store, because I can't find them online)
I'm afraid I started slippin' from the nautical theme just a bit.
THEN… in comes Pier 1 Imports
. I stopped in for a quick visit the other day to see if they had anything to tickle my fancy, and of course they did. I grabbed a couple of the green petal pillows (which I think are adorable, so I ordered more in blue online, the day I came home with the others).
Yep, I think every coffee table/end table needs a little décor. At Target
the other day, I came across these adorable sculptures and tray, and I thought it would make a cute little coffee table accent. I did also get the white LED pillar candles at Target, but wrapped them with twine when I got home to give it a little of a nautical look. (That tutorial will be coming soon, I promise!)
Oh then I strolled passed these adorable lanterns at Target
, grabbed a couple of candles for it, and added another check on my list for table décor!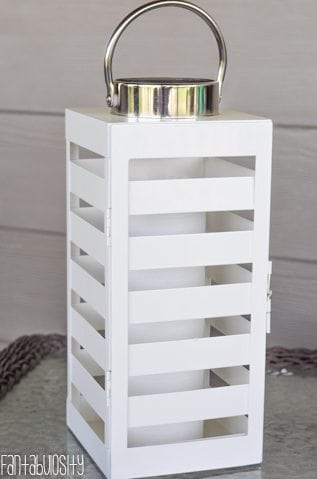 This set of patio chairs came from IKEA, just the other day. They were a piece of cake to put together, and I couldn't be any happier with them. The end tables also came from IKEA, and there was no assembly required. BONUS!
The blue patio pillows came from Pier 1 Imports
, and are indoor/outdoor too! Yesssss…
The black table lanterns and candles were a purchase from IKEA.
The green patio chair cushions were a jackpot find at Kohls.
  They fit the chairs perfectly, and look rather swell I believe!
WELLLLL… I had to have a few accessories on the porch too. I've had an IKEA board on my Pinterest account for a while now, and this bar cart had been staring at me on there for MONTHS! When I realized it was only $24.99… I had to have it. I have super-duper plans for this cart when entertaining. Cocktails, ice bucket, snacks, etc. It will come in very handy I believe. 🙂
I snagged this little gem from Target the other day too! When we are entertaining, I swear my husband will at least ask me once, "Honey, where is the bottle opener? It's gotta be floating around here somewhere." So… when I saw this, I threw it in my cart and brought it home for my hubby to hang on the side of the house. No longer will I be asked, "Honey, where is the bottle opener?" 🙂
We have a large patio, and without some greenery, it felt bare. I'm telling you what… after adding this tree from IKEA, it made a HUGE difference.
I've had some ask me what is the ceiling on our porches, so I thought I'd include that on the patio tour too. I love that my husband decided to do this tongue and groove soffit on the ceiling. I think it adds to the feel of the patio for sure.
See the white circles on the ceiling? Those are speakers. I LUUUUUV this feature. We had a music system called "SONOS" installed in our house during the building process, and I absolutely love relaxing on the back porch with music playing while we visit. This could possibly be my favorite thing about the patio.
I'm so glad you came by to visit. I'm so ready for summer, to spend weekends with our friends/family on this porch. It can be decorated just like I wish… but if I don't have friends and family to gather on it, I don't even want it. 🙂
Quick links for my patio decor:
Blue & White Chevron Patio Cushions: Walmart.com
White lanters, Bottle Opener, Coffee Table Décor: Target
Green Petal Pillows and Blue Pillows on Ikea Chairs: Pier 1 Imports
Green patio cushions: Kohls
Patio couch pillows (green and latitude/longitude pillow), wooden tables and chairs, tree, black lanterns, bar cart, green rug: IKEA

To see the other rooms on the tour, just check out the links below:
Part 1: The Exterior
Part 2: The Master Bedroom
Part 3:  The Master Bath
Part 4: The Kitchen
Part 5: The Playroom
Part 6: The Guest Bath
Part 7: The Pantry
Part 8: The Patio/Deck
Part 9: The Nursery
Part 10: *Old* The Office/Craft Room
Part 11: Big Boy Room
Part 12: The NEW Nursery
Part 13: The Dining Room/Foyer
Part 14: The Guest Bedroom
Part 15: The Living Room
Part 16: New Office Reveal