This is a sponsored post written by me on behalf of Columbus Craft Meats. All opinions are 100% mine.
Hooray a Summer Soiree! An outdoor party that can be easily recreated, and it's full of easy tips and tricks for decorations and recipes. 
Hooray a Summer Soiree!
If you saw my sneak peek of this summer soiree the other day, then you saw my biggest party styling secret EVER: What I actually use for a backdrop for almost every single one of my parties.
I also filled you in on a quick and easy party appetizer recipe that I created using pre-made ingredients. (My all-time favorite party hack is to use foods that are pre-cut, pre-washed, and pre "anything." This saves so much time come party day, and makes life as a hostess SO much easier.)
So if you haven't taken a peek at those party hacks of mine, I really recommend you shoot over there first, and then come back here to see ALL of the party details!
Navy, Coral, and Gold
The combination of the colors navy, coral, and gold look SO incredibly classy with one another, and I had been itching to see them all together in this party set-up.
DIY Gold Vases
I had mentioned in the last post that I'll be showing you soon how to make these adorable little vases, so stay tuned for that. You may just love how you have to empty out a wine bottle to get crafting on this little project. I hate reasons to have to get rid of wine… don't you?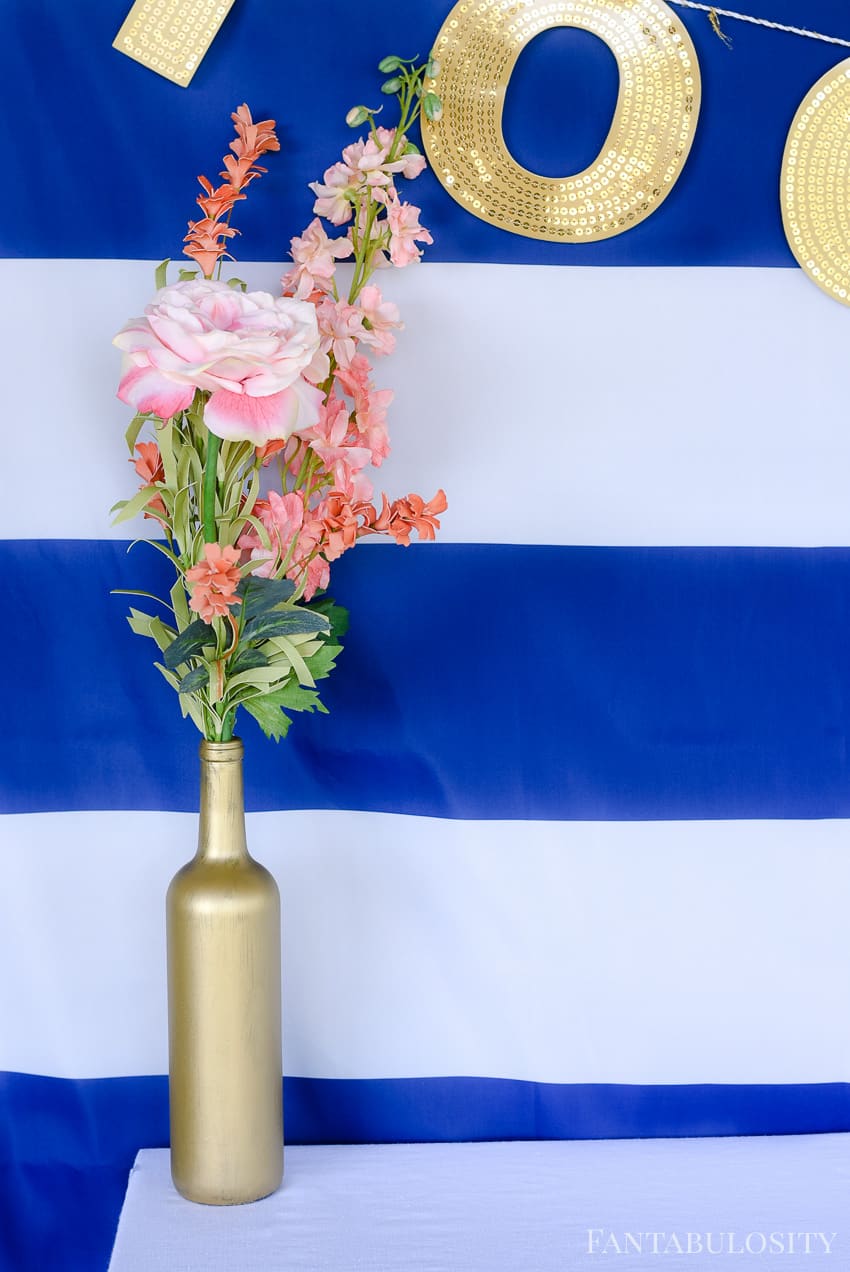 Easy Party Food
Friends, hosting a party doesn't have to be as stressful as it is sometimes. Sure, I overdo it at times and find myself saying,
What the heck was I thinking?!
So after many MANY parties, I've learned to cut corners and stick with easy, yet classy party foods and drinks. You'll be surprised at how your guests will think you spent HOURS on the food and drinks for your party. But let's go ahead and let them think that…
Fruit Can Decorate For You
Fruit and flowers are my favorite go-tos for adding pops of color and decor to any party tablescape. If you saw my Favorite Things Party last year, then using rainier cherries as a party food idea may look pretty familiar! I love snagging these at the grocery store each year when they hit the shelves!
Slightly Homemade Desserts
Have I mentioned how the pre-made cheesecake at the store is my dessert best friend? I love using this to create my own dessert. That way, it still has a little personal touch, but I just had a little help getting there. Plus, using mini serving dishes always makes things look classy, yes?
Pre-made cheesecake filling, strawberries, and a crumbled sugar cookie like I used here can make a dynamite little treat for your guests.
Easy Sangria Recipe
When I began thinking about the party colors, I knew the drink needed to be a coral to really "pop" against the dark blue and white backdrop. So, keeping things easy as always, this sangria recipe is made of two ingredients. Grapefruit juice and moscato (or wine of your choice). Equal parts of each. Easy, right?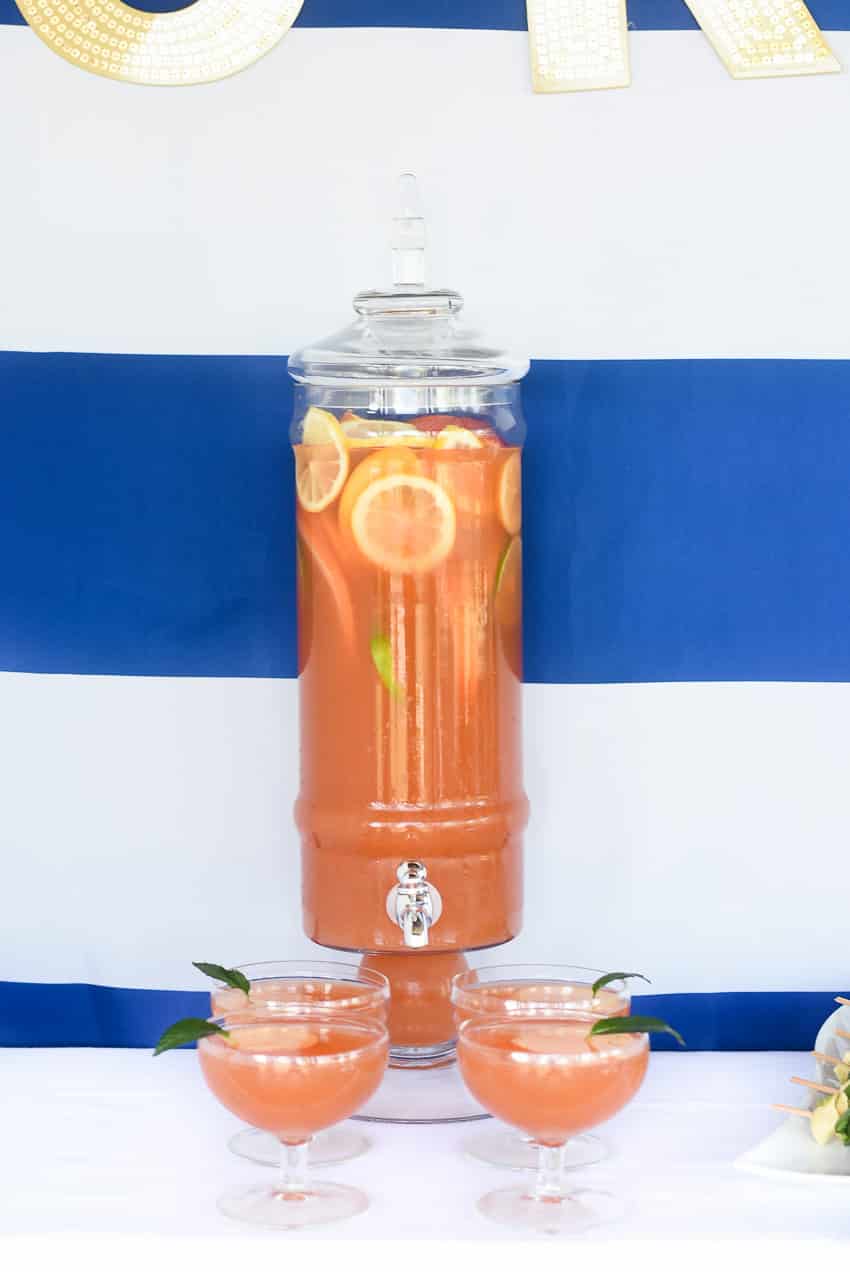 Then, just add fruit if you like, to really dress it up! Garnish with a fruit slice and a mint leaf for some extra pizzaz, and you're good to go!
Deluxe Meat and Cheese Skewers
So there's one more thing about styling parties that will always ring true. I WILL serve good food that my guests will love. We all know from my Facebook Live events that I believe in the statement "food is love." So you better believe that I'm going to serve GOOD food (although easy) at my parties. This party is no exception.
I didn't want to create the same ole, same ole, party appetizers that float around on Pinterest. So I grabbed Columbus Craft Salami, cheese tortellini, cherry tomatoes, spinach leaves, and pesto to create a deluxe meat and cheese skewer.
If you're throwing a party and are looking for an appetizer that will make your guests think that they are attending a classy, catered affair… then you'll want to make these stat!
Tip: Drink stirrers can be adorable skewers. Using products for more than what they were designed for is by far one of my favorite party styling tricks!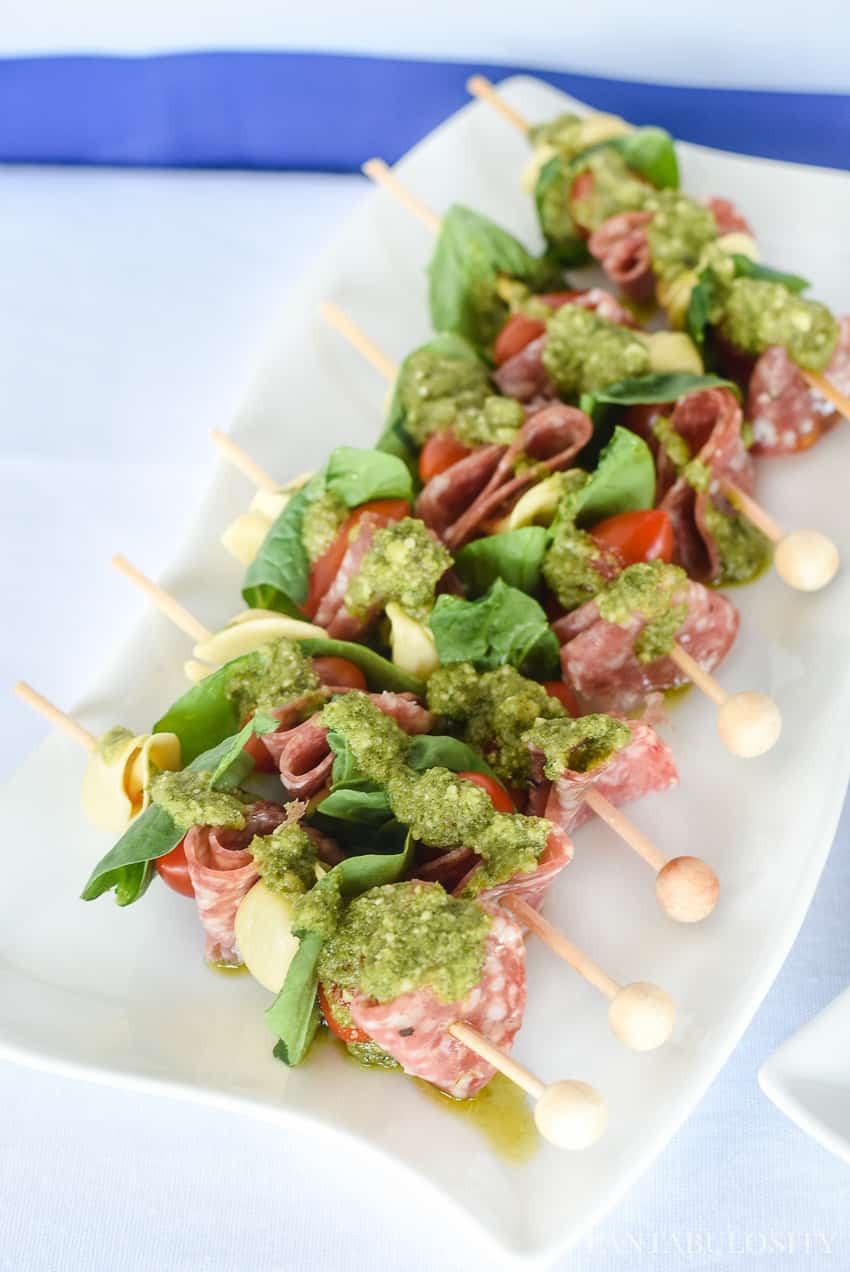 Mini Salami Short Stacks
We've all seen it. The meat and cheese tray that we can buy at the store, take the lid off and serve immediately to guests. That's PERFECTLY fine. I've used those at a lot of gatherings for ease and convenience.
But if you're feeling a bit creative, how ADORABLE is it to do these mini salami short stacks for your guests? They can just grab and go, and it looks like you spent a TON of time prepping them. But we both know your little secret, and we know that it barely took any time at all.
For these, I grabbed a mini herb cracker, Columbus Felino Salami (sliced it in to small wedges) topped with a small wedge of white cheddar, arugula leaf, and topped it off with an adorable party pick!
Columbus Craft Meats
I chose to use the Columbus Craft Meats for the appetizers at this party because they're so easy to find in the store, and they do NOT cut corners… using the best ingredients to make their products taste delish! I mentioned in the post the other day how admirable it is that they were founded in 1917 in San Francisco, and Columbus still remains in the Bay Area 99 years later. As a business owner myself, I admire that trait SO much in a company!
Follow Columbus on Facebook to keep up with the latest!
Outdoor Buffet
With indoor parties, a buffet style set up for a party can be pretty common. However, when you're hosting an outdoor party, it can be a FABULOUS party characteristic. More room at the dining table or seating area, and guests won't be so crowded, reaching across one another!
Throw Your Own "Hooray It's a Soiree" Party!
Thank you SO much for popping over to see how I styled this "Hooray it's a Summer Soiree" party! It was a ton of fun, and the colors make me swoon!
Remember, styling and hosting a party doesn't have to be overwhelming and complicated. Follow these little tricks, and you'll be the hostess that others admire!