This post has been compensated by Collective Bias, Inc. and its advertiser. All opinions are mine alone. This post was sponsored by Starbucks® as part of an Influencer Activation. I received compensation and complimentary products to facilitate my review #StarbucksCaffeLatte #MyStarbucksatHome #CollectiveBias
Hosting a brunch has been on my party "wish list," for some time now. So when Starbucks® came out with the new Starbucks® Caffe Latte K-Cup® pods, I envisioned a beautiful green tablescape, BEGGING to be styled for a brunch party with the gals. I can't wait to show you how we styled the table and place settings, for this elegant brunch!
Elegant Brunch Party Ideas
Brunch Styling How-To
Greenery. I couldn't get enough GREENERY, for this party. There's something about the "pop," of the beaming green color, blended with the soft naturals of brown, tan, white, and black. I tend to style this way in my home, and it will occasionally overflow in to my party styling just a bit.
What I love about styling a party in this color scheme, is that it tends to be a bit easier to use items that you have on hand. Beginning with your dining room table, you can add white candles, a white table runner, and a bit of greenery, and you're already almost ready for guests!
Brunch Menu Cards:
I wanted something timeless and classic for the menu cards, so with only a little graphic design needed for this style, it was only a matter of picking a font that I already loved, and typing it out in PicMonkey (or you could easily create them in a word document.)  I then found kraft colored cardstock and printed them right at home!
Place Setting Details:
Once we had the place settings arranged, we placed a floral crown on top of each plate/menu card. (Tutorial for flower crowns at the end of this post.)
Then we created name cards for each setting, using kraft tags from the craft supply store, and wrote each guests name, applied the cutest little coffee cup stamp, and tied them to the floral crown with a bit of white ribbon.
But we didn't stop there! Have I mentioned that I think this is my favorite place setting EVER?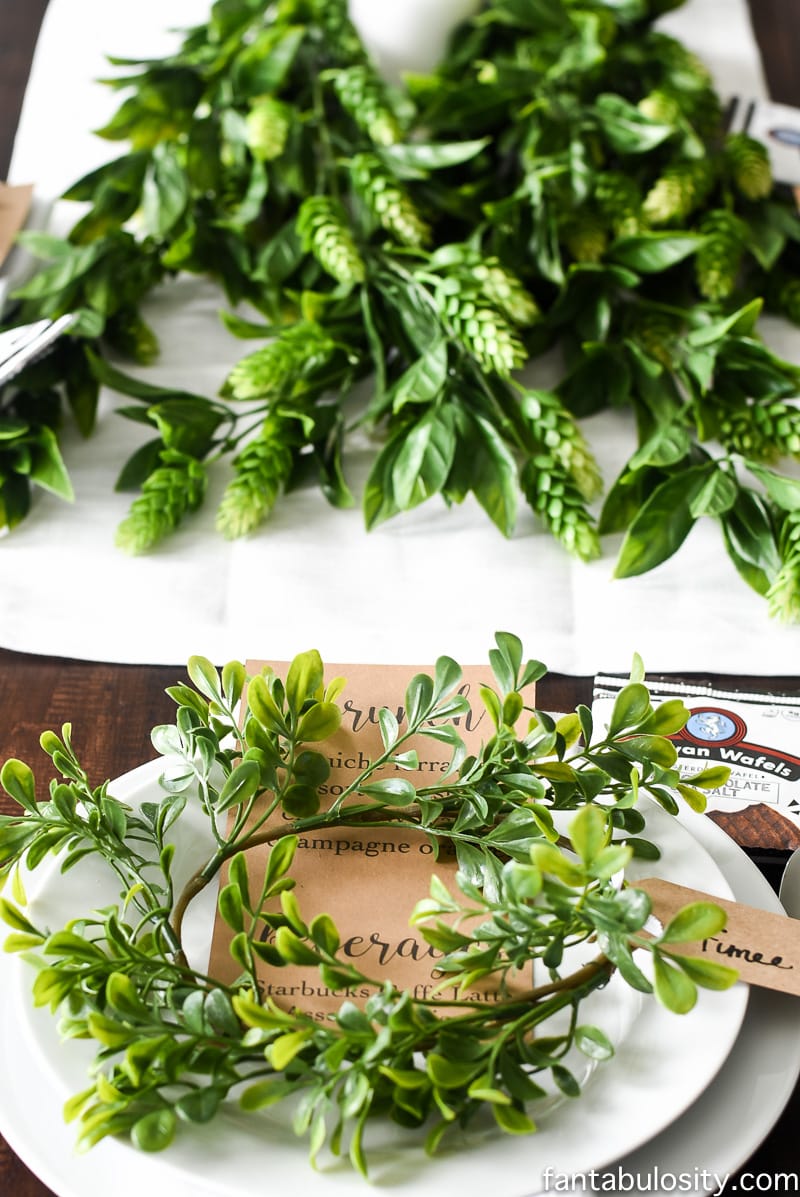 Along the side of each place setting was a special treat to enjoy that morning, or to take home later for quick bite.
What more could we possibly add to this place setting… right? Well my gal pals, are my gal pals for a reason. We know how to appreciate Starbucks®, so each guest was greeted with their own Starbucks® mug, complete with Starbucks® Caffe Latte K-Cup® pods.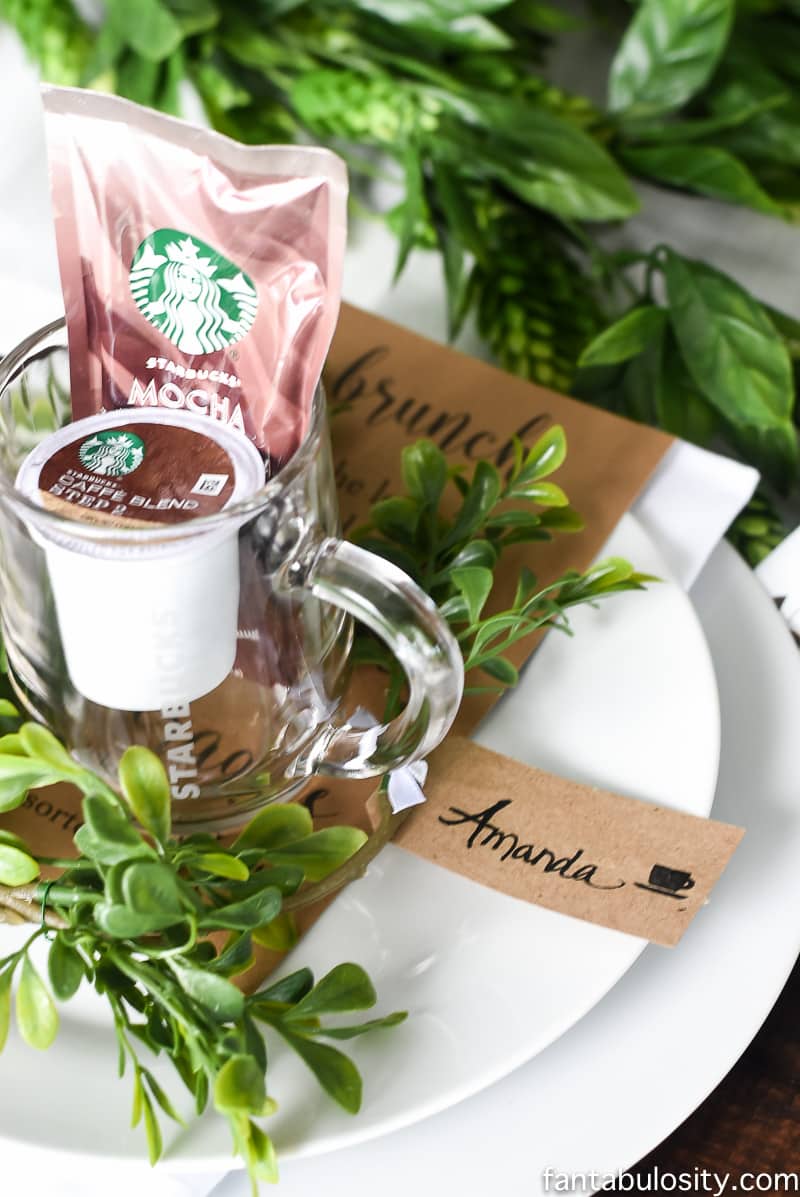 Starbucks® Caffé Latte K-Cup® pods
I have to say… every time I'm out, I'm usually grabbing a latte, and stick to regular coffee when I'm back at home. But now… NOW I'm able to sip on a latte at home, using the Starbucks® Caffé Latte K-Cup® pods! I fell in love the moment I tried it for the first time. I'm also a huge fan because they are made from milk with no artificial ingredients and they come in 3 Starbucks® signature flavors (Caramel, Mocha, and Vanilla) and 2 beloved Starbucks® seasonal flavors (Pumpkin Spice and Peppermint Mocha, available for a limited time. My favorite happens to be the Vanilla.)
How does it work?
There is a two-step process to make the beverage. Step 1: Pour the flavor packet into your favorite mug. Step 2: Brew the Starbucks® Caffe Blend K-Cup® pod in your Keurig brewer and stir to enjoy! So, so easy to have a latte at home every morning. I (heart) Starbucks®. The Caffe Latte K-Cup® pods are the incredible flavors that only they can create.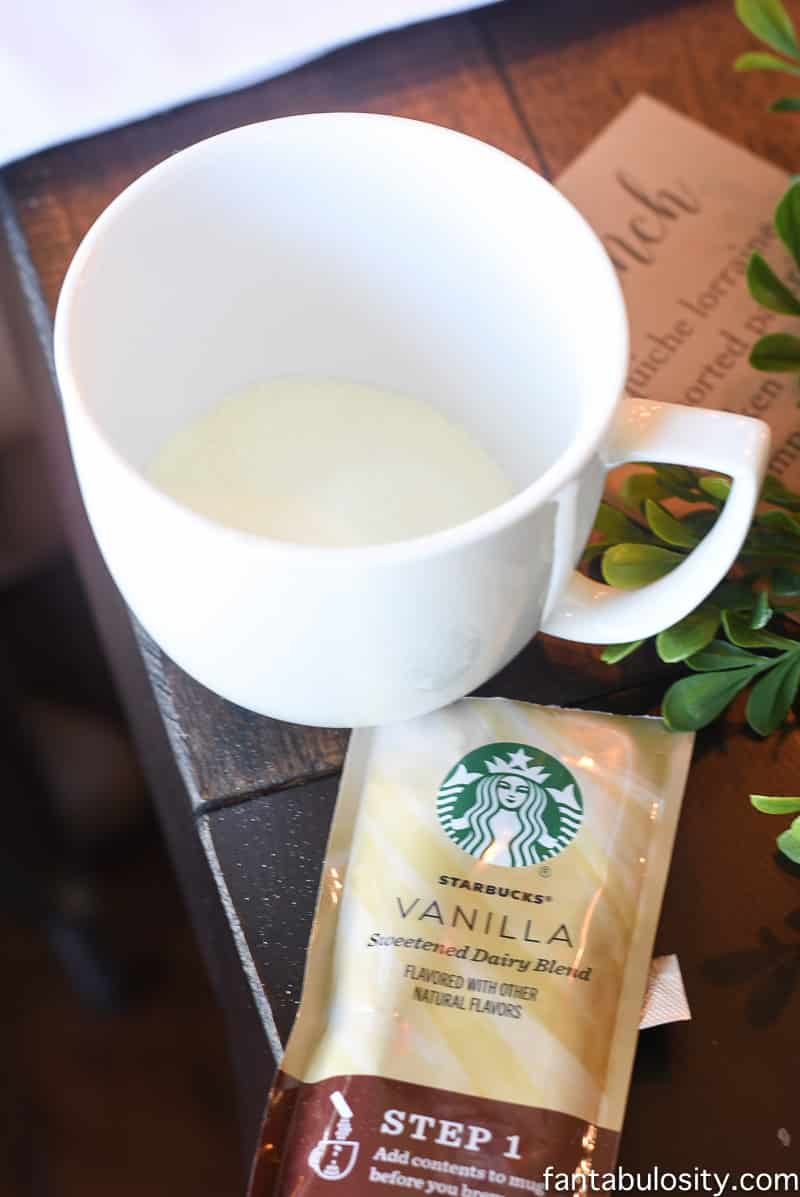 No time, like "Girl Time."
As I'm approaching my mid-thirties, I'm realizing that I NEED my girlfriends in my life. At least once a month, we all find a reason to get together, and soak up those conversations that we long for. I was incredibly excited to have some of them over the other morning to chat over coffee, and munch on some of my favorite brunch dishes.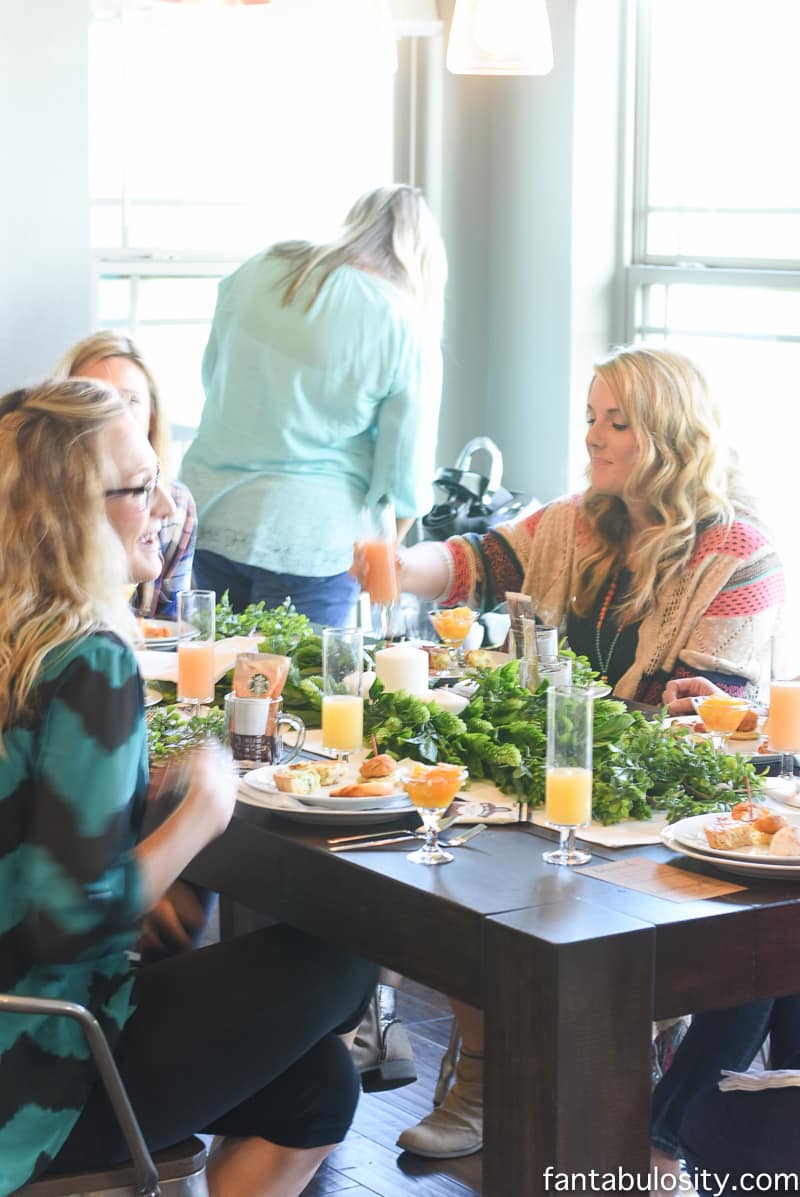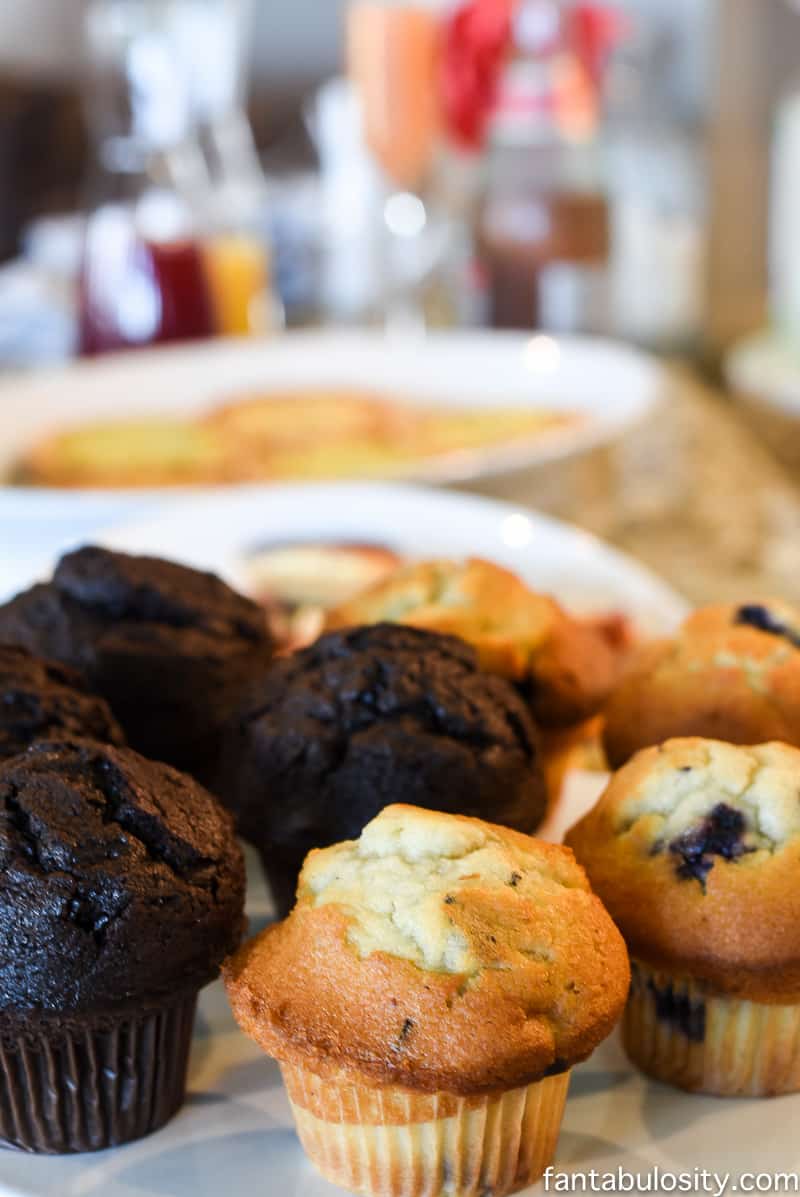 DIY Floral Crown Tutorial
You all, this had to be one of the easiest party favors/place setting name cards, we've ever created. I found the perfect "look," of leaves that I was going for, in a long garland. Cutting just enough to make the perfect size for a crown, and wrapping the but garland around floral wire, we had our floral crown.
But to add a bit more "umph," we tied the custom name cards to each crown, with classic white ribbon.
See!! Look how cute they turned out! This also works great if you have guests who don't quite know each other yet, and need to be reminded of each other's names. Just leave the place card attached to the floral crown, and everyone has "built-in" name tags for the brunch!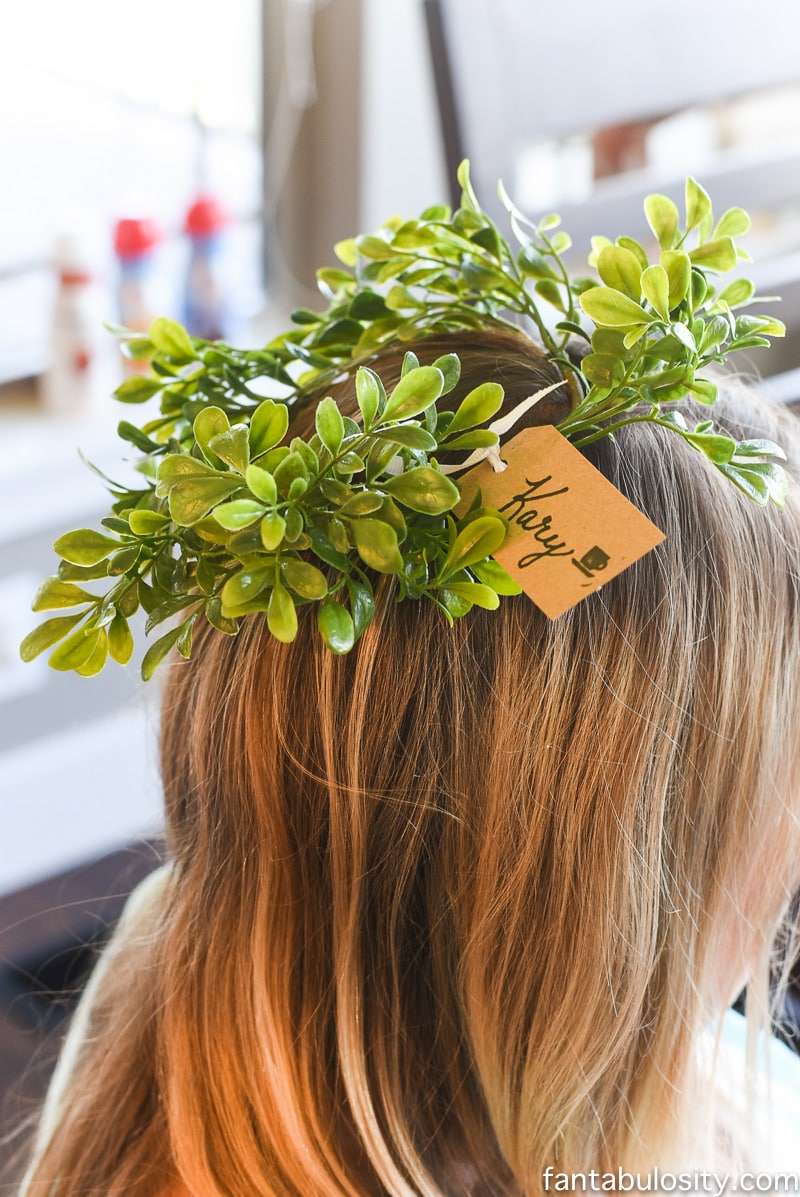 Are you hosting your own brunch?
Have you ever hosted a brunch for your closest gal pals? I strongly encourage it! I'm already in the process to host another one very soon, so we have an excuse to drink coffee, eat delicious treats, and have FABULOUS conversation!

2016 Starbucks® Corporation. All rights reserved. Keurig, Keurig HOT, K-Cup and the K logo are trademarks of Keurig Green Mountain, Inc., used with permission.