This is a sponsored post. But of course all thoughts and opinions are my own, as always!
7 Ways I Get Motivated – As a stay-at-home mom, and a work-at-home mom, it's so easy to stay in yoga pants and let the couch be your best friend. Here are a few ways to motivate you to get up and tackle the day!
Alright, let's just get right to my number 1 and favorite way that I stay motivated, to get.things.done. Shall we?
7 Ways I Get Motivated on the Daily
1. Coffee. For Real.
It's literally what I think about to help me roll out of bed each morning. It's warm, it's cozy and it gets me through my day.
Now, you all know how I feel about donuts, especially DUNKIN' DONUTS®.
I'll never forget the first time I saw that Dunkin' Donuts came out with a coffee creamer. It was like the heavens parted, and my mornings were suddenly going to be filled with angels singing.
Extra Extra Flavors
Well, let me tell you… Dunkin' Donuts® Extra Extra (made with real cream & sugar) just came out with two new flavors; Vanilla Extra Extra and Caramel Extra Extra. With it's rich, creamy sweetness, it lets you make your coffee "extra" and get your day started on the right foot! Dunkin' Donuts® Extra Extra Creamer is made with real sugar, milk and cream for a wonderfully rich and smooth taste. The perfect choice for coffee purists.
The "3-A-Day"
So I kind of have a routine right now. In the morning, you'll typically find me sippin' on 2 cups of fresh brewed coffee with the Vanilla Extra Extra Creamer. There's something about that vanilla flavor in the mornings that make me feel all cozy inside and motivated to get started on my day, whether it's full of:
Cleaning
Doctors appointments
Baseball or musical theater for the boys
Recovering from sleepless nights
…and whatever else being a busy mom can look like!
Then… about 2:00, (when I tend to lack in the motivation department) you'll find me sippin' an iced coffee, (ice, coffee and creamer) and that's when I'll use the Caramel Extra Extra creamer. It's something that I look forward to every afternoon for an extra boost, and the perfect treat on a hot summer day, especially on outdoor outings. Which brings me to my next motivation strategy…
2. Make Plans WITH the Kids
Do you ever find how easy it is to make future plans, only for the day to come, and it doesn't sound like a good idea anymore? I'm so guilty of this. For instance, sometimes I'll get a bright idea like,
I think I'll take the boys to that amusement park on Thursday!
only for Thursday to come, and I find myself thinking,
What WAS I thinking!? It's hot, I'm tired and I'd much rather just stay home. Again.
And what I've learned in the past, when I've told them about the fun idea that I have, I'm usually left dealing with their emotional breakdowns if something falls through and we don't actually do it.
But, what I've also learned is, that if I DO end up telling them the fun idea that I have, they hold me to it.
So this way, it's not easy for me to back out and decide to stay at home in my yoga pants when that sounds like the better thing to do at the time.
Honestly though, when I do follow through with getting them up and out of the house, I usually feel so much better too. Now, combine my #1 tip with my #2 tip, and you'll find me with my iced coffee at somewhere like the park, at least once a week during the spring and summer.
Double Motivation
As a work at home mom, sometimes getting out to a place where the boys can roam and have free-play, this is also an amazing time to get work done. My boys get to play and burn off energy, while I'm able to bring along my laptop and knock out some to-do's off of my list. Up and out of the house + Getting work done with my business = DOUBLE MOTIVATION.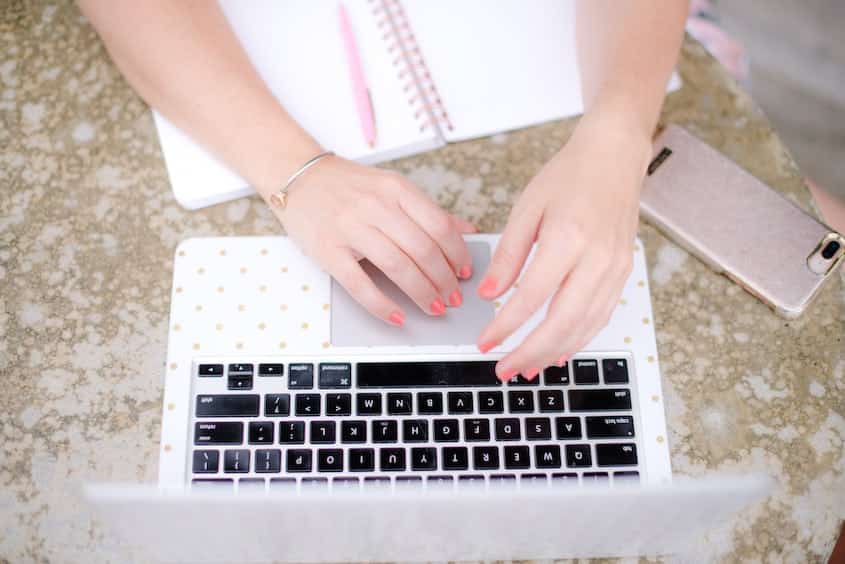 3. Use a Planner – It's Not Just for Organization
Sure, planners are a great tool for keeping to do's organized and appointments on point. But they're honestly a BIG motivator for me.
I love writing things down that have to be, or need to be done, on each day. When I see something written down, it's not easy to give it a mental "no" and it's not easy to forget about it, when an episode of my favorite show may be on.
So whether it's a planner or a separate to-do list that you keep, having items written down, can be a great visual motivation that can keep you going!
4. Trick Yourself
Have you ever woken up one morning and just thought,
"Nope. Not today."
I totally get it. Some days I don't even feel like showering or changing out of my pajamas. But man… the days where I HAVE to do something, I have a little trick up my sleeve for getting the motivation I need.
I trick myself.
Crazy, right? If you saw my post "7 Ways to Trick Yourself into Getting Things Done" then you may know my shower trick. On the days where I would rather poke my eyeballs out than take a shower, I'll tell myself,
"Ok, I won't wash my hair. That will shave off a good 15 minutes of washing/fixing my hair. I can manage that."
Then suddenly the dreaded shower seems bearable.
But guess what? I usually end up going "full blown" with the shower… washing my hair, and doing the whole shebang once I get in there. Happens almost every time. Almost. Tricking myself by saying "I'll just do a little today" is usually just the motivation I need, to actually get the whole thing done and to get moving.
5. Jeans and Tennis Shoes
I'm not kidding, the simple act of putting on a pair of jeans and tennis shoes does WONDERS for motivation.
Jeans aren't usually something I want to get cozy on the couch in, and tennis shoes aren't easy to slip off and kick my feet up in.
So if I find myself sitting longer than I "should" the jeans remind me that it's not bed time, and seeing the tennis shoes on my feet during the day, becomes a trigger that's telling me it may be a good time to go for a walk.
6. Have a Hobby
There was a time, as a stay-at-home mom, where I was super bored.
The house was as clean as it could be.
Dinner was either already made or planned.
I had a baby that couldn't talk back to me yet.
I found myself unmotivated and bored out of my mind. But once I started looking for a hobby, and started my hobby (which turned out to be this blog and my business), I suddenly found myself incredibly motivated to make something of it.
This meant mornings with excitement to roll out of bed because I was getting to do something I loved.
Then when I found out that it could be a business of my own, I was really motivated each day to build it and work on it. Finding something that you love to do, can be a big motivation boost for sure.
7. Schedule Plans with Friends
At this stage of life, finding time to hang out with friends can be difficult. Tack on having to cancel because of a sick kiddo, babysitter cancellation, etc., and it becomes even more difficult. But sometimes, it may be tempting to cancel hanging out with a friend, because staying at home under the covers sounds so much better.
However, if I'm the one that schedules it, I'm much less likely to cancel. I arranged it, and I can't let them down, right? So I'll schedule a date with a friend if I'm feeling the need for some girl time, and need a boost to get out of the house. Having that friend depend on me, will motivate me to get out! Then, hanging out with a friend usually motivates me in different areas of my life. (Because… well, my friends are pretty darn amazing.)
Thank you so much to Dunkin' Donuts for helping me share my favorite motivational strategies with you, to keep going as a busy stay-at-home and work-at-home mom! I hope you found them super helpful. Cheers to coffee mornings and motivated days!
This is a sponsored post. All opinions are my own.