This post was sponsored by Annie Selke as part of an Influencer Activation for Influence Central and all opinions expressed in my post are my own.
How to Make a Bed: Bring the "Hotel" Home… How to Make a Bed, and how to make it look and feel like you're staying in a luxurious hotel room, every night. PLUS… a chance to win one of 3 gift cards to Annie Selke, valued at $500 each!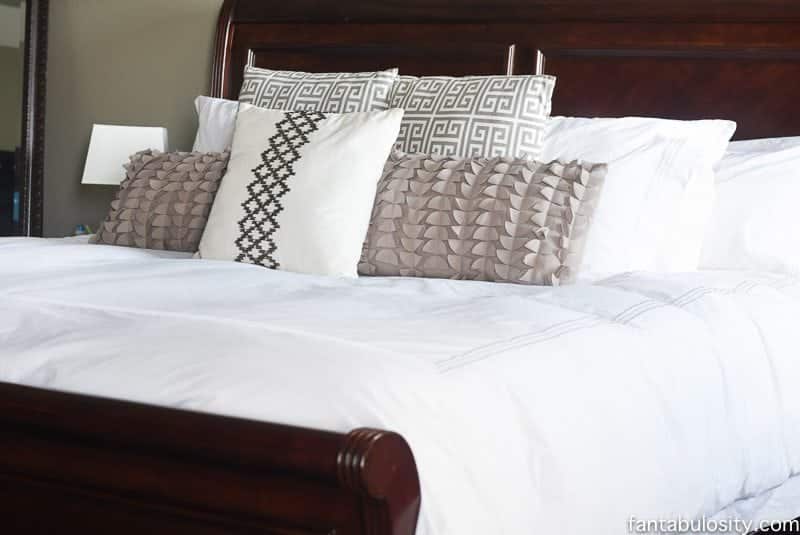 If you've been on our home tour, then my bed frame, and decorative pillows may not be "new" news to you, because you've seen part 2 of the tour: our master bedroom. BUT, I couldn't wait to show you the newest additions to the master bedroom: our new Trio White Duvet Cover, Trio White Shams, and Trio White Pillow Cases from Annie Selke.
While showing you around a bit, I thought it would also be the perfect time to share how I style our bed, to make it feel like a "hotel stay," every night. I'm often asked how I get our bed to look fluffy and comfy… rather than just a "made bed," so this was the PERFECT excuse.
How to Make a Bed: Hotel Style
If you've traveled a lot recently, you may have noticed that a lot of hotels have white bed linens now. (I've often asked myself why they would do that, because that seems like it would leave major risk for showing any stains, right?. But I once heard that they do this, because guests tend to favor the the white linens, because it appears to be cleaner. Truth or not… I found myself quickly wanting a white duvet cover for our bed, and I've been in love with it, ever since.
So let's walk through how to easily style a bed, to get the hotel "feel," for yours too!
1. White Linens
Although you can see a touch of green on my bed below, the majority of the bed is covered in white linens. (I do love a tiny pop of color on our bed to match our bathroom linens, so I chose to have the quilt a matching shade of green, but you could easily do all white!) White sheets, white pillow cases, white pillow shams, and a white duvet cover are a fabulous start!
2. Down Comforter & Duvet Cover
There's just something about the "fluffiness," of a down comforter and duvet cover, that add's so much character to the bed. It gives off more of an "airy" look to the bed, and if you love to snuggle up under a big soft "blanket," then this may be the key! Place your comforter or duvet cover on the bed, trying to "iron" out any wrinkles or creases with your hands.
••• How to Put on a Duvet Cover in 4 Steps…
I have to admit. The first time that I bought a duvet cover, I had to search high and low for a tutorial, and I finally figured it out. So when my gal pals were over the other day, they both said that they had never put one on, so I thought this would be an excellent time to show them, and YOU! See the steps below…
Step 1: Turn the duvet cover, inside out, and lay out flat, on a flat surface. (This could be on the bed, or on the floor.)
Step 2: Place the comforter on top of the duvet, so all sides are lined up, even. If you have duvet clips, you can secure the corners of the duvet to the corners of the comforter, so it will hold in place, but it's not necessary.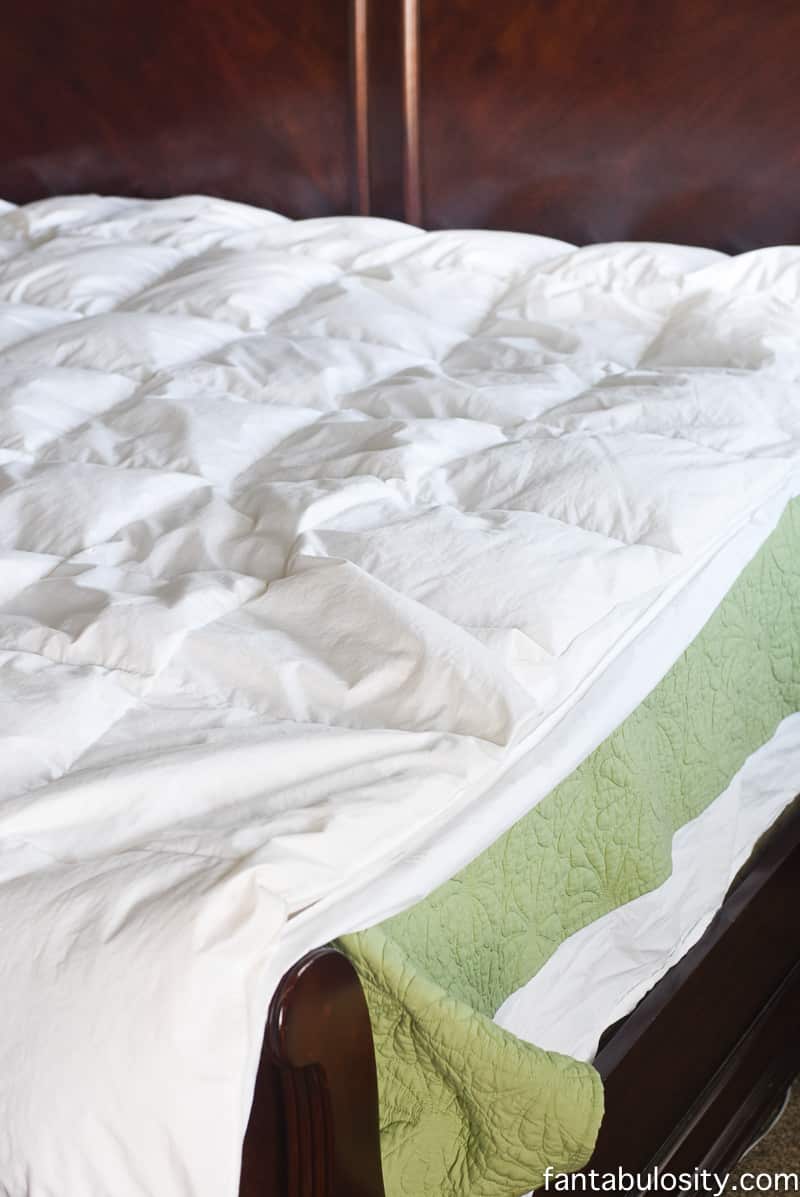 Step 3: Reaching in the opening of the duvet cover (one side will be open), grab an inside corner, and pull the duvet and comforter through the opening, which will flip the duvet cover rightside "out," and placing the comforter "inside."
Step 4: Once the duvet cover is pulled through completely, you can then button up the opening. (This is just another reason why I love duvet covers so much. You can remove the cover and wash it as often as you like.) Then that's it! You can cover your sheets/quilt with your new comforter/duvet cover.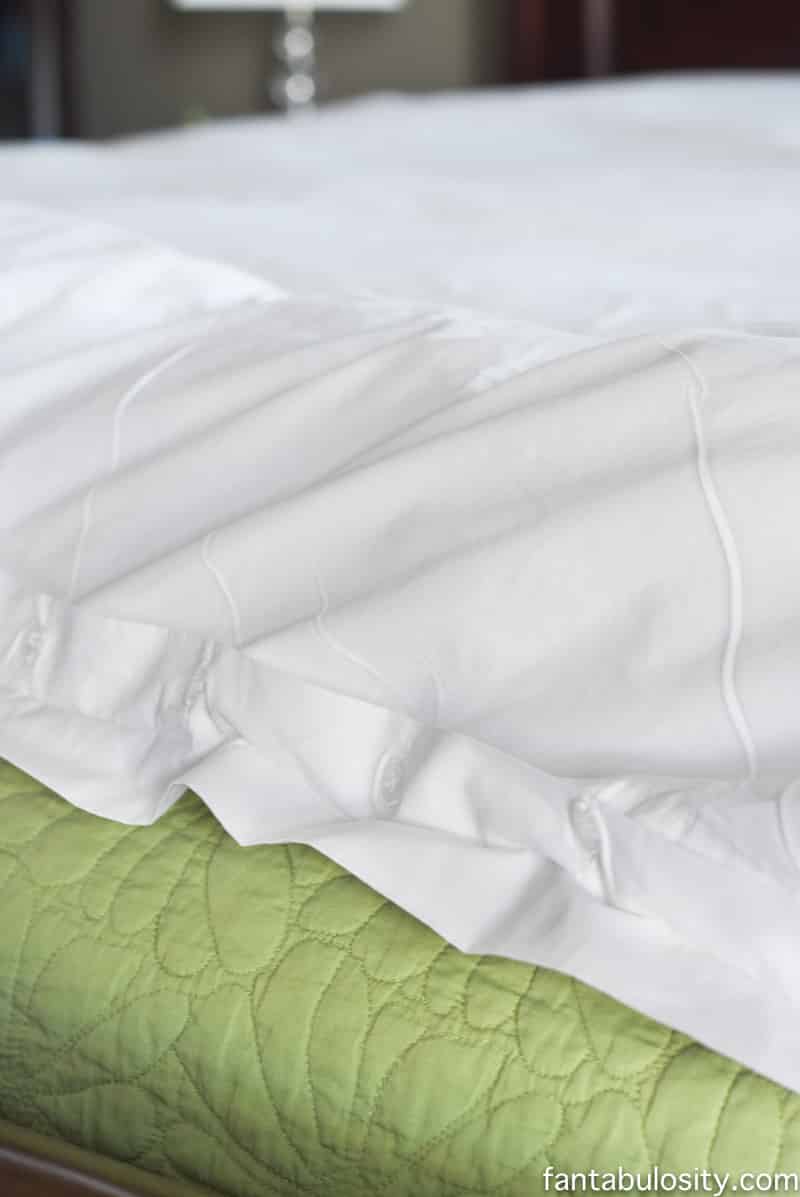 3. White Pillow Shams and Pillow Cases
With the same mindset of the duvet cover, and sheets… white pillow cases and shams are another popular hotel staple, on their beds. But when shopping for pillow cases, you can't go wrong with a silky-smooth touch. The last thing that you want to do is lay your head down after a hard day, on an itchy/scratchy pillow case. I'm in LOVE with the pillow cases that I found at Annie Selke. So smooth and cozy at night!
How to Style Your Pillows:
Starting with the pillows that you sleep on, place them at a slight angle (top leaning back) up against the headboard. You can then skip ahead to the next step, unless you have more sleeping pillows. (This is where I admit that we tend to sleep with a few more pillows than probably most people do. So I add one more row of "sleeping," pillows, next.)
Begin placing any other "sleeping" pillows at an angle in front of the others. When there are no other sleeping pillows, place the decorative shams in front of the sleeping pillows.
4. Decorative Pillows
Using different shapes of decorative pillows, you can easily add a gentle "flair," to your bed. Rectangle, square, small, and large. Also, using neutral colors like gray and white, gives off that crisp, subtle "hotel feel." Of course adding a pop of color with throw/decorative pillows, is absolutely fine. Continuing to angle the decorative pillows, to "build out," the bed… is key in making the bed look "full," and inviting.
Experiment with the different shapes/styles of pillows that you have. Perhaps mixing up the textures, using large chunky pillows for the "back," rectangle pillows to add width, and a "center of attention," pillow to make the whole bed "pop," like I did here. But after experimenting with a few different placements, I'm sure you'll find the perfect look!
Creating a "hotel-look" in your own bedroom doesn't have to be complicated. Sticking with a neutral pallet, using linens that you can't wait to rest your head on at night, and pillows that are subtle… yet "pop," is a fabulous combination for a hotel retreat that you can call yours!