How to Start a Lifestyle Blog: The step-by-step guide on what you need to get your lifestyle blog up and running!
Plus, if you're feeling uncertain about what you'd write blog posts on, here are over 50 blog post ideas for a lifestyle blog!
Before I get into how to start a lifestyle blog, I'm going to assume that you already know what a lifestyle blog is.
If you don't, I'd recommend that you head over to my blog posts "What is a Lifestyle Blog" and "How do I know if I Should Start a Lifestyle Blog", just to have a better idea of the difference between a personal, niched or lifestyle blog.
Not 100% Sure if a Lifestyle Blog is Right for You?
If it's right for you, keep scrolling on! But if you're not sure yet, you're not alone.
So many of my blogging students have wondered if a lifestyle blog is the type of blog they should start, or if they should focus and niche down on something more specific. If this is you…
Then this is what you need before starting your blog…
Not only do you get a video training to help you decide if a blog is right for you and what type of blog is right for you, you also get this free workbook to help guide you and work out the details!
So DON'T MAKE THE SAME MISTAKE I DID!
I so wish I would have had this how to start a blog workshop when I got started blogging in 2011, so I wouldn't have started a blog that I quickly resented and start from scratch after 2 VERY LONG years.
After completing this class and workbook, you'll have:
A strategy for starting a blog.
Clarity on what type of blog to start.
Confidence in starting on the right foot.
The purpose behind why you're blogging.
Determination to succeed with your blog.
Goals to reach and work towards.
---
How to Start a Lifestyle Blog
Alright, you KNOW it's a lifestyle blog that you want to start and you're rockin' and ready, so let's get started!
If you read my post on "How to Start a Blog in 5 Easy Steps", then this will look a little familiar to you.
But what will be a little bit different here, is that I'll be a little more specific to a lifestyle blog, rather than generalizing it for anyone looking to start any type of blog!
How Serious About Blogging Are You?
I'm giving you the steps to start your lifestyle blog here in this post, but if you're really serious about this blogging thing, you're going to want my "Fantabulous Blogging 101″ course on How to Start a Blog instead;
Where I dig in deeper on the following steps you're about to read and SHOW you HOW to start a blog from scratch instead of just telling you, along with the best practices to get started on the right foot to help you succeed and stick with it!
What one student says about Fantabulous Blogging 101…
"One night, I came across Fantabulosity on Instagram and saw that Jessica was about to offer a Fantabulous Blogging 101 course. So I signed up that night, no turning back, and had my blog up and running in less than two days!

The Fantabulous Blogging 101 course was truly the best decision I could have made!

Click here to learn more about Fantabulous Blogging 101!
What You'll Receive in this Course:
The Blog Blueprint – An understanding of how a blog works and operates.
A guide on selecting and securing the perfect domain name for your blog.
Logo creation process and design resources for beginners.
Explanation of why Wordpress.org is recommended and tour of the behind-the-scenes of my blog, Fantabulosity.
My recommended hosting companies and the hosts to stay away from, along with how to buy your hosting and installing Wordpress.
A step-by-step tutorial of how to connect and point the hosting company to your domain, that is required to make your blog visible online!
Wordpress walk-through and basic blog post creation how-to, to publishing your very first blog post for all the world to see!
Plus… worksheets along the way to assist and take notes!
If you're not ready for the course, here's the highlighted version and step-by-step tutorial:
Your first step of starting your lifestyle blog is…
1. Decide on the Name of Your Blog
Will the name of your blog be something that:
describes what you'll be writing about, to a "T"?
one that's full of keywords that you hope others will see and know EXACTLY what to expect?
or will it be something "cutesy," you have come up with?
Tips for Picking the Name of Your Lifestyle Blog:
Is the name something that's easy to remember for readers? This may be something catchy, short, or even relatable to your target audience.
For example, something like:
LifebyLilly.com or MomLifeonCall.com
Where we can tell that Lilly is going to be telling us about her lifestyle, or where a mom is going to be telling us about her mom-life and how she's always "on-call" as a mom. (P.S. How cute would this name be if she were a nurse on-call too!)
Can the name grow with you? If your lifestyle is due to change at some point, consider this before naming it something very niched and specific. (However, know that you CAN change the name later if you want, but keeping that in mind now may avoid extra work in the future.)
For instance, stay away from a lifestyle blog name that may limit you, like:
LifeAt35.com or MyTeenageLifeFashion.com
Where "LifeAt35.com" wouldn't make much sense since she's aging as the days go by, right?
Or MyTeenageLifeFashion.com may be a little bit different if you grow up and you're all of a sudden sharing fashion tips for women in their 20's, 30's, etc.
---
Or, if it's very possible that you may change the direction of your blog at some point consider keeping the name of it more "general".
For instance, if your name is Fiona and you have a love for exercise and fashion, but you know that you may want to share your favorite recipes along the way, perhaps name it something like:
FionasFitLife.com instead of FionasFitFashion.com
Don't stress over the name, and if you're a perfectionist like me, don't let it hold you back from starting. You can always change it later, and you can blog about anything that you want, no matter what the name of your blog is.
2. Get Your Domain Name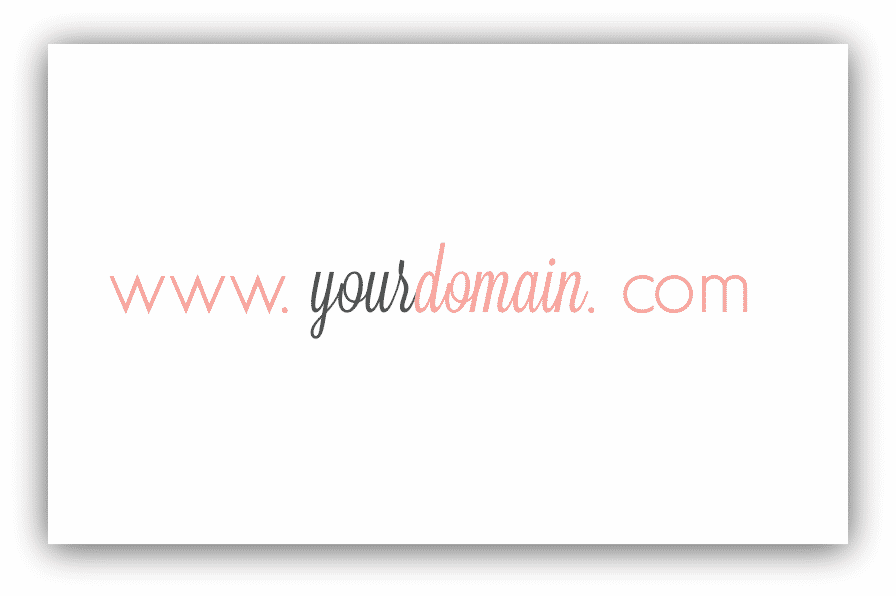 Your web address, for example: http://example.com
Now… is the domain you want, available? That's a big question.
You may have the most PERFECT idea for a blog name, until you go to get the domain, and someone else had that great idea before you. Booo!
Yes… That's happened to me a lot. It has happened to everyone I'm sure.
NameCheap
I always get my domains at Name Cheap, (for usually around $12.00) and I'm VERY pleased with them. Or, you can get one for free if you choose to go with this host, which we'll discuss in step 4.
Buying Your Domain
On NameCheap, find the search bar and type in what you want your domain to be (www.nameyoupick.com). Then, it will show you if it's available or not. If it is… then hot dog! It's yours!
Double check your spelling though, just in case, and add it to your cart and checkout. Time for the next step.
3. Platform – Wordpress
There are typically only a few platforms that new bloggers try to decide between.
What's a platform? Yeah, I was there too. So don't feel bad if you aren't sure what I'm talking about yet. That's why you're here!
So there's a "backend," to your website, where you can go in to "edit" your site to create blog posts, change the look of your website, etc.
There are pros and cons to them all.
Blogger
Wix
SquareSpace
WordPress
…are typically the platforms that are the most popular.
---
I've heard good things about Blogger, Wix, and Squarespace…
HOWEVER, I've been told that if you will want to potentially:
make money with your blog with ads
OWN your own blog
or even customize your blog with looks, settings, etc.
…WordPress.org is the way to go because I've been told that Blogger, Wix, and Squarespace may have restrictions that will keep you from doing a lot of things that you may wish you could. But again, I've never used those, so I can't really tell you what all that they can offer/do.
I really, REALLY just suggest to make sure that you own your blog (which means, to pay for "hosting"… which I'll get in to later), so it can't be taken away from you one day. So with that said, Wordpress.org (not .com) is what I recommend.
Wordpress.Org
Wordpress.org is free to download (but hold the phone… you may not have to download it if you choose a host that will download and install it for you for free; more on that in a second) but you have to pay for hosting, to get your blog "live" on the Internet… although hosting can be VERY affordable and it's so worth it, because:
With Wordpress.org, you have the flexibility to:
place ads on your site
use plugins
have more options for themes/templates
and it has more SEO features
… than some platforms. So if you take my advice, then plan to use Wordpress.org and we'll move on to hosting, and you'll see how it all ties together.
4. Hosting
Hosting is what "holds," your site, or makes it "live" on the Internet. Think of it as you're paying rent to appear on the internet.
So yes… when you use Wordpress.org instead of one of the other platforms that I mentioned…you'll have to pay for hosting.
But most hosting plans can be affordable.
You can get it for only $3.95 a month! I mean, that's cheaper than a trip into the convenience store for me!
I Recommend: Siteground
Fantabulosity is actually hosted on Cloudways, but that's a managed hosting that my tech gal encouraged me to use since I was really concerned about my site speed since I have a ton of content on my blog after 6 years of blogging.
It's not really user-friendly, so as a beginner, I don't recommend this host just yet.
But if you're just starting out, SiteGround is one that I also recommend for beginners because:
it's affordable
customer service is wonderful
it installs Wordpress for you
it comes with great security and backup procedures
Also note: If you haven't bought your domain in step 3 yet, you can buy it from SiteGround at the same time you're buying your hosting if you want it all in one place.
I personally like having them in different places in case I ever decide to change my host one day, so it doesn't become an issue.
But What about Bluehost?
So many bloggers and "experts" out there recommend BlueHost and I feel it's worth mentioning because so many of my blogging students ask me about it since they see it recommended so often.
Bluehost pays insanely amazing referral fees to those who recommend their service. So some will recommend Bluehost just so they can make a ton of affiliate commission.
To be honest, I haven't heard the best things about Bluehost, so I really can't recommend them, but I did see that they offer a free domain for the first year, so if you're wanting to save some money, then Bluehost may be one to try out.
Installing Wordpress and Becoming Official
If you do decide to go with Siteground, select that you want them to install Wordpress.org for you, so you don't even have to think about it! As a beginner, this is a GAME CHANGER and makes things so much easier.
Remember…
If you do struggle with any of the hosting set-up process, please know that Google and YouTube are your friends! I still use those for help every day!
5. Theme & Templates
For creatives like me, this is the FUN part. Deciding how and what your blog will look like. The colors, fonts, image placeholders, etc.
I recommend browsing the web for similar blogs that you love the "look," of.
What catches your attention?
See colors do you like?
What fonts do you like?
Make note of everything you like of others, that you'd like on yours.
Free Themes and Templates:
Wordpress offers free themes to get started, and you're more than welcome to use and personalize one of those!
However, I always suggest looking around and possibly buying one before launching if you want more of a custom or certain-type of "look". So this way, you may not have to change it later if you're not happy with the free themes that Wordpress offers.
Tip for Theme Searching…
Do you like the way a certain blog/website looks? Scroll to the bottom to see who designed it, because sometimes the designer will include a link to their site!
Head over to the designer's site, and see if they provide free templates or "ready to purchase" templates, or are taking new customers for blog design.
If you don't have any luck with that, google "free blog templates," and you may just get lucky enough and find a fantabulous blog template that you love, for free!
Etsy also has a TON of templates that you can likely score for a few bucks!
Tie It All Together
You have your domain, your host and your theme/template. It's time to tie it all together and get your blog off and running! Next steps…
point your domain to your hosting company (this process will depend on which domain company and hosting company you use).
install Wordpress (again, Siteground can do this for you!)
install your theme to your Wordpress (some theme/template providers will do this for you!)
Write Your Blog Post
Once Wordpress is installed and you're able to access your Wordpress dashboard, you're ready to write and customize your site!
I'm so excited for you and can't wait for you to publish your first post!
Overwhelmed? Stuck?
I get it. If you're feeling overwhelmed or stuck with this process, it's totally understandable. It can be hard to read so much online about starting a blog, with different opinions and explanations.
So that's EXACTLY why I created the "Fantabulous Blogging 101 – How to Start a Blog" course.
I wanted to be able to SHOW you how to start your blog, rather than just throw a bunch of words at you.
How?
In the course, I start a whole new blog myself, so you can see exactly how to do it and you can follow along, step-by-step. YES! Really!
At the End of This Course You'll…
have all the tools you'll need to launch on the right foot, and will be writing and publishing your very first blog post!
So let me be your cheerleader, and skip all of the time and endless hours of reading online… and jump-start your blog by getting your hands on Fantabulous Blogging 101 TODAY!
Post Recap and Resources:
Decide the name of your blog
Use NameCheap to buy your domain
Choose Wordpress.org
Use Siteground for hosting
Find a theme/template to use
One More Tip
Even as an introvert, I've found that it has been so important to me to have some blogging friends in my corner. Whether that's for advice or just having someone who "gets" it, you know? I've gone in to more about the Importance of Blogging Relationships to help you in your own journey!
Share Your New Blog with Me!!
I can't wait to follow along! Share the link to your new lifestyle blog in the comments below and I'd be happy to check it out!