Organization Ideas and Tips: What I Use to Stay Organized and implement in to my personal and business life to manage stress, finances, and overall sanity!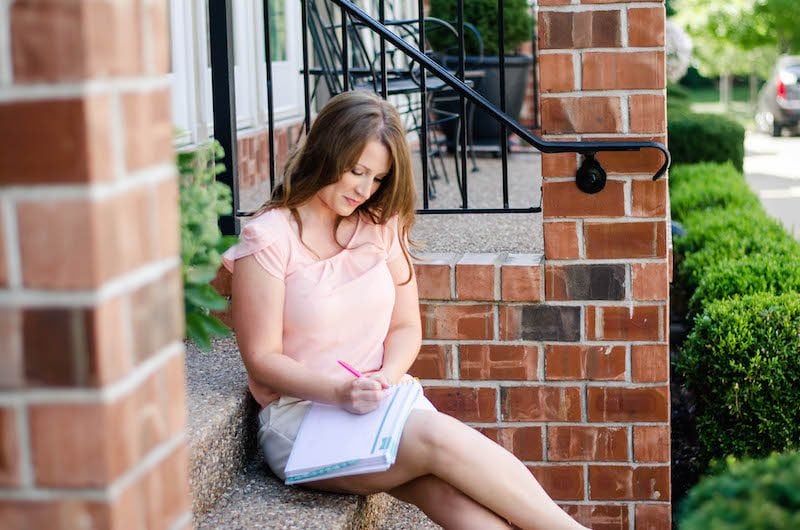 Organization Ideas & Tips
I am totally guilty of using the new year, as an excuse to start fresh. Perhaps it's the OCD tendencies that I have in some areas of life, but I'm a sucker for it.
Usually about a week before the new year, I start gathering all of my printables, folders, binders, (cute pens too) and start planning my organization strategies come January 1st.
Although there are multiple programs, and resources that I use throughout the year for business and personal organization, I wanted to share with you the few that I couldn't live without.
It keeps track of just about anything I need to keep tabs on, in our home and personal life.
Home inventory, grocery shopping checklist, babysitter info, pantry staples, user names and passwords, and so much more! It's a place to keep all the things we need during the day, and even a great place to store things like this kitchen measurements cheat sheet!
I honestly don't know what I'd do without it at this point.
Get my home management binder here!
I hadn't even heard of this until the middle of 2016. My brand manager told me about it, as a way to keep our conversations organized. I'll admit, at first I thought, "Why can't we just use email to talk." But THEN, I listened to her and she totally convinced me. It houses files, images, quick notes, long notes, and almost anything else that we think needs to be there. Now, it's one of the phone apps that I can't live without.
We created our own little folder so we can keep track of any ideas/convos/files all in one place. You're able to make your conversation boards "private," so if you were to have more than one other person involved in your Trello account, it won't be a problem with communicating all in the same place.
This tool works perfect for my business life, as a place to communicate but to also keep my to-do lists that I want to get to timely or one day.
Now, I teach other busy moms how to use Trello to manage their home and family and even their business or projects that they have going on!
I use dropbox for personal AND business. (There's even a way to keep it all separate, with the same login, if you want.)
I am that type. The type that's TERRIFIED of losing everything one day. So I find so much comfort in uploading anything important to me, to dropbox. With the Dropbox app, I can access it on the go if I need a file, or information off of something immediately.
I also store all of my photos on dropbox, because those take up TON's of space on my computer.
Can I get an "amen," for making finance life a little easier?! I'm not a fan of managing finances. I suppose if I had a TON of money in the bank, it wouldn't be as bad… but staring at bank balances, loan payments and all sorts of expenses, can be pretty daunting, right? (See my recent video from the "Creating Your Happy" series on Home Finance: The Routines + Tools I use!)
Well take it from me. Quickbooks has made this daunting task a lot easier, and a little more enjoyable.
• It will automatically sync to my online bank login and credit cards, making it easier than manually entering each transaction.
• It will keep a running balance of my checking account, so I can easily see what's going out, and what's coming in.
• PLUS, it will budget and track the expenses that we have, so I can say "Woah," or "Hey, let's go have a fun weekend away."
• I use the online version, so I can access it ANYWHERE, and if my computer crashes one day, I won't lose all of my finance info.
• One of my favorite aspects??? I can invite our accountant to my online account, and he can go right in and do what he needs to do without depending on me to get all of the info to him, come tax time. Score!
I use the Simple Start Plan, and find that it works wonderfully for what I need!
They're running a special it looks like, so grab Quickbooks today!
Oh how my month in advance printable helps save my sanity EACH month! I'm not sure what it was, but it seemed like every month on the 1st, I experienced a
When the heck did this month get here?
…kind of feeling, and I all of a sudden became overwhelmed with fear that I was forgetting something important. So filling out this printable about a week before the new month arrived REALLY helped prepare me for what was in store. Bills, appointments, important dates, etc.
You can download this free printable HERE!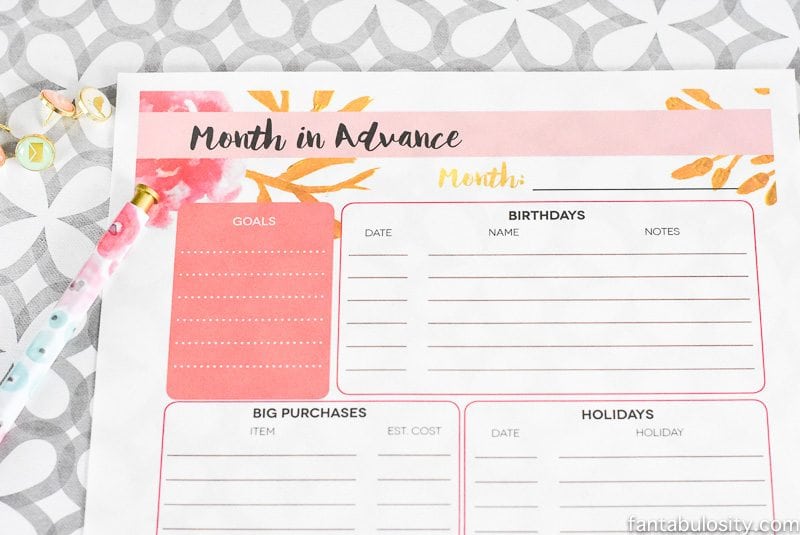 This finance planner is something that I chatted about in my Home Finance Routines and Tools blog post. It's cute as can be (I'm a sucker for cute organization) and has 16 pages of super useful finance tracking. Although I have Quickbooks, I will really enjoy seeing it all out on paper (I'm a paper kind of gal too) and it offers more than Quickbooks alone.
You can buy and download this financial planner from ElagantInk on Etsy, HERE.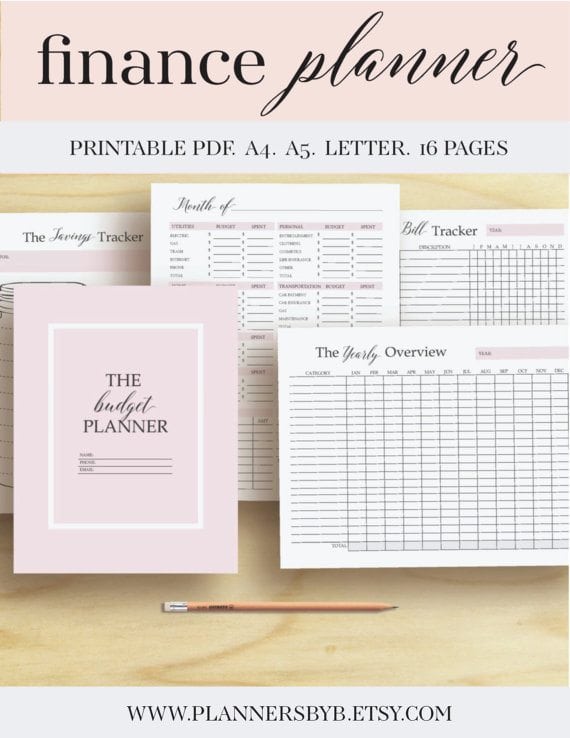 Or, if you have debt that you want to keep track of, this free debt tracker printable will come in handy!
---
There you have it! Those are my favorite tools for organizing my life and to help stay sane. Now when it comes to decluttering? This is the harsh truth about decluttering.
I hope you found these organization ideas and tips handy, and you've found something that you'd love to implement in the new year.
What's your favorite tool or tip/trick to stay organized during the new year? I'd LOVE to hear.