Purging (for extra cash), Clementines (don't let your husband touch them), & Big Boy Beds (When you THINK you're ready and you're not.) …. plus a bit on potty training too!
The saying, "Time goes by so fast," is starting to ring a little more true to this 30-something momma of two little boys.
After the excitement wore off of shopping online the other day for a new "big boy bed," the reality sank in that my littlest of littles, has retired the crib. So in "Fantabulosity," fashion the other day, I hopped on to Facebook "live," to chat with you all about the transition, and few other IMPORTANT tidbits. (Like, not letting your husband put clementines in the refrigerator and ways to "purge," to snag some extra cash.)
Facebook LIVE: Purging, Clementines, and Big Boy Beds
Video Highlights:
• My "Hot Mess" Look: Day two hair, and smeared makeup… is NOT the most flattering look on Facebook "live."
• Purging: I discuss a super easy way to make some extra cash, FAST! All while purging, and getting rid of things that you can get outta your way!
• Clementines: Due to the (gnat) "fruit fly" attack currently going on in our home, my husband had the bright idea to put all of the fruit in to our refrigerator… KILLING the delicious taste of my ever so favorite fruit. Clementines in the fridge aren't tasty.
• Big Boy Beds: I thought I was ready for this, but I wasn't. Broke my big ole fat heart.
Still shopping around for bed linens for this new guy from Hayneedle.com. My kiddos LOVED the surprise of the new bed with a slide, and wouldn't get "out of bed," until dinner time.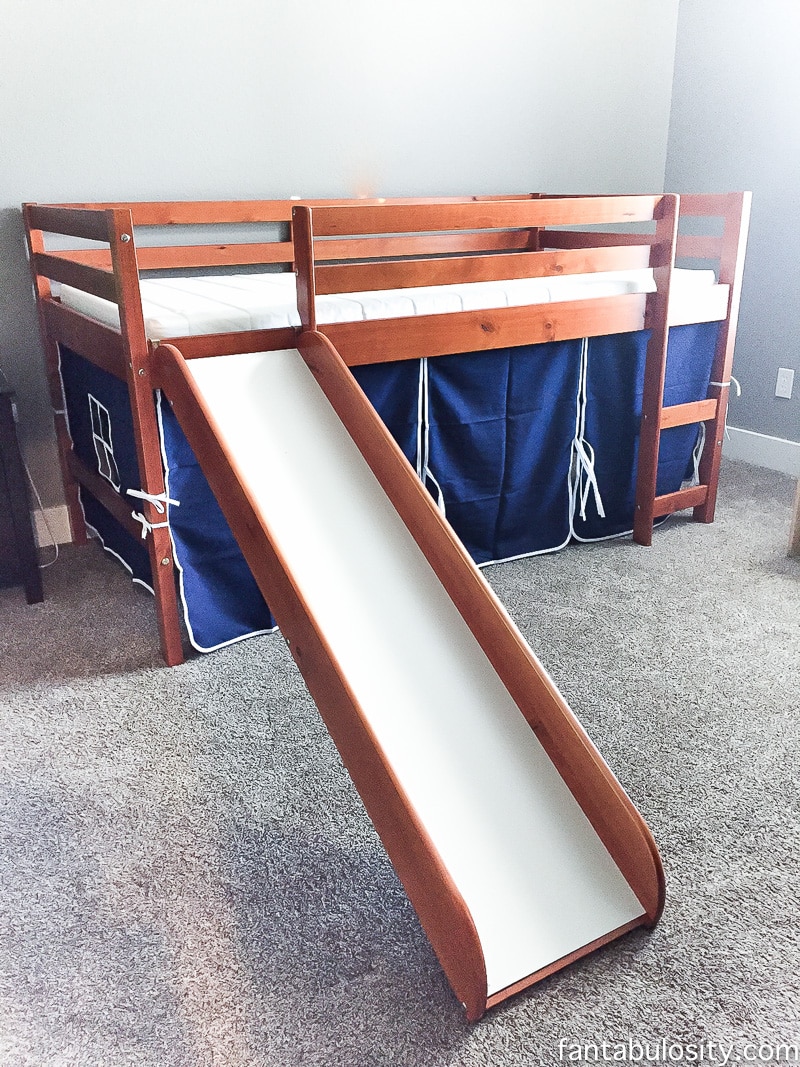 My youngest took to his "new" big boy room and bed pretty quick.
• Potty Training: Somehow we traveled down the potty training "road," in our Facebook live discussion, and I offered up a bit of advice on how I potty trained my two kiddos! But in case you want an in-depth look of some of my potty training strategies, you can see them here: How to Start Potty Training
• Pink Coffee Mug: I gave a peek of the coffee mug that's currently in the Fantabulosity Boutique!
A Little Different…
Now, I know I normally don't share my Facebook "live," videos on the blog, like I did today. However, there are some of you here that may not have caught it, and the topics we all covered were just too good to let them push down on the Facebook newsfeed.
I LOVE having you all on Facebook live, so we can chat in real time, and interact. Make sure to follow on Facebook, and selected to get notifications from Fantabulosity, if you want to be notified when I'm "live!"