Ok… how did I NOT know that you could shop online at Charming Charlie
!? Have you been to this store in the mall? If you haven't, you're totally missing out. From walking through the doors, being totally directed throughout with color coordinated areas, this is a gals DREAM store.
AFFORDABLE
ADORABLE
ORGANIZED
Purses, Clothing, Jewelry, and
this list goes on…
I ventured to the mall the other day with my two little ones. Lucky me, they both fell asleep in the stroller, and I was able to browse Charming Charlie
in PEACE! I found the cutest dresses. Would you believe they were only $24.99  a piece! Here is one of the dresses I snagged, and I'll share the other one next time I wear it, and find some time to snap a pic. (The white sweater was already mine, and I get super cold in the office so I had to wear something over this spaghetti strapped dress.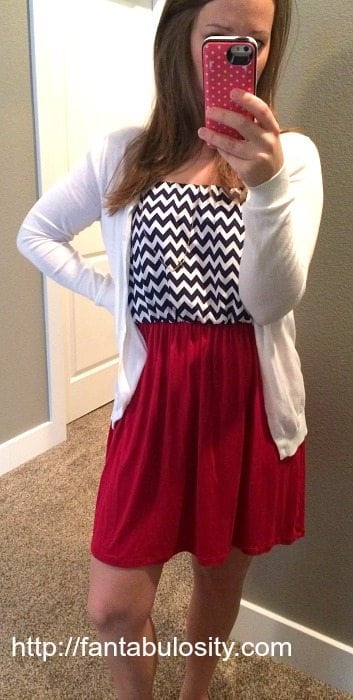 When I got home that evening, I thought I'd just give it a whirl to see if I could shop online in the future at Charming Charlie (knowing deep down inside I probably couldn't.)  Because let's face it; Being able to shop in the mall with two cooperative children, is RARE. So I wanted to have a backup plan. OMG, you CAAAAN shop online!
So I have TWO apologies =====>  ONE:  If you've never heard of, or been to a Charming Charlie, I'm sorry to introduce you to something amazing that will make you want to spend your entire paycheck, but I must say you get a lot of bang for your buck.
                                                                 TWO:  If you LOVE Charming Charlie like I do, and had no idea that you could shop online; I'm sorry for telling you now, because you'll probably be spending more money with the ease of shopping online now. 🙂
P.S. I'm not really sorry, because I think this is super fantabulous, and I couldn't wait to share the good news with you all.
Oh did I mention that you can get $10 off a $50 purchase with my coupon? You'rrrrre welcome! 😉
Go Shop Online and Fall in Love Already, Would Ya…
Until next time all of you lovely people,