Top picks of mom fashion or for women in their 30's this spring, from dresses to purses, to shoes to shorts!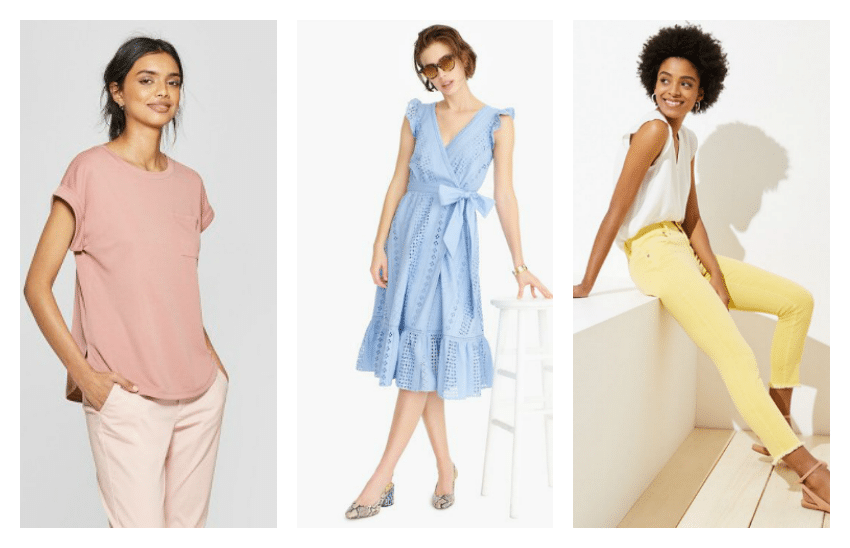 If you've struggled with how to dress in your 30s like I have before, then I'm so glad that you're here.
In my "Fashion for Moms" post where I chat about mom clothes and what stores I love to shop at… I mentioned a lot of my favorites.
Since then, I've had readers ask if I'd update my favorites and current style trends for the season, and considering I'm a CHRONIC people-pleaser… here we go!
Spring Fashion for Women in their 30s
So can you wear these if you're NOT in your 30's?
Of course.
But I specifically say "30's" because I'm in my mid-thirties and I've struggled for a while trying to figure out if I should dress like I'm in my twenties, or older than I am.
Plus, I've often found that so many others in their 30's are asking the same question I was, so I like to put the age out there to capture those wanting a specific age group of fashion trends!
So now that I've found the "style" that I like, no matter if I'm in my thirties, forties or even fifties, I don't think my "style" will ever change. It may just have a few adjustments here and there… depending on what I feel comfortable (yet stylish) in.
My Spring Fashion Picks…
If you see something you like, I've made it easy for you! Just click on the image and it will take you right to it!
Something sold out? Let me know and I'll see if I can find something similar for you!

A Few Notes About The Items:
Eeeek! Aren't those so cute!?
Here are a few thoughts that I have about some of the items…
I've actually noticed there are a LOT of dark colors and black and white trends this season. So my normal "pastel" favorites were actually hard to find.
The black and white striped dress looks MUCH better without the tights and boots. Take a look at the photos that customers upload from their recent purchases, and look at just how cute this dress is in real life.
At stores like LOFT, they'll usually offer a MAJOR discount for those who sign up for their email list. So don't forget about that extra savings!
You may have noticed that I included a couple of items from Amazon. (The nude shoes and the nude handbag.) I'm AMAZED at the adorable fashion and affordable fashion that Amazon has.
I've even been tempted to try their subscription service, Prime Wardrobe, but haven't pulled the plug. Have you
Favorite Stores for Women in Their 30's
So you can see that there's a mixture of items from LOFT, Target, Chicwish and other well-known stores. These are my go-to's when I need to refresh my closet. They're affordable, run amazing sales, and always carry a style that I feel comfortable in.
Do you have a favorite store that I haven't mentioned? I'd love to hear it. It could be that I've completely forgotten about it, and need to be reminded of it's awesomeness!
Drop a note in the comments below and let me know!
Love Fashion and Beauty Posts?
Then don't miss ALL of the fashion and beauty related posts here in the blog already!
If you've never heard of Trunk Club or Stitch Fix, then you're about to get hooked on these unboxing videos!
Or if you've always wanted beachy waves or want to know what I keep in my makeup bag, then you're in luck!
You'll find that I'm a mom who likes to keep all things as quick and easy as I can, whether that's my beauty routine or recipes that I feed my family!
Reader Interactions