Stitch Fix May 2016: Try On Video and Review featuring Spring fashion; tops, skinny jeans, loose hem, tote/purse.
Hey Stitch Fix lovers! I look so forward to getting a fix every two weeks… not only because of the pure fun that it is, in itself… but because you all love it so much too! I did switch things up a bit this time, with the "picture-taking."
If you've followed along with my other reviews, then you know that I usually set up a whole tripod, get my camera remote, and create a whole ordeal for Stitch Fix try-on day. Well this time, I decided to go the easy route, because I had a TON of packing to do, before I head to a retreat with some pretty spectacular women.
But I gotta say… I'm kind of partial to the way the photos turned out this round. Although not as "quality," as my DSLR takes, my iphone/mirror shots… didn't turn out horrible for a quick turn-around, right?! Let me know. Do they look awful? If so, slap me on the wrist and just tell me:
Jessica, quit cheating… and get out your DSLR next time. 🙂
Stitch Fix May 2016 Review & Try On Video
Be sure to look for the photos and Stitch Fix item details/prices below in case you need to tell Stitch Fix what to send you next time! Hint: If you see something you want to request from Stitch Fix, just copy and past the URL up top in our browser, and send it to them, letting them know you gotta have it! 😉

Stitch Fix May 2016 Try On Photos
Pixley: Eileen Honeycomb Texture Knit Tank | Sz. XS | Color: Navy | $54.00 | Sending back. Although cute, I feel like I'll pass it by in the closet, and never give it a chance.
I paired the Honeycomb shirt with the blue pants that I snagged from a previous fix here: July 2015 Stitch Fix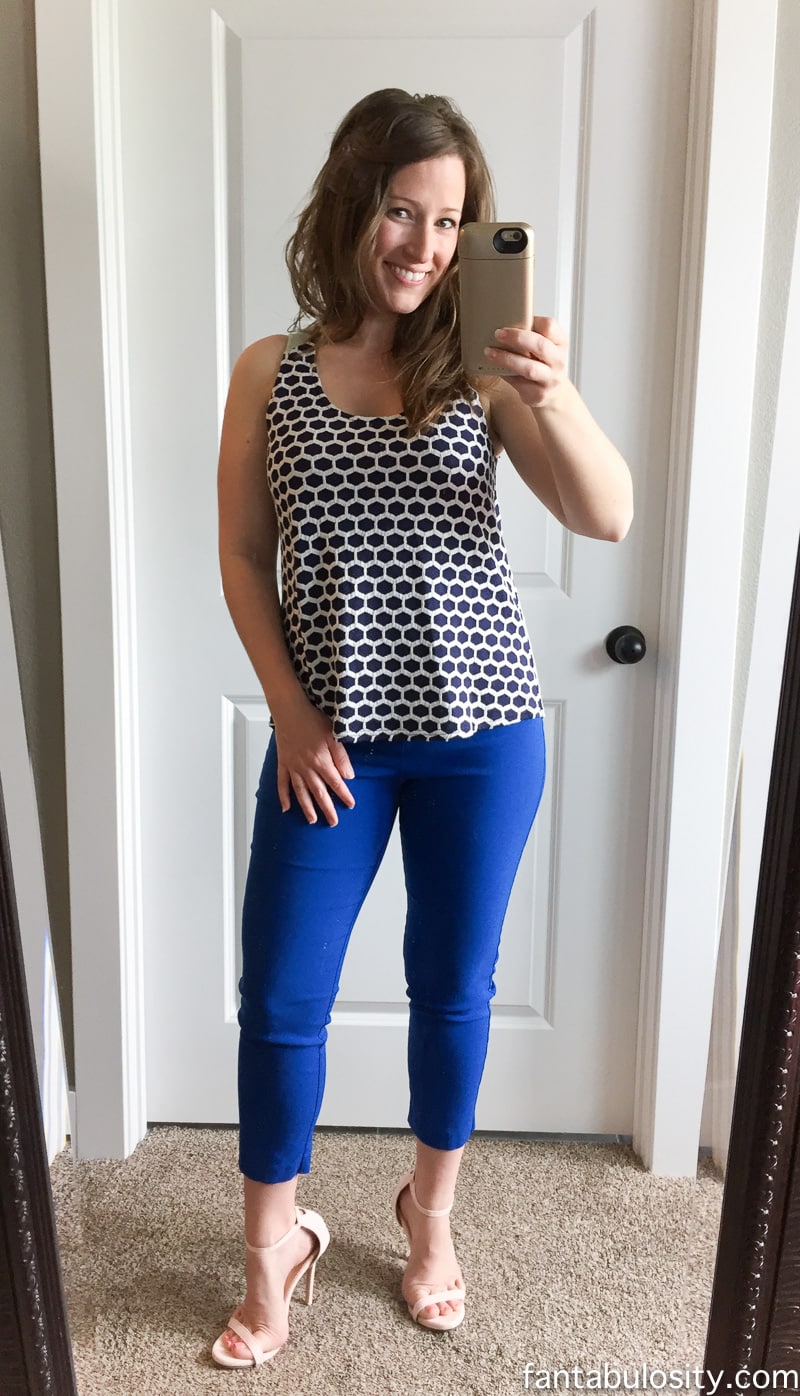 Skies are Blue: Osiris Layered V-Neck Blouse | Sz. XS | $54.00 | Color: Light Blue | Sending Back. In LOVE with this color, but there's just something about it, that I'm not in love with. It could be the wrinkles… I do hate to iron. 😉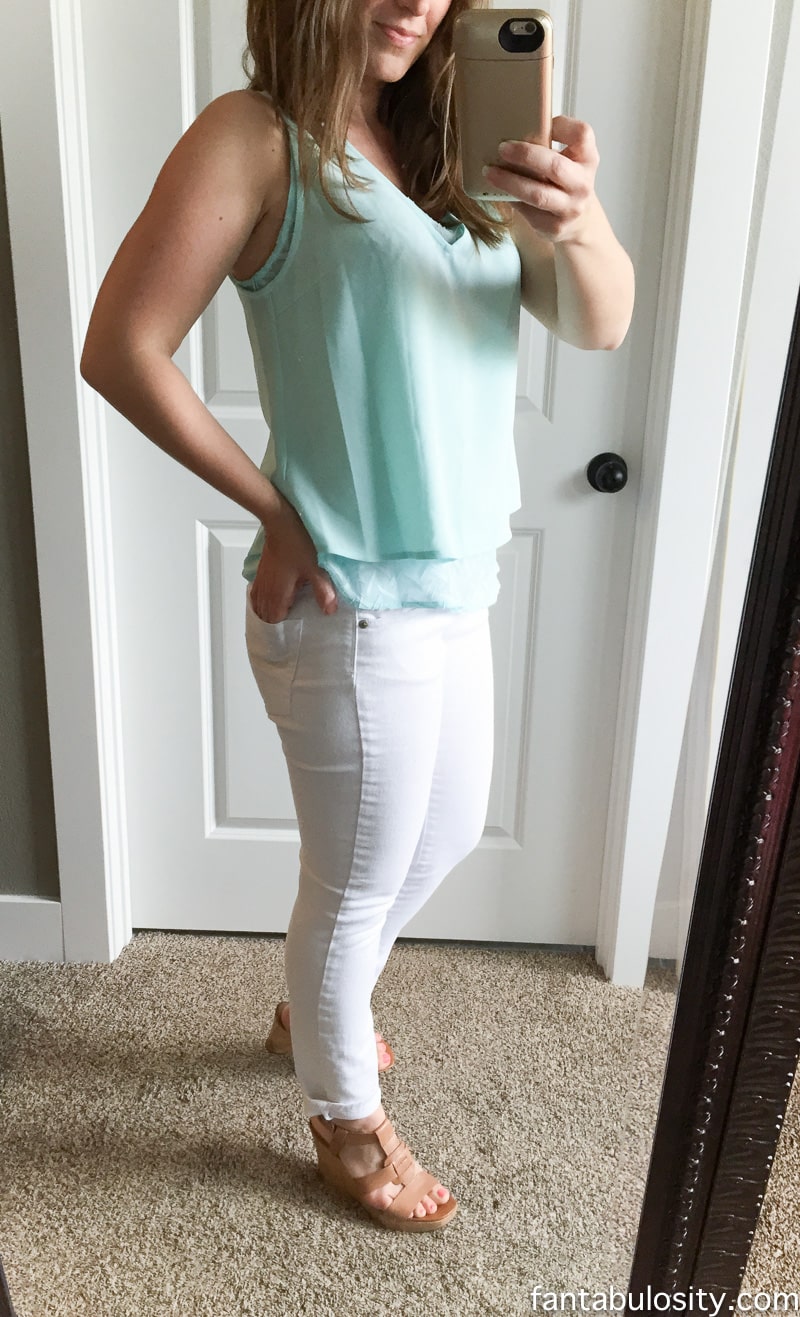 Now… adding the blue jean jacket kind of won my heart over a little bit. I'm sort of torn on this one. But I can wear any light blue/turquoise shirt under this jean jacket with my white jeans if I want, so I might as well hold out for one that I really like, right!?
Papermoon: Angelie Crochet Detail Knit Top | Sz. XS | $48.00 | Color: Light Pink | Sending back. It's actually a really cute shirt, but I just didn't like it on "me." I bet it would be SUPER cute on someone else… but not something that I liked on em.
I paired this top with the Lila Ryan Capri Jeans that I received in my February 2016 fix, here.
I'm such a sucker for a white jacket/blazer. I found this one at Forever 21
a while back, but they're always good for having fun finds like this.
Kut From the Kloth: Dayna Distressed Released Hem Skinny Jean | Sz. 6P | $88.00 |Color: Light Blue | Sending back… I think??? So when I pulled these out of the box, during my unboxing video, I chuckled inside, and thought, "No way will I ever wear these." Then a lot of you lovelies pulled through for me and said, "What about just rolling them up, to hide the two-town hem?" Brilliant. I did just that, and they looked so much better. But I still think I'm going to send them back. I just don't see myself wearing light colored jeans enough, to justify spending $88 on them. I also thought I had a pair of light colored jeans in my closet, but when I checked after this video… I didn't. I must have given them away, because I never wore them. Hence the reason I should send these back.
I have a feeling some of you will ask me about my shoes in this photo, so I wanted to let you know that I found them at Forever 21 too!
Street Level: Weston Zip Top Tote | $64.00 | Color: Pink | Sending back.  Although it looks brown in the photo, it's not quite brown. Even Stitch Fix calls it a pink. I'm not sure what to call it. It's almost a mix between brown and salmon. Not the prettiest color. I also have a tote almost identical… but in brown, so it's going back.
So there we go! That's my Stitch Fix May 2016 try on video review and recap! I get it every two weeks, so I'll be back shortly with another! Let me know in the comments below, if you think I'm making a huge mistake and I should keep something!
If you decide to give Stitch Fix a try, I'd love it if you used my referral link here: STITCH FIX, so I can put the money towards more fixes, and more Stitch Fix Reviews!!! Muah!