Stitch Fix November 2016: Try-On – Since receiving a free shipment, with no styling fee, I decided to give Stitch Fix another try. But will it be the last?
It's time to reveal the clothing/outfits from the surprise November Stitch Fix shipment! If you haven't watched the unboxing video from a few days ago, head over there to catch that, and then head back over here so you'll be all caught up!
Stitch Fix November 2016: Try-On
So trying to beat the time-clock of Stitch Fix's return deadline, we headed outside to snag a few photos the other day of the recent shipment, and we had to deal with some pretty harsh lighting. So forgive us for some of the dark, shadowy snapshots! But I sure as heck didn't want to delay it any longer for you, so I figured "not-so-perfect," would be better than nothing. Right?
Let's get with the details of each item, and then maybe you all can help a gal out with what you think I should send back/keep?
LEVEL 99 #26928-506: Shauna Skinny Jean – 6P // $118 // Meh, they're cute, but I have so many similar jeans, that I think keeping them isn't necessary.
The boots:
I think they're my favorite boots this season! You can buy them
here
!
BLU PEPPER #30426-407: Henk Cross Front Knit Top – XS // $44.00 // I have to admit. When I pulled this shirt out of the box the other day, I had a "throw-up in my mouth a little bit," reaction. Although it does look a little better on, than in the box, I think I'll still send it back. Paired with the sweater, I like it a bit more, but only liking it by covering up a $44.00 shirt, doesn't really make sense for me. Yes?
A view at the back of the jeans in case you are looking for a bit more detail.
MARKET & SPRUCE #30415-038:
Brookline Mix Material Sweater  – XS // $74.00 // I'll be the first to admit… this sweater was a heck no when I pulled it out. It DOES look better on, but I truly believe it's one that will sit in my closet with the tags on it until next year when I do a major clean out again. But if you like the way it looks, let me know, because I may keep my eye out for one at
Target
. 😉
The zipper-back detail.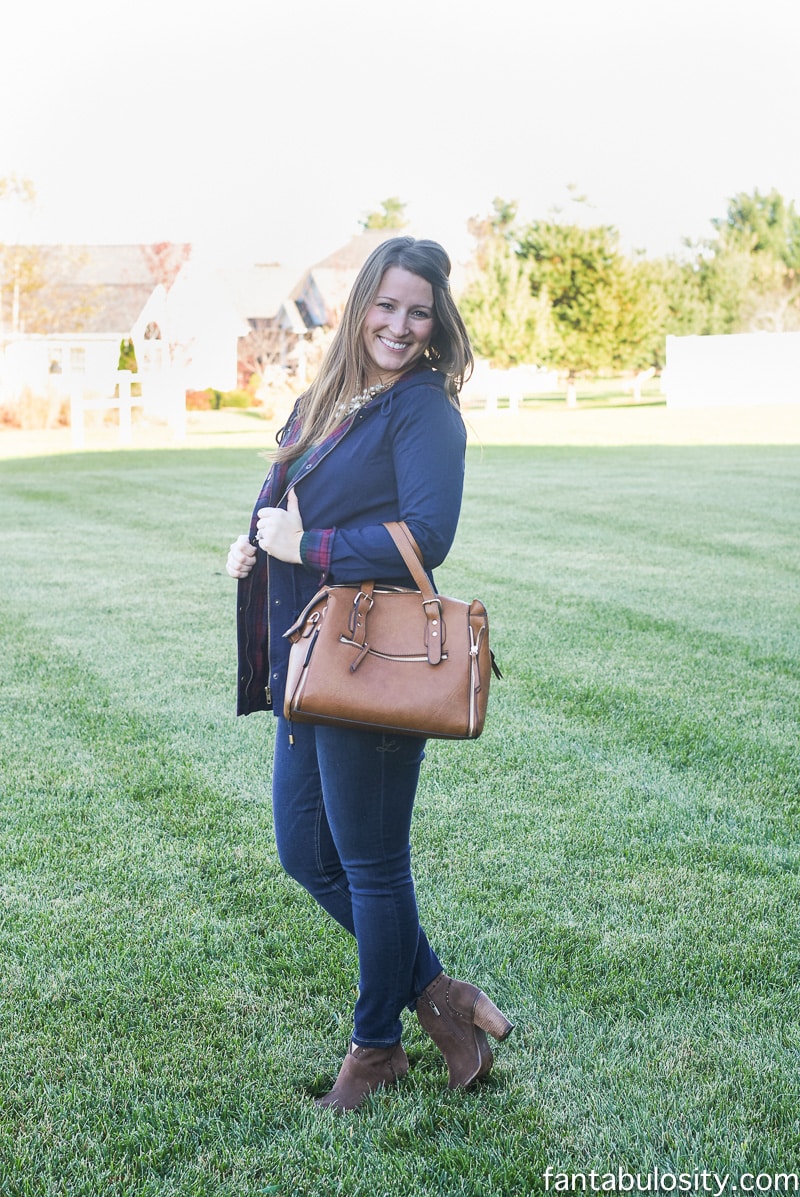 SKIES ARE BLUE #30429-723:
Braya Cargo Jacket – XS // $88.00 // I just bought
the CUTEST military green jacket
 (
see below
) the other day, so I don't really feel the need to keep this one. I'm not sure if I would anyway, because although blue-on-blue looks good on others, I can't do it. I know, I know… I need to mature in my clothing world, don't I?
A little more front/back detail of the plaid in the blue trench.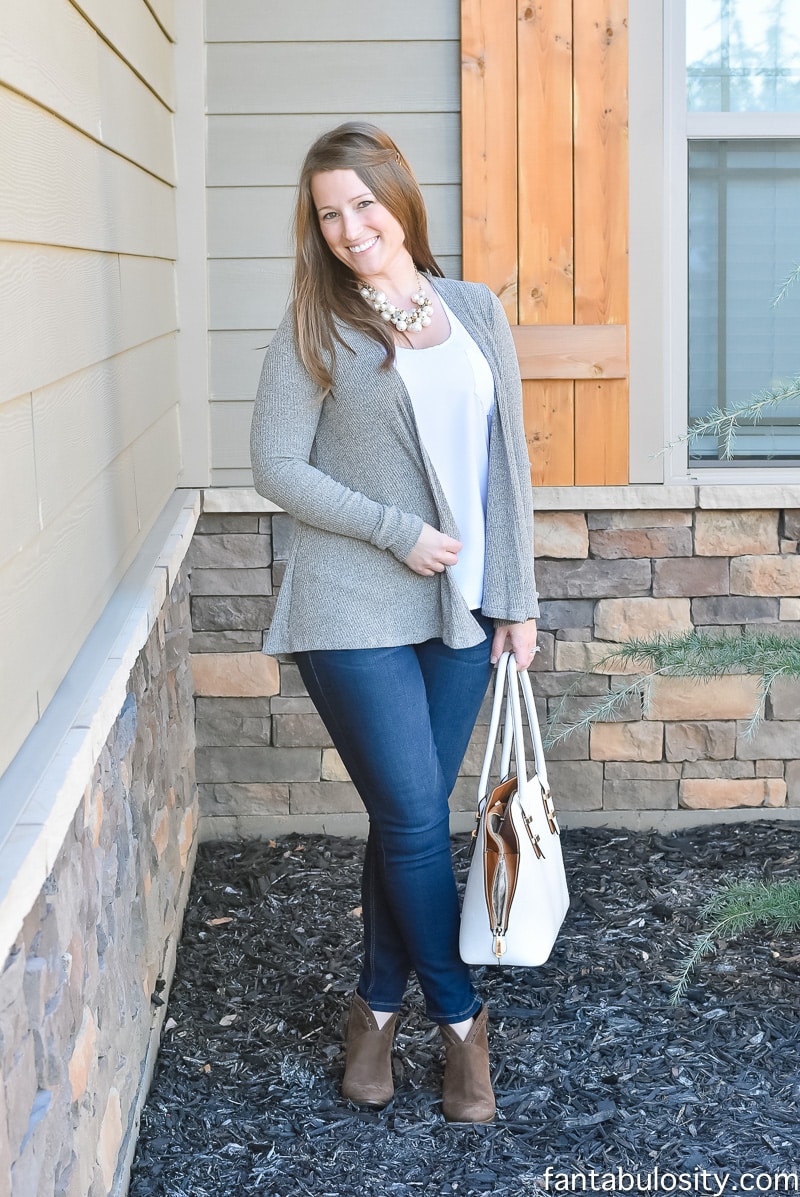 TEA N ROSE #30419-951: Apollo Lace Back Open Cardigan – XS // $54.00 // I'm not quite sure what to think about this. I DO know that I'm sending it back. Although I love a good cardigan, the lace is not my style, and the bottom of the cardigan flares… really accentuating the hefty hips that I have going on these days.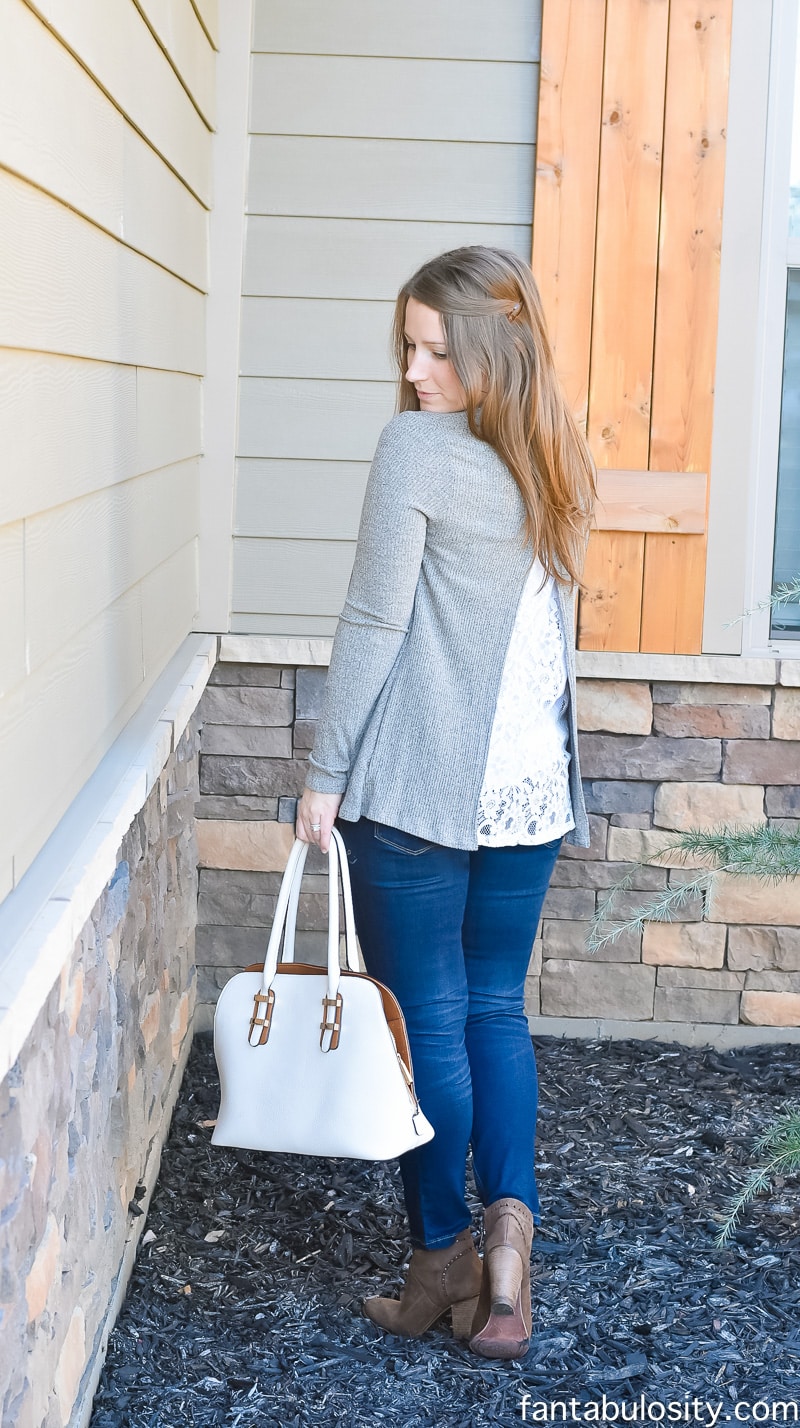 Let's hear it gals! Sadly, what I'll miss the most, if I stop doing Stitch Fix again after this one, is the feedback and communication that you all give. BUT… I've heard from so many that Trunk Club needs to the next subscription style box to do. So shall we? 😉
I'll head over and set up my profile with Trunk Club now, and see about scheduling the first shipment. I just can't handle the idea of missing out of the fun of unboxing a surprise shipment.
So where's the video?
You all, I'll be honest. I barely got the photos taken on this one in time, so a try-on video didn't happen with this one. Could I have made the time and waited another day? Yeah… but this fix was far from exciting, so a video just didn't really make sense either. BUT… I assure you that try-on videos will be taking place if I decide to do another subscription service!