Stitch Fix Review February 2016 Unboxing Video: It's FABULOUS!!!! I couldn't tell you the last time that I went shopping for clothes. There's no need! Stitch Fix has been filling my closet for me!
Eeeeeekkkk!!! I'm uber (I'm trying to sound young and "cool"), excited for this month's Stitch Fix. From cute tops, to the PERFECT jeans, and a FABULOUS hand bag… you HAVE to see what all I received in this February fix!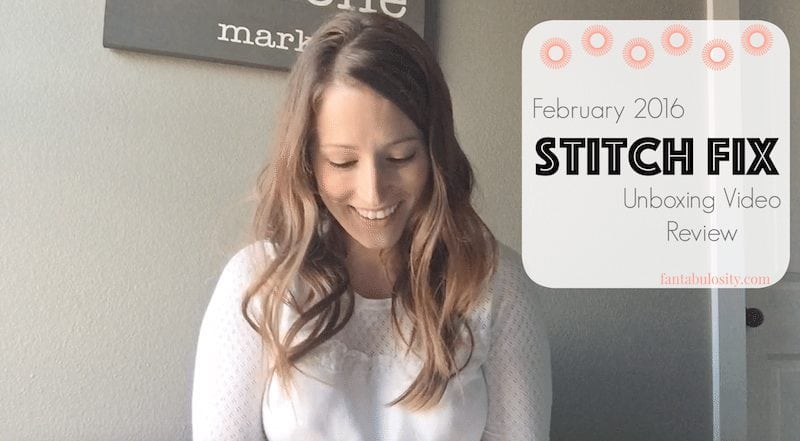 So we all know that it's no surprise, that I get completely ridiculous excited, when my Stitch Fix comes in. But for some reason, this time, I was REALLY REALLY pumped to get it. Possibly because last months fix was just kind of "so-so."
In the past, when I've received a "so-so," fix, and I leave honest feedback in my checkout… it's like the next fix is CRAZY good. I have no idea if that's just plain luck, or if there's something behind it… but thinking about it, if you're honest (but be nice) about it, it probably gives them more to work with, on the next fix. Giving all the feedback that you can, can really help define your style.
You'll see in my unboxing video below, all of the goodies that I received this time. I CAN'T WAIT, for you to see. There are a couple of items I desperately need feedback on. But some items, that are a no-brainer. They're already in my closet. 😉
And remember… my try-on video and photos will be up shortly!
Stitch Fix Review February 2016 Unboxing Video:
So what do you think!? Do you like all of it? Do you need to see the try-on video? Let me know… because as you know, YOU all help me tremendously, with your feedback!
If you're ready to give Stitch Fix a try, I'd love it if you'd check it out by clicking my link below. What does that do? If you sign up, they may send me a little bit of pocket change to put towards more "fixes!" Woot woot! Thank you!
Until next time,