This is a sponsored post written by me on behalf of Columbus Craft Meats. All opinions are 100% mine.
Summer Soiree Sneak Peek: Hosting a summer soiree doesn't have to be as complicated as it sounds. Creating easy appetizers and serving guest pleasing drinks is key!
Friends, I have been wanting to style a soiree for some time now, and it's finally here! The vision of navy, coral, and gold together sounded like a heavenly mix of colors, and I can't wait to see it all together.
 "Hooray It's a Summer Soiree" Sneak Peek
Today, I'm showing you a sneak peek at what I have planned and prepped so far for this soiree! You may just be surprised at the easy tips and tricks you can find in this post, to host your own party. But the best part? It will look like you spent a TON of time planning and prepping!
Decor
Alright, here's a trick I'm going to spill the beans on. Do you remember the chocolate bar party that I styled a while back here: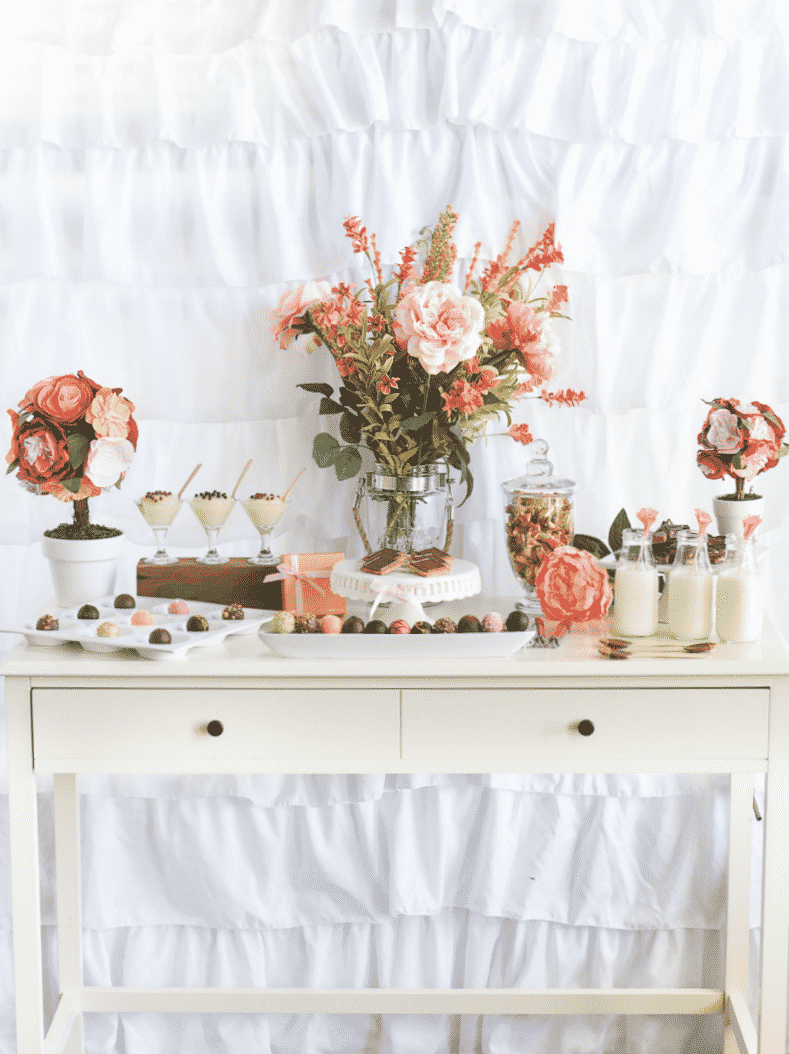 Do do you see that gorgeous white ruffle backdrop? Well here's my little secret. It's a shower curtain. YES! You all, I've spent so much time and money looking for the perfect backdrops for parties. They either cost an arm and a leg, or I'm in the craft supply store searching for a fabric that's just right.
Shower curtains are the BEST! You know what, they even have holes at the top that you can slide hooks right on through, to hang up! Eeeek. The day I discovered this, I wanted to shout it from the rooftops. I just use removable hooks to hang the backdrop up behind the table, and I can take it down without any problem after the party is over!
For this party, I didn't even hesitate to use anything other than a shower curtain. I knew I wanted a navy and white striped backdrop and I found one right away!
Paired with the gold "HOORAY" banner and the coral/pinks that I'll show you below… it's going to be just like I imagined!
DIY Decor
Now I'm a sucker for using every day items as a vase, instead of your typical vase that you'll find at the flower shop. So when my friend said,
"Jess, why don't we just use wine bottles?"
I wanted to hug her! Brilliant.
Then, since we were needing to tie in more gold to the tablescape, painting the wine bottles gold was a no-brainer. I absolutely love the way they turned out. So easy, so affordable, and you have to drink the wine to make them. That should be a good enough reason to get to crafting right away!
Soiree Location
Well there is no other place I'd rather style a summer soiree than on my back patio. I can't wait to see it all together back here in my favorite little spot.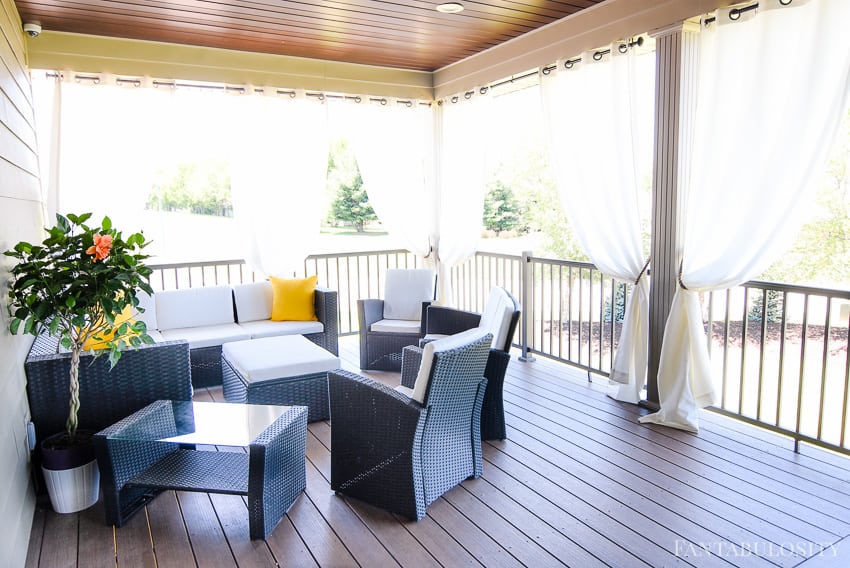 Soiree Appetizers
We all know by now that I like recipes that are quick and easy, yes? When I'm looking for easy, yet classy hors d'oeuvres for a party, I LOVE using Columbus Craft Meats. They don't cut corners and only use the best ingredients! You can totally tell by the taste. I see this in so many grocery stores that I shop at, which makes snagging it a breeze. Something I found out recently and found really interesting, is that they were founded in 1917 in San Francisco, and Columbus still remains in the Bay Area 99 years later. Amazing, right?
I couldn't wait to show you what easy appetizer idea I came up with for this soiree. You'll love how easy it is, and how classy it ends up turning out!
Grab cooked, but chilled, cheese tortellini, petso, spinach, cherry tomatoes, and of course… Columbus Craft Meats. For this, I chose the Italian Dry Salami.
Adorable skewers (or ahem, drink stirrers… just another little party trick up my sleeve) can really make a classy impression at a party!
Grab the skewer, fold a slice of the Italian Dry Salami in half, and then in half again, and slide on the skewer. Follow the salami with a cherry tomato, a spinach leaf, tortellini, and if desired… repeat the process. Once you have all of the items on the skewer, drizzle with the pesto. Chill until party time!
Drinks
Now for the drinks, I have a little something up my sleeve that begins with "san" and ends with "gria." I can't wait to show you the easy sangria that I make for this party that! With this little plan, we were able to make a sangria with the wine and use the bottles for our little DIY vase project! But if that's not something that tickles your fancy…. no fear! You can dress up a pink lemonade like I did here!
Coming Soon!
Stay tuned for the summer soiree reveal that's coming soon! I can't wait to show you how it turns out! In the meantime, follow Columbus on Facebook, and I'll chat with you soon!