This shop has been compensated by Collective Bias, Inc. and Conagra Brands. All opinions are mine alone. #31DaysWithRotel #CollectiveBias
A Sweet Confetti Fiesta Theme Party: A cheery fiesta, featuring pastels and adorable accents to style, design, and inspire your own party!
A Sweet Confetti Fiesta Theme Party
One of my favorite party styling characteristics, is to design a popular theme, using colors, patterns, and other decor that's "out of the box." So when I started to plan the details of this fiesta party, I immediately gravitated towards some of my favorite colors!
Corals, pinks, pastels, and all the pretty things made an appearance in this easy fiesta tablescape! After seeing it all together, I couldn't be happier with the way that it turned out. Bright whites, touches and pops of color, yes subtle enough to really make the food and dishes stand out. Besides, a fiesta is all about devouring the tasty food anyway, right?! (Oh, is it just me that fantasizes about food at a fiesta?) And I can't WAIT to show you how we used one of our FAVORITE ingredients in every. single. dish that we made for this party…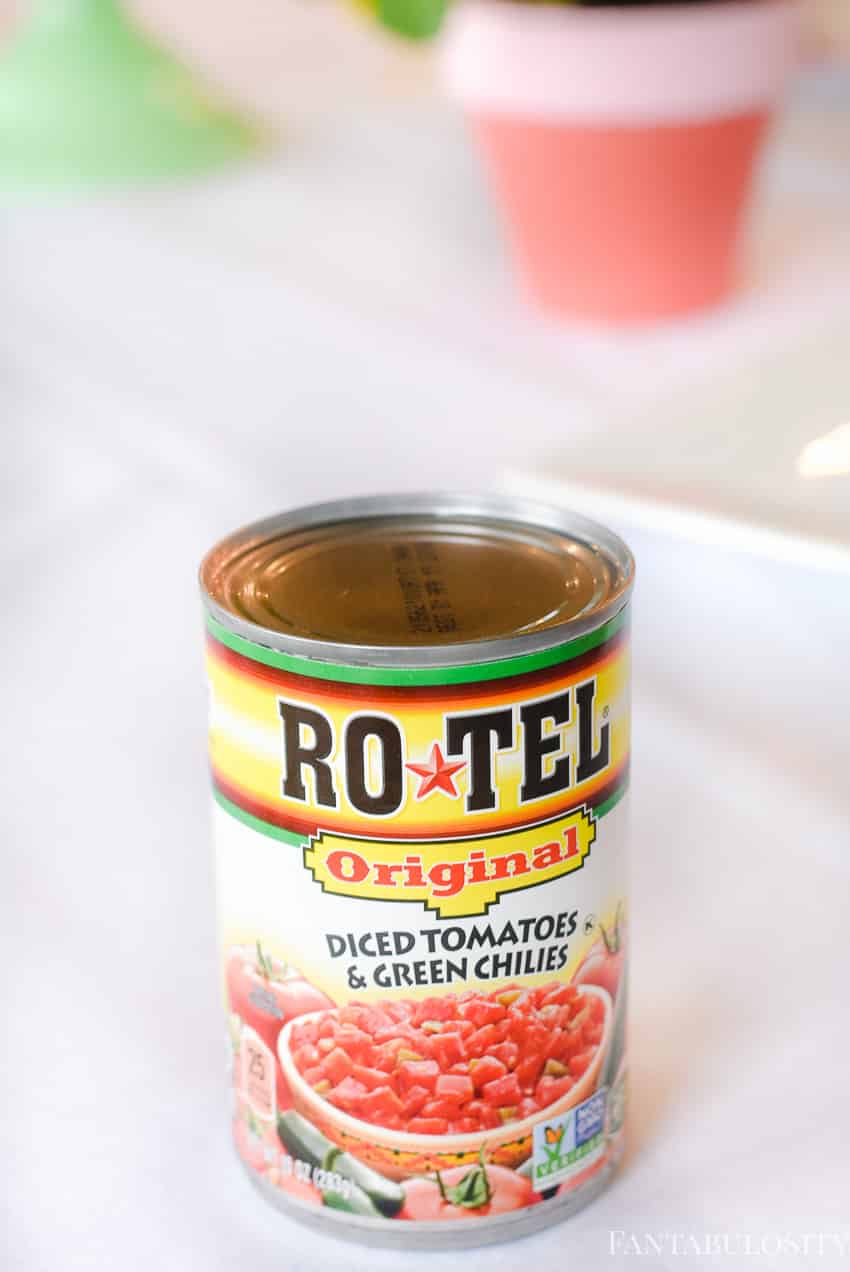 RO*TEL – Special Guest:
It's a household name, and something that's always 3-4 deep in my pantry. The day that I run out of RO*TEL in the kitchen is a sad, sad day. We use this in a TON of recipes, from weeknight meals to party appetizers to bring a bland recipe to a BOLD one. (It's quite possibly my favorite secret "kick," in some of my go-to breakfast, lunch, dinner, and snack recipes.)
I'll be sharing one of the tasty recipes we created for this fiesta below, and then will share the others in the near future!
Party Decor Details:
Want to hear a little trick when it comes to party planning and styling? I'm a "slightly homemade" kind of gal when it comes to recipes AND party planning. So if I can somehow save some time by doing a little DIY and incorporating store bought goodies, I will.
A Little DIY Cake:
For this "cactus," cake, I went to our local bakery and snagged a couple of cakes. Both white, one larger than the other. (Hence the different "looks," to the cake that you see here.)
I stacked one on top of the other, and all of a sudden it was a 2-tier cake. Does your bakery only have two different kinds of cake? That's no problem at ALL! Actually, that makes it a little better, I think. That way your guests have a couple of flavors to choose from!
Then to top the cake off just right, I found these adorable little cactus cake candles that matched the color scheme perfectly!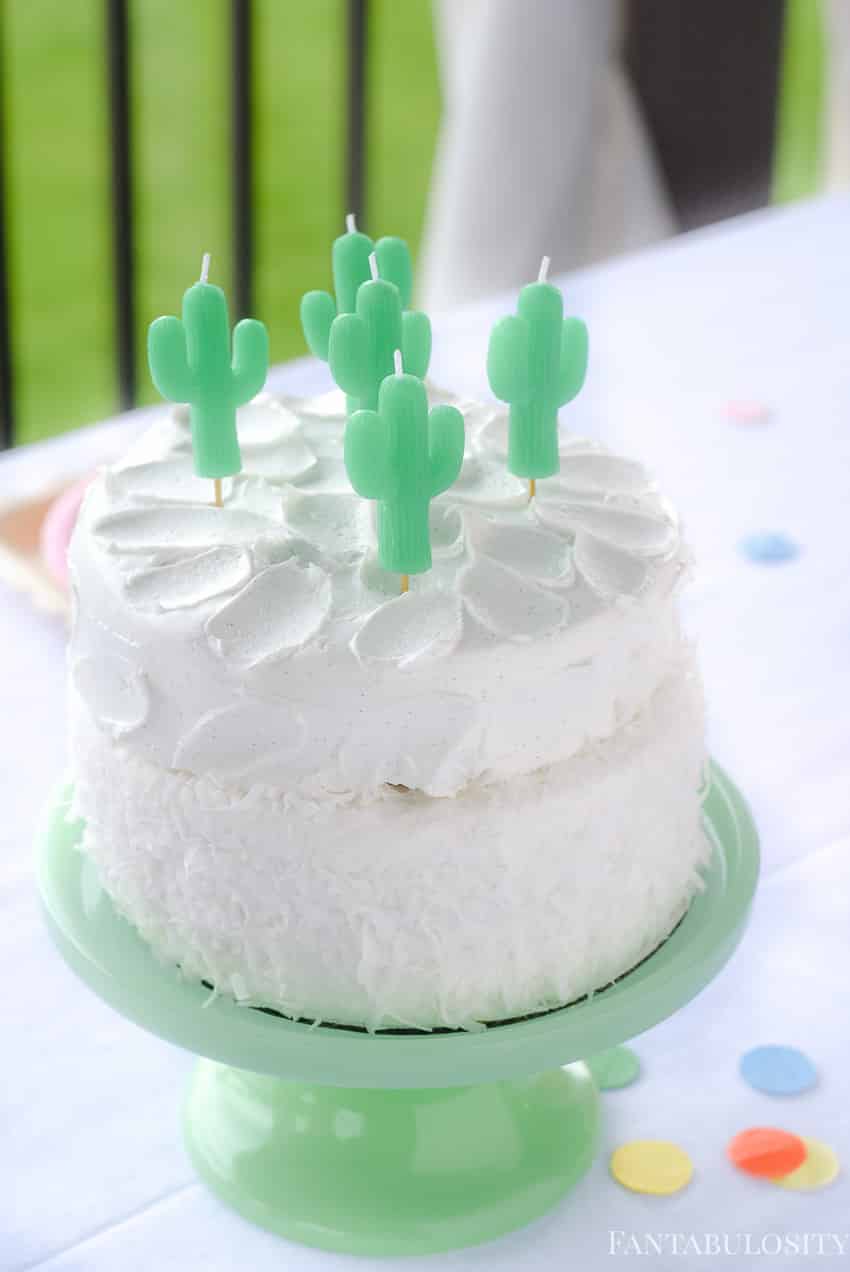 DIY Flower Pots:
Speaking of DIY… the color of the small flower pots that I had for my cactus and flower combo, just wasn't cutting the color scheme. So off to Walmart I went to snag two different colors of spray paint. (Besides, I had to grab the ingredients for the crazy-delish food that we were going to prepare for the fiesta anyway!)
Once the flower pots were painted and dry, in went the cactus and the precious little flowers that I picked up to tie in the rest of the party decor.
Place Settings:
You all, I've crossed over. I used to DESPISE paper plates at parties. But have you SEEN the adorable selection of paper plates these days in party supply stores? They're probably the best invention ever. Take two different styles and sizes of paper plates, and stack them on top of one another, the result is a cuteness overload.
Top the plates with a napkin, that has a little flair like the scalloped edges and pastel polka dots… oh mylanta. You've just added a functional piece of party decor to your table.
The birch utensils were a no brainer when I found them in my party planning closet. (Yes, I literally have a closet dedicated to hosting and styling parties. I'm thinking this should be a part of my home tour soon. Yes?)
Minimal Table Decor Accents:
By using a bright white table cloth and the pops of color that the confetti provides, this minimal tablescape is exactly what made the fiesta menu "POP." Speaking of food… let's get on with that, shall we?
The Fiesta Menu Spread:
Alright, so to make your mouth drool a little, I'll show you the large scale of the dishes on the table first. Then, I'll break down the delicious goodness for you, in case you're looking for fiesta recipes for your own get together or party.
Slow Cooker Shredded Beef Tacos:
Am I speaking your love language with the term "slow cooker?" I thought so. Party day is busy, so the last thing that you want to do, is spend a ton of time in the kitchen prepping food! Therefore, setting and forgetting these until time to serve, is a big bonus!
With this easy recipe, you can make the majority of it ahead of time, and come party time, you're golden.
Slow Cooker Shredded Mexi Beef Tacos
Ingredients:
1 beef roast (3 to 5 lbs)
1/4 cup lime juice
1 can RO*TEL, undrained
3 cloves minced garlic
1 tablespoon chili powder
1/4 teaspoon ground cloves
1 teaspoon paprika
1 teaspoon salt
1/2 teaspoon pepper
Package Soft taco shells
Directions:
Mix dry ingredients and rub on to roast.
Place roast in slow cooker and dump wet ingredients over roast.
Cook on low for 6-8 hours.
Let cool and shred. (We shred beef with the mixer for ease.)
Assemble tacos by layering beef, and garnish with lettuce, shredded cheese, avocado, and sour cream if desired.
RO*TEL Chicken Empanadas:
I want to give you a sneak peek at what you can expect in the recipes to come! (And to make your mouth drool a little bit, right?!)
Dipping these little chicken and RO*TEL filled guys in sour cream, or a salsa con queso is divine!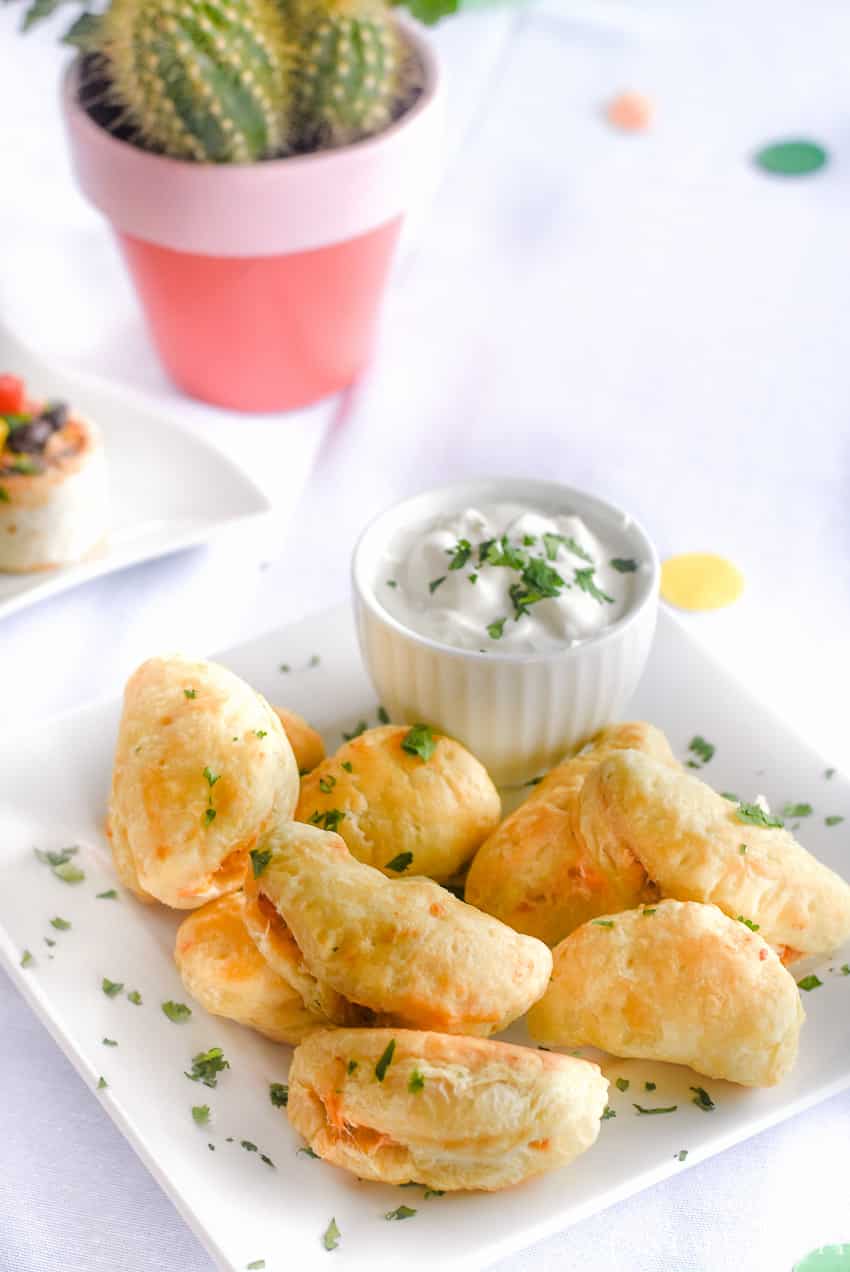 Mexi-Pinwheels:
A no-cook, no-bake approach to an appetizer recipe is usually at the top of my "favorites," list. The combination of a taco seasoning packet, black beans, RO*TEL, corn, and other everyday ingredients, wrapped up in a tortilla, is dynamite!
Aren't they the most colorful looking things? Imagine bringing these to a fiesta party if you're in charge of the appetizer! They'll be a show-stopper for sure!
The whole fiesta party theme turned out to be exactly what I envisioned, and the food and recipes couldn't have TASTED better. I sure hope this inspires you for your own fiesta!
Where to Find RO*TEL:
To make the recipe featured here in this blog post: The Slow Cooker Shredded Mexi Beef Tacos, make sure to grab a can of RO*TEL at Walmart.
More about RO*TEL:
Finally, with the month of May here, the fiesta will be going on for 31 days! Find more fiesta inspiration for our fiesta and recipes HERE!