My Makeup Products that you can find at the drugstore, Sephora, Target, Mary Kay, Nordstrom, and Macy's. Some affordable, some more expensive… but WORTH it! 
My Favorite Makeup Products
(Video Tutorial Below)
 Here's a quick "before," and "after," that I made sure to get, of my daily makeup routine (+/-). For some photo/video days, I'll head to my favorite makeup artist, Jennifer of Flawless Makeup for a more polished look.
Before | After
Grab a cup of coffee (if it's before noon), or grab a glass of champagne (if it's after noon), and sit back and watch me attempt to put all of this makeup on, in the reflection of the ipad. It's quite entertaining, I'm sure.
See all of the products that I use today below the video, and have finalized as my favorite!
Products in my makeup bag:
You can click on each individual product, and it will take you to the online store where you can snag it. Then see below the shades & types of each products that I use if you have a similar skin tone I do!


"Must Knows" about the products above, not mentioned in the video…
• The beauty blender! Oh how that is one of my favorite inventions. I use this to apply my BB cream, concealer and prep & prime highlighting pen. Wet it, before you use it. I forgot this early on in my makeup trial, but now realize it's a must! You can also buy these at the drugstore, and sometimes T.J. Maxx will have these in the isle by the checkout!
• The big puffy makeup brush? This is what I use to apply the bronzer. Heck with that little stingy thing that comes with it. This brush is incredible with applying the bronzer.
• Kiehl's Concentrate: I don't use this every day, but about twice a week. Love the little tingle it gives.
• Skinny Makeup: brush with small poofy end: (Like that description?) This is what I use to blend in my eye shadow in the corners.
• Skinny Makeup: brush with flat tip: This is what I use to blend in the liquid eyeliner. If I don't blend it in a bit, it looks like a painted on black line, and I prefer to have more of a softer look.
• Kiehl's BB Cream: I don't use this every day, but do put it on when I'm having photos done, or recording video. I may also put this on if I'm going out for date night, or for an event, for a smoother look.
• Makeup Bag: This makeup bag that I've linked to, is the newer version of the one I currently have. I'll be honest. I never thought that a specific makeup bag made that big of a difference. But this bag keeps my makeup so organized, and I no longer have to "dig," for my products! Best purchase ever.
Shades/Types that I use for my fair skin:
Mary Kay Timewise Cleanser & Moisturizer: Combination/Oily
Clinique Pressed Bronzer: 02 Sunkissed
Prep + Prime Highlighter: Radiant Rose
MAC Prolongwear Concealer: NW20
Stila "Stay all Day" Eye Liner: Intense Black
Kiehl's BB Cream: Fair
NARS Blush: Orgasm (I know, I know. I wish I would have fallen in love with a different shade, so I wouldn't have to sound so dirty. But all of their blush shades have names that make me "blush.")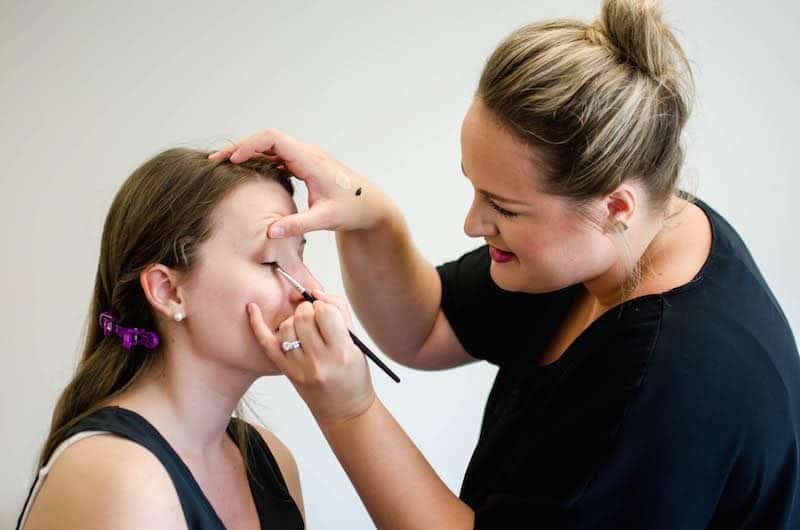 A big thank you to Jennifer above, for helping me find out what makeup to use for a natural look! Words cannot express how much I appreciate her guidance!
Blog Posts Mentioned in Video:
How I Got Rid of Bags and Dark Circles
Elf Makeup
I sure hope you find some products that you love. I now have a whole new "thought process," on makeup. It's not as intimidating as I thought, and it's actually kind of fun to see and try the new products. (Especially the ones that get rid of those dreadful dark circles and bags under my eyes!) 😉
Until next time…

Make sure you "pin," this for later: