My favorite makeup products that you can find at the drugstore, Sephora, Target, Amazon and more! Some affordable, some that are more expensive but worth splurging!
For years, I've used a lot of the same makeup and hair products because I'm the type that when I find something that I like, I use it until I can't use it anymore.
Well, for the last, say, 20 years, there have been a handful of products that are discontinued or that just aren't a great fit for me anymore so I've updated those for you, and love sharing the real products, that I use daily. (Ok, not daily… because let's face it… I'm a busy mom, who works at home, so when I don't have to get out of the house, you'll probably find me with makeup on from the day before and greasy hair.
You can also see the new 1-minute reel I made on Instagram that shows you very quickly, how I use it in my makeup routine!
Products in my makeup bag:
I've linked to the products that I use, (images of products below) and that you'll find in my makeup bag!
The images of each item will take you to the online store where you can snag it. Then see below the shades & types of each product that I use, especially if you have a similar skin tone I do!
NOTE: If you don't see images of the products right under this, give it just a second to load. I have it set up to wear it updates in real time, in case I ever change anything later, so you'll get the most up-to-date products. Or, refresh the page and that should do it too!
You'll also find hair products in with these because I like to keep things all together but be sure to let me know if you have any questions!

Before | After
Years ago, like in 2015, I did a before and after photo on how I apply makeup for this post. A FEW items have changed since then but I've reflected those in the list of items below.
And although I've aged (hello, getting older and raising boys!) my makeup routine hasn't really changed a whole lot… and I wanted to leave this before and after up for you anyway, just for fun.
See the updated Instagram reel for a quick, 1-minute overview!
Shades/Types that I use for my fair skin:
Clinique Pressed Bronzer: 02 Sunkissed
Prep + Prime Highlighter: Radiant Rose
MAC Prolongwear Concealer: NW20
Stila "Stay all Day" Eye Liner: Intense Black
Kiehl's BB Cream: Fair (Unfortunately, I think they've discontinued this and I'm so sad!! I need to find a replacement, QUICK. When I do, you'll be the first to know here.)
NARS Blush: Orgasm (I know, I know. I wish I would have fallen in love with a different shade, so I wouldn't have to sound so dirty. But all of their blush shades have names that make me "blush.")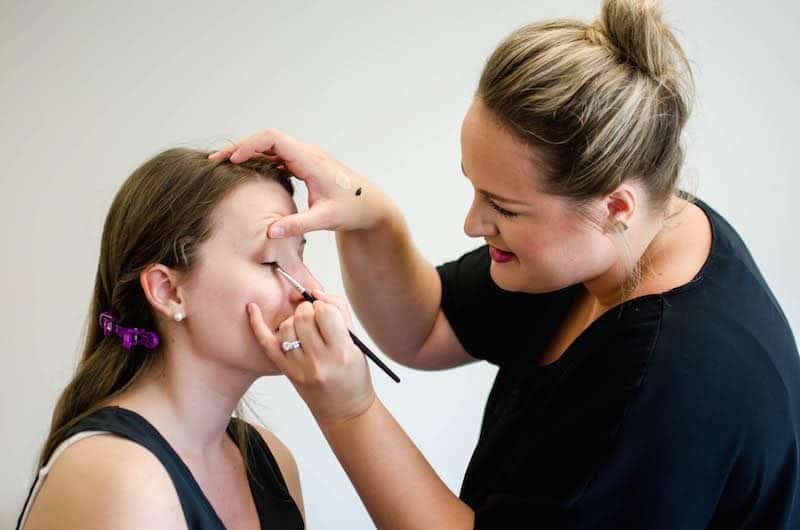 A big thank you to Jennifer above, for helping me find out what makeup to use for a natural look! Words cannot express how much I appreciate her guidance!
If you're curious about how I style beach waves in my hair, with a curling wand, this beach waves tutorial is super easy! Have so much fun!