Toddler Traveling Tips: After many trips on the road, here are tricks to make road trips a lot easier when you have a toddler in tow on vacation!
So you're looking for toddler traveling tips. You must be planning on going somewhere soon? Then you'll LOVE my free toddler travel packing list printable!
Ahhh... the joys of traveling with kiddos. I don't know about you, but I'm always looking forward to a vacation with my family!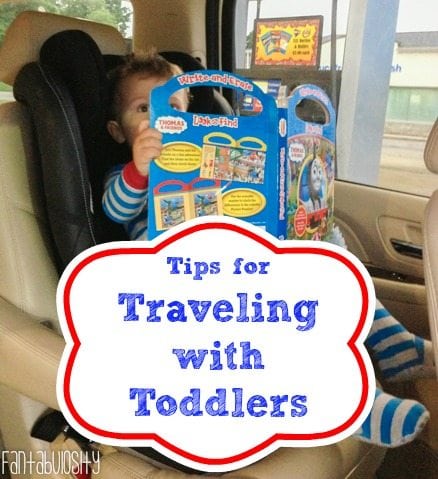 Toddler Traveling Tips for Road Trips
Beforehand, I fabricate in my head, this amazing road trip with my little family, thinking about the things like, good quality time we get to spend together in the car; laughing at each other's stories; playing "I spy" out the window; stopping at interesting sites along the way; and just picture us having this fairytale experience, straight out of a Disney movie.
Reality Sinks In
THEN we get in the car, and after about 30 minutes, I'm already thinking, "Ok, get us the heck there already!!!" Right? Am I alone? If you've ever traveled with a toddler who likes to "go-go-go," you know exactly what I'm talking about.
These little "busybodies," have a small attention span, so I've created a list of my favorite toddler traveling tips, when traveling with a toddler to make things a little more like a fairytale experience. 😉
I hope you find these items useful, because these simple ideas, have saved my sanity and changed my traveling world with my youngin'.
*Below, the book my little guy is holding is a little "big," but it was "Thomas the Train," so it was a must on the trip since he's so obsessed with the blue train at the moment. Notice he also has his comfort toy (blanky), like I discuss below:
Give These a Try…
Clean out your car before the trip. Throw trash away, wipe out the car seat (you know there are crumbs in there from their last snack. Haha!) Having a clean and organized car makes a huge difference when you're living in that car for hours at a time!
When stopping to eat at restaurants while traveling, this tip for how to keep toddlers entertained at a restaurant is a lifesaver!
If your toddler is still in diapers, you know changing a diaper on the road can be challenging. To help with this, I try to leave a space clear in the back of my SUV, so I can lay him down to change him as quick as possible. I also make sure I store wipes and extra diapers near the spot, for quick changing access. Sometimes I use the space in between my 2 captains chairs in the second row of our SUV for changing diapers. If you are in a car, maybe the back seat next to the car seat, would be a good place for this.
Buy diapers/wipes/food for your whole vacation, when you arrive at the destination, to save room in the car, and to make packing easier.
Buy new toys/activities for the trip, so it holds their attention longer.
Pack favorite toys, and new toys, in by your toddler so you or the child can easily reach when needed. See next how I organize this in the car.
I use a square Rubbermaid bin (with a lid) to keep all of the toys/books/etc. in, so they are corralled, and not all over the floor of the car. I also have separate Rubbermaid container, that holds all of the DVD's, or those things would be strung all over the car!
I'm a huge fan of DVD's on our road trip. It seems to keep my toddler occupied for a long time. If you don't have a DVD player in the car, they sell portable DVD players. (I'd even check craigslist for used ones or borrow a friends.) OR if you have an iPad… save a bunch of movies or apps before the trip, and that will be another activity that should keep him/her entertained for a bit!
Pack diaper bag with food/snacks for quick road access. (Pack enough for how many meals you plan to be on the road.)  Put the remainder of food/snacks for the vacation in the trunk or very back, so it's out of the way. Don't forget utensils if you need them!
Make sure you pack a "comfort toy" for the car ride, so it relaxes the kiddo(s), and helps them fall asleep easier. 😉  (i.e. favorite blanket, stuffed animal, etc.)
 

My

favorite all-time

travel and vacation tip:  Pack each daily outfit into individual "gallon" size, Ziploc bags. This has made my "traveling with kids" life so much easier! This makes it easy for anyone to go grab an outfit and dress the kids for the day. Plus, it protects the clothes if anything leaks in the bag, like shampoo or lotion. (After your vacation, save the Ziploc bags and store them in the travel bag or suitcase, so you'll save money by reusing them… and they'll be handy the next time you begin packing!)
I must say, the DVD player comes in VERY handy when traveling. Above, the kiddos are enjoying a small road trip in my "mommy school bus," watching a movie. They look pretty cozy-comfy to me. What do you think? Road trip… successful! 😉
What are your favorite traveling tips for kids? Should I add some to the list? Let me know below!