I have a three, and a one year old, and I really do have GREAT kids. But of course there are times when their sweet little minds are learning, and they try to test me as a parent.
So to help with this thing we call "Parenting," and since you all loved my "Caught you being good" tickets, idea…I wanted to share with you my latest;
Toy Time Out – A Positive Parenting Tip for Toddlers
If you read my post on "Why I had a Yes Day for my Kids," you know how I talked about always having to say "No," as a parent. I HATE saying "no." As an adult, I still don't like to hear the word "no," most times, so I'm sure that my kids hate hearing that all of the time too.
So I figured it was time to start focusing a little more on positive parenting tips, and see how I could incorporate it, in to an everyday routine. (Because let's face it. We'd all go nuts as parents, is every day was a "yes day," for our toddlers and kids.)
By creating this "Toy Time Out Box," we, (as in my husband and I) are able to show our toddlers how misbehaving, and mistreating things, will result in their favorite toys being taken away and put up on a high shelf
(or refrigerator in our house), and won't be able to come down until we decide to let them come down.
You may be asking yourself, "Well why doesn't she just put the toy in a closet, or hide it somewhere?"
That's because I want my toddlers to see that box, (and toys). I don't want this to be an "out of sight, out of mind," thing, you know?
So the positive parenting tip?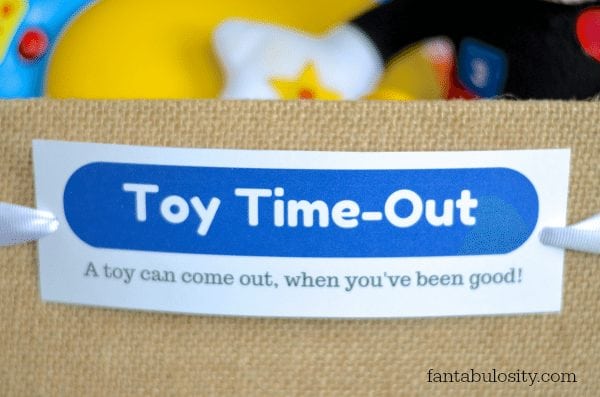 I tell my toddlers, when I catch them being good, a toy can come back out.
—I simply grab the box, bring it down to their level, and let them pick out one toy. (Hoping there's only one toy in there of course. But in a real world, there may be a few, right? 🙂 )
But this way, we as parents have acknowledged their good behavior (positive parenting), and they are also reminded when they reach in to that box, that they once had a toy removed for misbehaving, so they may not want to do that again. At least let's hope so.
I love how this discipline technique also lets our kids have the freedom to choose which toy they want. So in other words…I see my toddler's face light up, when he reaches in to that box and can get any toy that he wants, and it really enhances the "reward," feeling.
You may also consider encouraging ways to earn the toys back. When we do toddler chores around the house, they still find it fun, and it's teaching them little bitty life lessons along the way!
Now you didn't think I was going to tell you about this little trick, without giving you the freebie that I created, did you? 🙂
I just wish I could give you the box too, so I could help you even more.
But you could easily just grab any box (any size that you want… or if your child has a favorite toy that you think you may be taking away often, make sure it's big enough to fit that toy.)
You can tape/glue this little sign on the box, and be on your way. Really… you don't even have to have this free printable for your box. Your toddler can't read. They'll KNOW it's a time-out box, the first time that you use it. 🙂
But ours sits on my refrigerator, so I wanted to make it looked at least a little pretty, since it will be seen in broad daylight.
Get the free printable here —–> Toy Time Out!
Or, you can design your own printables in Canva!
P.S. if your kiddo has a toy go in timeout and they're not sure what to do next… have them color these "On the Farm" free coloring sheets to pass the time!
I'd love to hear if this Toy Time Out idea works for you, and your kids! Let me know in the comments below! XO!