Trunk Club April 2017 Try On Video: A full box of Spring fashion that's full of bright colors! Tops, skirts, dresses, shoes/sandals and a clutch! An absolute great "trunk!"
Trunk Club April 2017 Try On Video
Oh heavens you all. Why do some things look better "on," than they do laying in a box? This was not supposed to happen. If you watched my unboxing video, you saw that I wasn't too hip on some of the items in the "trunk," but NOW…. it's more of a
Oh crap, how am I going to figure out what to keep/send back, without breaking the bank?
My new stylist Melissa is killing it. This is the second time she's styled a Trunk Club for me, and both times she's nailed my style and sent items that are in my "affordable," price range. Yay for stylist's that listen, right!? Let's get to the items…
April Trunk Club Video

Now, if you're more of a photo kind of person, or want to "pin," any of the images for your stylist and fashion board, you can see the photos of each item below!
Trunk Club April Photos
Chambray Caslon Shirt & Gemma Lace Up Sandal
Oh how I fell in love with both of these! I wasn't quite sure if I'd like it or not, but man-alive, it's a keeper. The lace up sandals really surprised me too. They're perfect, and absolutely adorable. Yes?
Chambray Button-Up Shirt // Buy HERE
Gemma Lace-Up Sandal // Buy HERE
J.Crew Navy Linen Tee
I may or may not have a slight addiction to J.Crew v-neck tees. They're the absolute best I've found (next to Target Mossimo brand), and this one fell right in to place. Downside? It was a bit see-through. But the 100% linen is to die for. I'll be returning it, only because I have so many other navy v-neck tees in the closet.
Linen V-Neck Tee // Buy HERE
Relaxed Slub Knit U Neck Caslon Tee
Darn it all to heck. I wasn't supposed to like this shirt. I saw it in the box, and thought to myself
Meh, it's ok.
Then I go and put it on, and there it is. So cute. I paired it with the new denim shorts that I just bought, and my white tennies. Absolutely adorable for a casual Saturday.
Relaxed Slub Knit U-Neck Tee // Buy HERE
Denim Shorts // Buy HERE
White Tennis Shoes // Buy HERE
Brody Bow Tie Blouse & Olive Hinge Drape Cuffed Shorts
I'm absolutely in love with the floral pattern of this shirt. But the bow has got to go, if I'm going to keep it. I hate to cut something off, after paying $59 for it, but it's super cute. Right?
The green shorts look so much better on than I thought they would too! I'm excited to add another pair of shorts to my closet for this Spring and Summer, because shorts that don't feel like thong underwear are hard to find.
Brody Bow-Tie Top // Buy HERE
Olive Shorts // Buy HERE
Nude Ankle Strap Heels // Buy HERE
Trouvé Cross Back Shift Dress
I mean, did she have to send something so cute? This dress will be PERFECT for date night, a business dinner, wedding, or a girls day at the winery. It's super comfy, adorable, and something that I really, really want. But do you think it's cute? Or is it too baggy?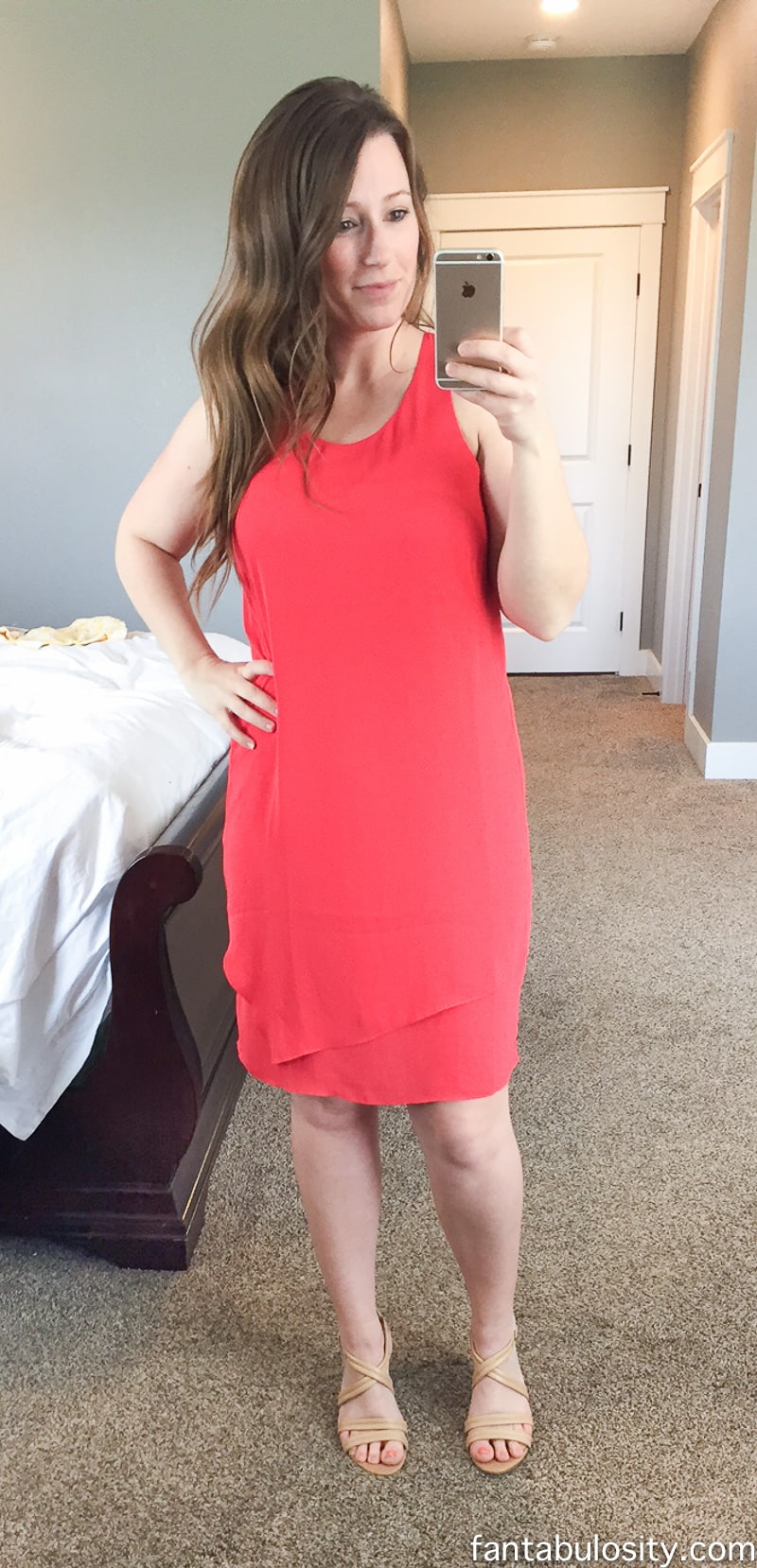 Cross Back Shift Dress // Buy HERE
Solid Star Flower Lace Sheath Dress
Let me start off by saying that I don't think Nordstrom has this dress in stock anymore. At least, I couldn't find it at the time of writing this post. So I'm SOOO sorry if you wanted to purchase this one. BUT, I did find a very similar white one, that I actually think is just as cute as this one here.
I don't have an event or anything coming up that this dress would make sense to wear to. But if I did, I'd consider keeping it. If it were under $100, I'd keep it to just hang on to it for a special occasion. It's very form-fitting, but not suffocating.
Yellow Dress // Buy Similar HERE
Olive Palm Halogen Tie Front Skirt
If only this skirt would have come in a pastel color like baby blue or light pink. I do love the design/style of it, but the color does not look good on my skin-tone. I paired it with a simple black blouse and my new black ankle strap heels and it really does look cute together. But I just can't get over the color on me.
Tie Front Skirt // Buy HERE
Black Ankle Strap Heels // Buy HERE
Trunk Club Items in this Shipment:
Feel free to shop away! I wanted to make it easy on you to find what you need here:

Non Trunk Club Items:
If you're also interested in the items that I have on, that are NOT Trunk Club related, you can find those here, along with the items that I showed you in my unboxing video for this shipment:

If you're ready to try Trunk Club too, and want to use my referral link, you can sign up for it here:
Thank you SO much for coming by, and helping me make a decision about some of these! I always love your input and can't wait to hear from you. If you haven't subscribed to my YouTube channel, and want the "sneak peek," videos before they're posted here on the blog, you can do that here: Subscribe to Jessica Burgess – Fantabulosity
See you soon,