Trunk Club Review December 2016: Try-On Video and "Pinterest" board photos for your stylist! Trunk Club for Women is SO fun and GOOD!
Eeeeek!!!
It's the try-on video I couldn't WAIT to get to you all. I've missed being able to give you the try-on videos and have REALLY missed hearing from you about them! So I'm happy to say that I'm back with the try-on videos but with Trunk Club now, instead of Stitch Fix. If you missed the unboxing video, you can go HERE and catch up! Then come back here to finish the December series!
Important Tidbits:
Here are a few notes that I think you should know (and shouldn't live without!).
YouTube:
In order to get my try-on videos embedded in to a blog post, I have to upload them to YouTube first. So what this means, is that I usually upload the videos on to YouTube, about a day before the actual blog post goes "live." So if you're like me, and can't handle the suspense, you can subscribe to my YouTube channel and get notified when my video goes "live." Subscribe to it HERE!
Ebates:
I mentioned in the video that I use Ebates. Seriously… there is no catch, for earning money back when you use it. You simple go to ebates before you plan to buy something online, and when you click the store's link through the ebates platform, you can earn cash back for what you spend. There are TONS of stores on Ebates, and I've earned $1445.20 back since using it. It's absolutely craziness. It's free, and they don't need any kind of personal info besides your mailing address so they can mail you a check. You can sign up for it HERE. (That is my referral link. You don't have to use it… I just want you to save money if it's out there!)
Trunk Club:
Then of course if you haven't tried Trunk Club yet, you should! I've only participated once, and it's already a blast. You give them your sizes, and style preferences… then they pick out clothes for you based on those facts, and send you a preview of some items that you may like, you say, "Yes/No" and then they send you a box of clothing items to see what you like. They will charge you $25 to send the clothes, BUT you only pay for what you keep, and you can use the $25 as a credit towards something that you want to keep! Bonus!! Try Trunk Club now, HERE!

See the photos, shop the outfits & Pin them to your Pinterest Boards…
Alright… let's get on with it! I can't wait to show you all of it. You'll find the video first, and then the photos of each outfit below! THEN… remember, if you see something you have to have and want to buy yourself, I've linked to everything at the bottom of this post! Don't forget that you can pin each of the images to your Pinterest boards, so that your stylist will know your style!
Trunk Club Review December 2016: Try-On Video
Trunk Club Review Outfit Photos: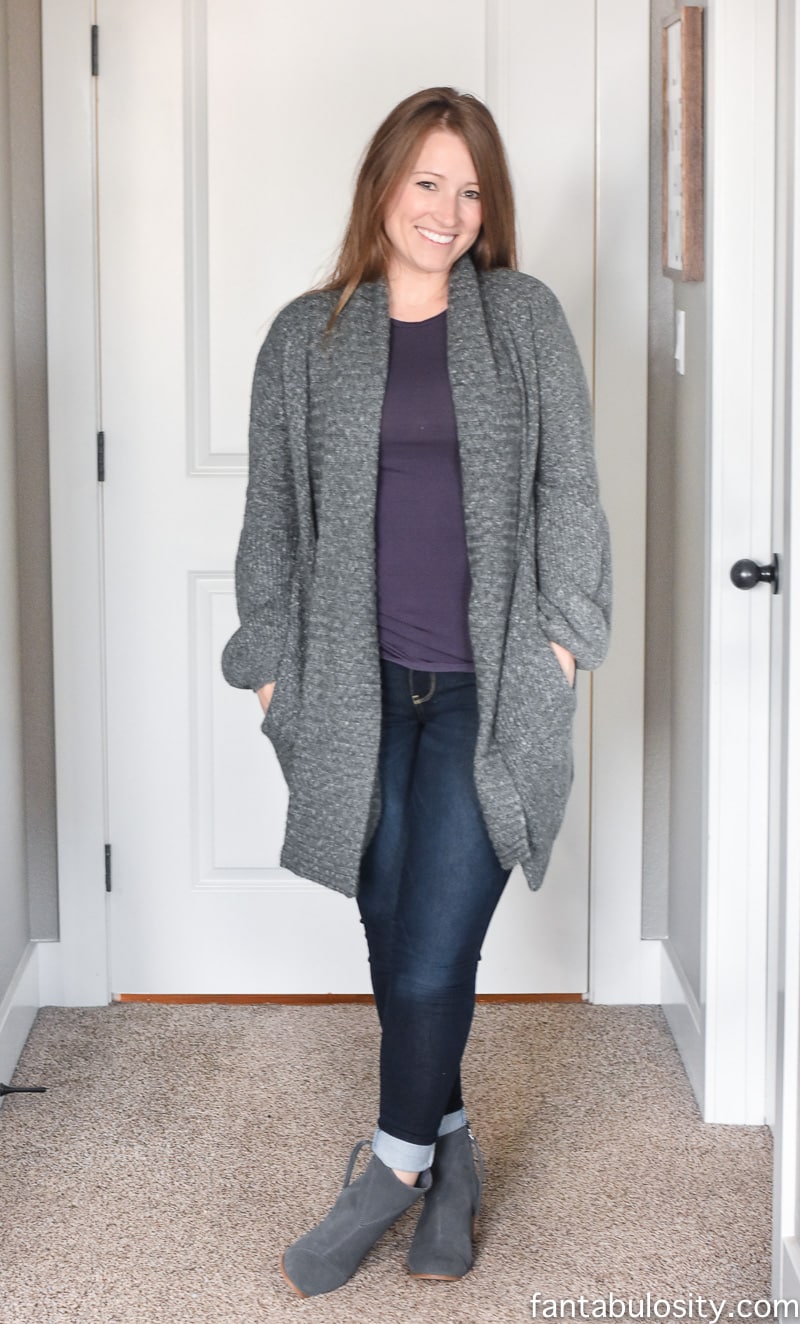 Not sure where my red hair came from yesterday. My husband says it comes out when I'm feeling fiery and frisky. 🙂
The white puffer vest wasn't a Trunk Club item, but it is a staple in my closet. I've also link to this below, but you can buy it HERE.
I've had many ask about my over-the-knee boots. I'm in freaking LOVE with these boots. You can buy them HERE.
Shop the Items:

My goodness that was fun! I so enjoy doing these when the clothes are fun and exciting! So tell me, what do you think? They have to be returned ASAP, but the good thing is, is that if I return something and you all talk me in to it… I can always head over to Nordstrom and buy it! 🙂
I appreciate you all!