Trunk Club Review Try-On Video: January 2017 Second Shipment… Why does it just keep getting better and better!? Trunk Club for women is incredible! 
Whew! That title is a mouthful! But I had to make sure to get in that "#2" since I've already had a January  Trunk Club unboxing video! (Ooops for scheduling 2 in one month.)
Why oh WHY does Trunk Club have to be so good!? Paulina did an incredible job this time again, and now I'm already anxiously awaiting the next one, that I haven't even scheduled yet. First things first… I have to decide what to keep out of this one, and what to send back with those darn shoes. So please, as always… let me know what you think.
Side note: Don't forget, that those who are subscribed to my YouTube channel always get an early sneak peek of the videos, because I have to upload it there before I can write/create the blog post. So if you subscribe, you'll get notified as soon as I upload one, and you'll have first dibs on the items, in case they sell out quick. 😉  Subscribe HERE!
Along with the video below, keep scrolling afterwards because I've taken photos of each and every item that Trunk Club sent this time, PLUS… I spent a bit of extra time including the links that will take you EXACTLY where you can buy each item that I received. YAY for no guesswork! Let's roll with it…
Trunk Club Review: Try-On Video January 2017 | 2nd January Shipment
Trunk Club Review Photos for January 2017
It's the sweatshirt dress that I wasn't quite sure of when I pulled it out of the box the other day. I'm still confused on this one though, and not quite sure if it's a keeper.

Off the Shoulder Fleece Dress: Treasure & Bond // Sz. Small // Buy

HERE 
I decided to toss the jacket on over the dress just to see… turns out it's not THAT bad. But I think I'm quite fond of the jacket, and this may be the reason.
Steve Madden: Side Zip Jacket // Size Small // Buy HERE

So it's a top that I'm thinking I could find at Target or Walmart… but it IS super cozy and soft. I may ponder on this one for a bit.

Calson Long Sleeve Scoop Neck Cotton Tee // Size: Small // Buy

HERE
I have to say it. I'm sorry. The jacket, is the awesome. There… I got it out of my system, and now we can move on to how excited that I am, that I get to take $25 off of this jacket, which makes it even better. (Putting the at home try-on fee towards this one folks. For sure.)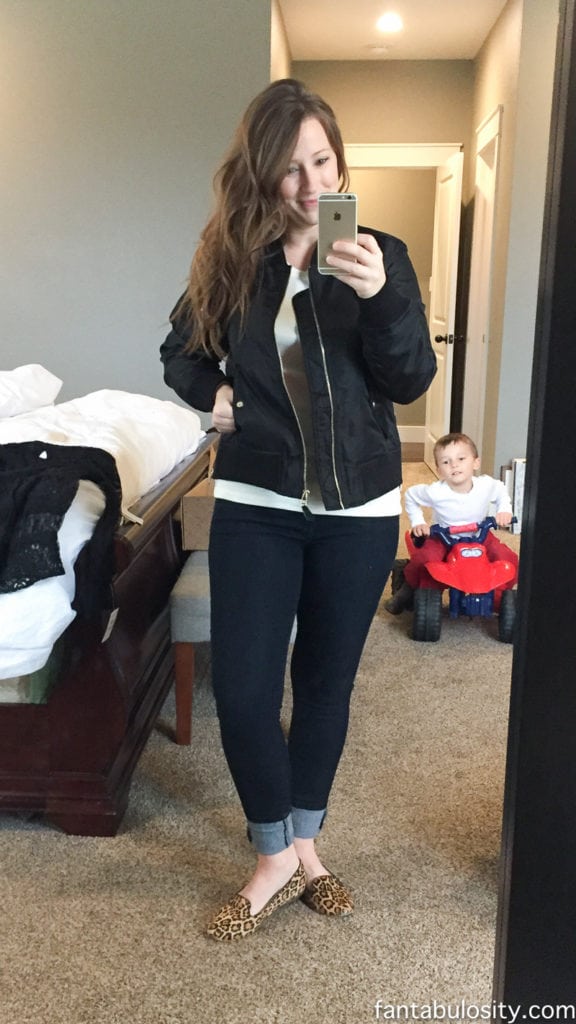 Steve Madden Side Zip Jacket // Size Small // Buy HERE
I'm becoming a fan of lace apparently!? But not sure I love it enough to buy it, and keep it. What do you think?! I sure do like it with my pearl necklace.
Hinge Embroidered Ivory Mesh Top // Size Small // Buy

HERE
Nude Heels Tidbit
I've had some of you ask about where I found my nude heels, and you guys… these are the comfiest pair of heels I've ever worn in my LIFE. Not kidding. You can buy them at Payless (YES, Payless!!!) HERE!
The tuxedo jacket. I'm a mom of two who BARELY gets dressed up these days. So I think I'll pass on this one, because I have other items that I'd go to first if I had a need to get dressed up super fancy schmancy.
TopShop Slouch Tuxedo Jacket // Size 6 // Buy HERE
So this is the one so many of you said, "heck no," to. But there was just something about it. I had to see it on. But I'm afraid you may be right… even though it does look better on. Thoughts?

Hinge Lace Peplum Top // Size Small // Size Small // Buy HERE
If this blue bell top was a teeny bit longer… I'd probably be all over keeping it. But heavens.. when I raise my arm up a little, by belly pops out and ain't nobody wanna see that.
Madewell Windowpane Bell Sleeve Shirt // Size Small // Buy HERE
This ruffle shirt was a surprise when I realized after minutes that it was a cold shoulder top. I thought for sure that it was a sleeveless top when I first pulled it out of the box. It's not something I'd buy for myself… but it doesn't look horrible. Not sure about this one either folks.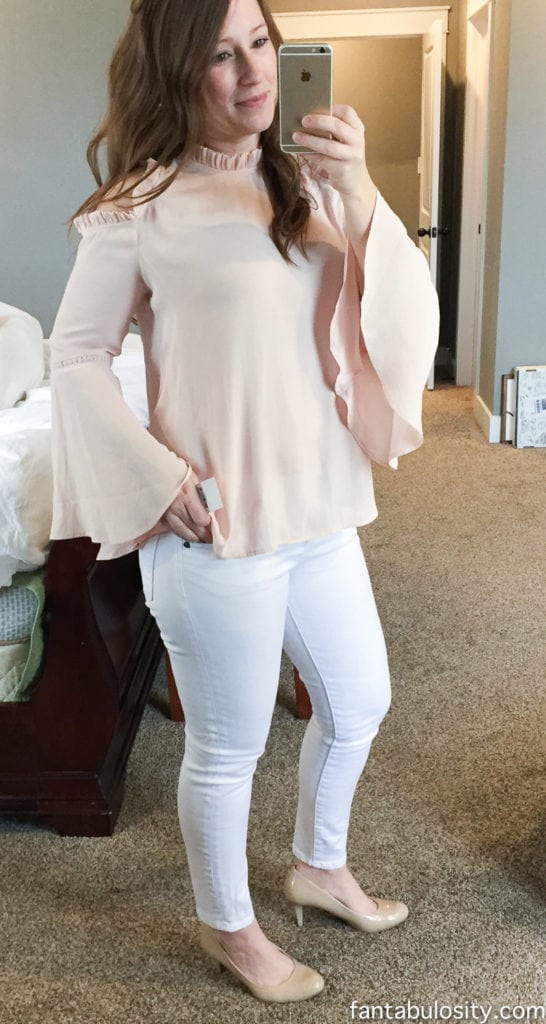 Chelsea28 Ruffle Edge Cold Shoulder Blouse // Size Small // Buy

HERE
The SHOES! Guys… I just can't. I must be totally out of style, but I just can't do it. But you just watch… two years from now, I'll be going, "OMG, those are the cutest shoes ever. What was I thinking."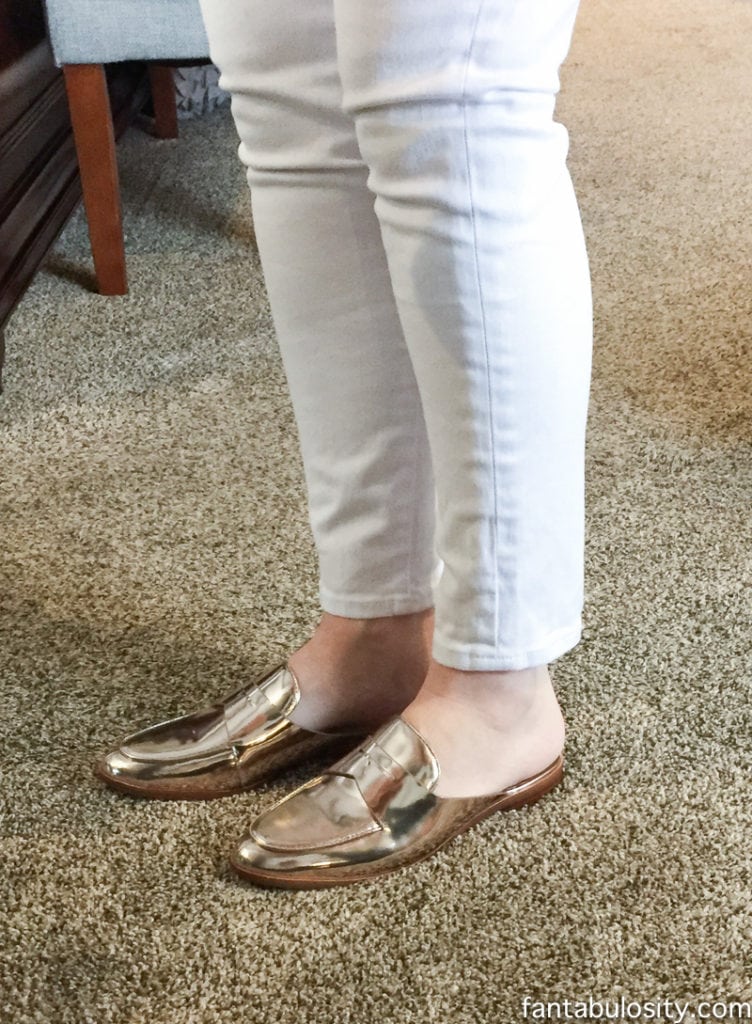 Dugan Flat Loafer Mule Shoe // Size 7.5 // Buy

HERE
So there you have it! It's my Trunk Club Review for the month of January! If you saw something that you like, then I've included links to every item below. Just scroll through until you find what you need!
Shop all of the items from this Trunk Club shipment HERE:

Items worn in this post, from past Trunk Club shipments and fashion recaps:

If you're ready to try Trunk Club, I can't say that I blame you. It's been incredible for me. Here's my referral link IF you want to use it. You sure don't have to!
Try Trunk Club HERE
Until the next shipment,