Trunk Club Review: Unboxing Video January 2017 – This shipment was AMAZING and I can't wait to see how I can keep it ALL! My stylist Paulina nailed it!
Oh my goodness you all. This Trunk Club was AH-MAZING. Paulina nailed it, and now I'm stuck trying to figure out how to keep everything, and make my husband still love me. 😉  
Trunk Club Review: Unboxing Video January 2017
You'll be able to see the video of the unboxing below, but I must bring some sad news. Since it's Christmas, I have a TON of family-spending time to do, and I probably won't have time to create a try-on video for you like I thought. Trunk Club only allows 5 days for me to think it over before sending it all back, so I just don't think I can make a video happen.
Trunk Club Review: Try On Photos & Video
BUT… no fear, I will make sure to share photos of each outfit as I wear them, and share on Facebook and Instagram (so go follow over there, if not already) so you can see what they look like on. So let's get with this glorious box of clothing, shall we? I'm still torn on the black mock-neck, the blue cardigan, thermal sweater, and the black booties. BUT I SOO love them all. Just trying to figure out how to save the most $$$. Eeeek. I need help. What MUST I keep you?
Ok, see what I mean?! It's all so amazing.
I HAVE worn, and tried on a few of the items from this shipment for a quick look, so I've went ahead and included those below.
I'm in LOVE with this outfit. I knew immediately once I had it on, that it was a keeper, and wore it out that night with my hubby and friends in from out of town. Details on this outfit under the photo…
Oversized Pocket Shirt // Buy HERE
Quilted Vest // Buy HERE
White Skinny Jeans // Buy HERE
Over the Knee Boots // NOT Trunk Club… Buy them HERE
Although I love the Hunter Plaid Shirt, I just don't think I can talk myself in to spending $148. Eeek. But I AM keeping the Wit and Wisdom jeans. They're SO comfy and love the way they look rolled up.
Hunter Plaid Shirt // Buy HERE
Wit & Wisdom Jeans // Buy HERE
Brown Booties // Buy them HERE
This stinking Steve Madden brown booties!!! I'm OBSESSED with them, but I just can't justify keeping them, when I have a similar pair already. I know I'll hate myself for returning them.
Here's another peek at the Wit & Wisdom jeans that I love so much. They go with SO many tops in my closet!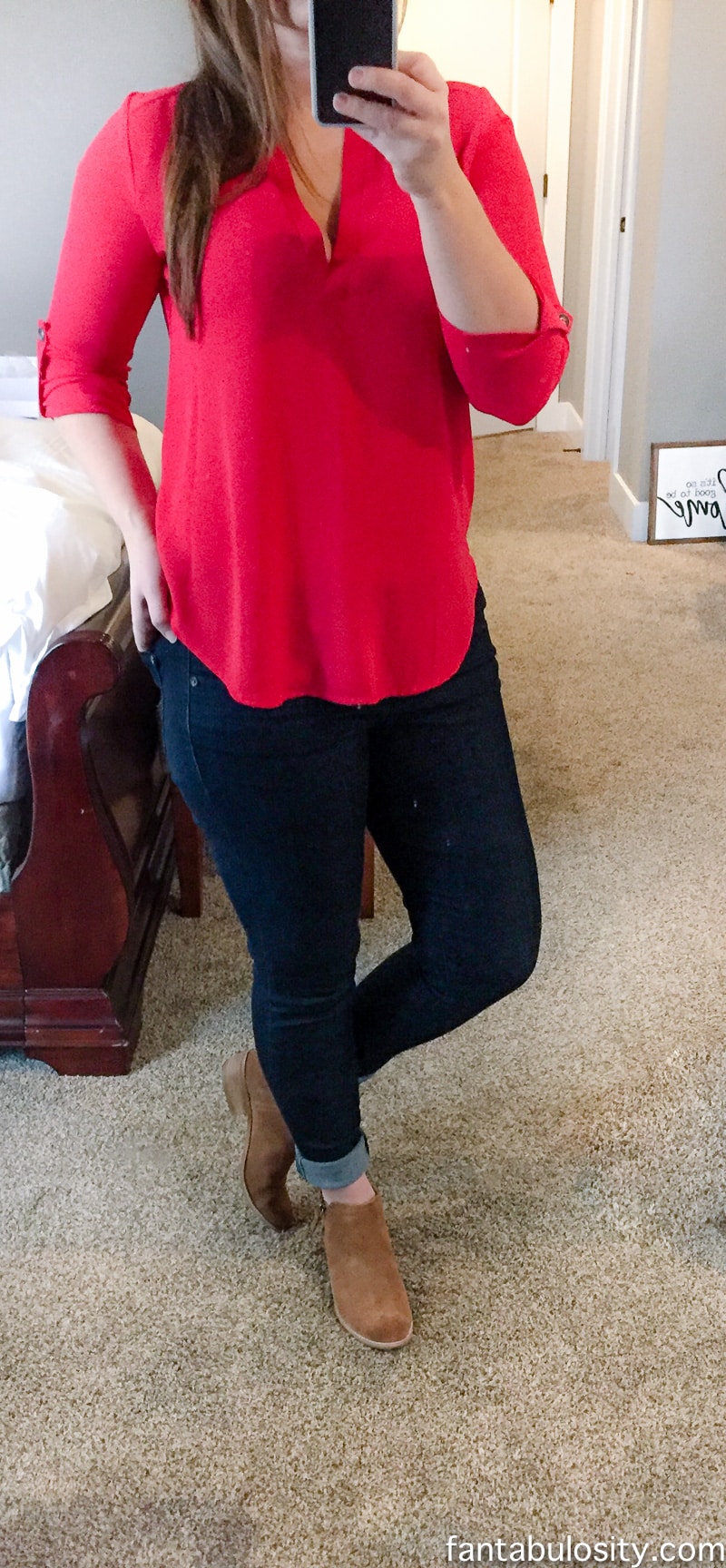 Another top that I received in my Trunk Club shipment, is the black/gray Splendid Thermal sweater. It's not available at the moment, but it may pop back up soon! I don't think I'll keep this one… it's too basic to and similar to other items that I have, to pay the price for it.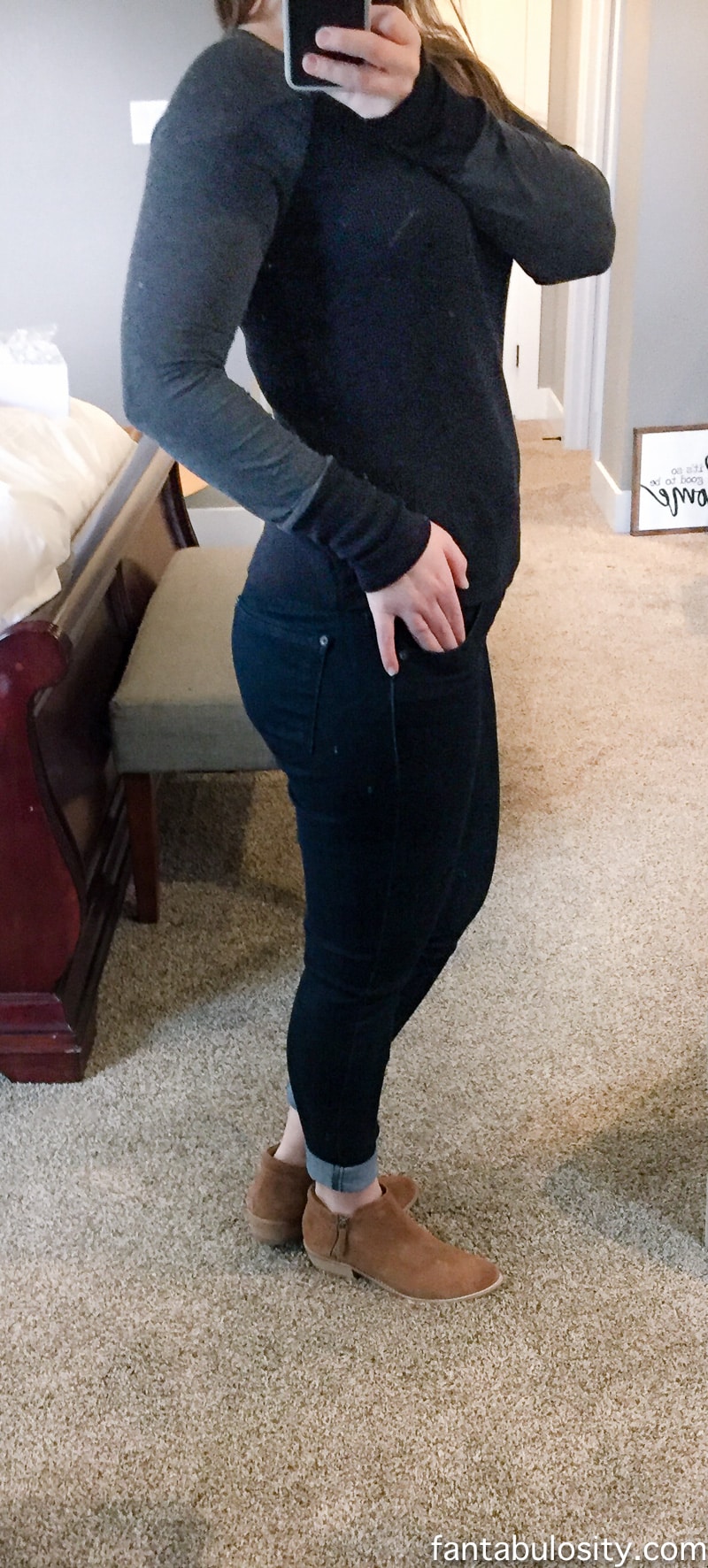 Splendid Black/Gray Thermal Sweater // Buy HERE!
Belted Cardigan: A VERY tough decision to send back… but I did. Why? Only because I'd prefer a different color, and it was a bit long for my shorter frame. But let's talk about how cozy this sweater is, can we? That almost convinced me enough to keep it.
Buy the Hinge Belted Cardigan HERE
Want something from this trunk?
If you saw something that you have to have, I've included the links to all of the items below so you can head over and buy them now!
Shop the Trunk Club Items:

H&M Finds:
Aren't the H&M finds just darling too!!? I'm a sucker for little boy clothes that are hipster AND affordable. Then, like I said in the video, don't ever forget to check H&M online for their home section. They have super cute "industrial," and "farmhouse," style items that are super hard to resist. But for now, the links below are to the items that I showed you in the video!
Man alive this one was so fun. If you want to try Trunk Club too, I don't blame you after this fix. It was to die for! You can give it a try HERE, using my referral link if you like… but sure don't have to!
If you try it, let me know what you think! I love sharing Trunk Club stories with you all!