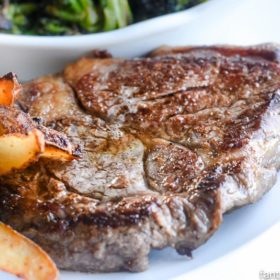 Print
Easy Steak Recipe - How to Cook Steak in the Oven + Pan
Easy Steak Recipe - Pan Seared & In the Oven: Cooking with browned butter in a cast iron skillet, baked for only minutes, and coated in cracked peppercorn and kosher salt, is ALL this ribeye needed!

For a "Medium" Steak:
Preheat 475 degrees before you even start to season your steaks.

Coat your steaks with salt and pepper, on both sides.

Over medium to high heat, melt the butter in an

oven proof skillet

When the butter is melted and has turned a golden brown, place the steaks into the skillet.

Let them sear for about 1 minute (less if you prefer more of a rarer steak, and if thinner than 1-in. thickness.)

Flip and let sear on other side for the same amount of time.

Place skillet in the oven for about 3 minutes.

Serve immediately or steak will continue to cook.
Serving:
1
steak
|
Calories:
570
kcal
|
Protein:
45
g
|
Fat:
43
g
|
Saturated Fat:
21
g
|
Cholesterol:
167
mg
|
Sodium:
217
mg
|
Potassium:
605
mg
|
Vitamin A:
7.7
%
|
Calcium:
1.6
%
|
Iron:
21.6
%