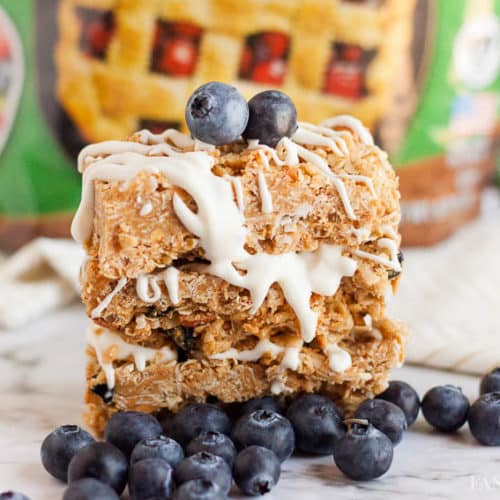 Print
Blueberry Granola Bars with Yogurt Drizzle, Made with Stevia In The Raw®
Blueberry Granola Bars with Yogurt Drizzle Made with Stevia In The Raw® - Made with less sugar and a quick and easy recipe to help tackle that sweets craving!
Granola Bars
Prep a 7x11 baking pan by lining it with parchment paper.

Combine peanut butter, butter, vanilla extract, salt and Stevia In The Raw® in a small saucepan and warm on low heat until it is easy to pour.

In a large bowl, combine oats, crispy rice cereal, shredded coconut, almonds, and blueberries.

When ready, pour peanut butter mixture over oat mixture and stir together, making sure everything is mixed together thoroughly.

Press mixture into prepared pan, and place in freezer for 2 hours to set.
Yogurt Drizzle
While the granola is setting, make the drizzle.

Place Stevia In The Raw® in a blender and blend for 2 minutes to create a powdered version.

Whisk together blended Stevia In The Raw®, yogurt and milk until creamy.

Cut frozen granola into 12-16 bars, and line out bars on to parchment paper.

Drizzle yogurt mixture over each bar and let set up (harden). You can freeze to move this process along if you prefer.

Store any leftovers in an airtight container!