"You are my Sunshine Valentine," Classroom Valentines Idea – Kids get SO much candy at Valentine's Day parties, and these Sunglasses Valentines are the perfect way to avoid adding to the "sweets!
There's something about Valentine's Day, that makes me all "giddy," inside. Perhaps it's because I'm surrounded by boys all year long, and when Valentine's Day rolls around, I'm suddenly able to go crazy with pink & red, and NO ONE can say anything about it. 😉
"You Are My Sunshine Valentine," Classroom Valentines
If you're like myself, I'm always trying to think of a way to create non-candy related items for my son's school treats, for classroom parties. They get SOOO much candy at school parties, and we are literally struggling on a daily basis at home afterwards, explaining to my son why he can't sit and just eat… and eat… and eat… candy.
During a quick stop not-so-quick stop, at DollarTree
the other day on my "girls shopping day with my family,"  I hit the Valentine's Day jackpot.
They had a ton of Valentine's Day trinkets & treasures that were PERFECT to create a fun little "valentine," with, for my son's classroom. But I have to say, the "heart sunglasses," won me over, and I filled my cart with them.
I may or may not have spent an hour in the first isle of the store, just standing there all googly-eyed over the fabulous selection they had. My poor mom & sisters were probably ready to leave me there.
Standing there in the store, I rallied my family of gals around, and told them:
Ok, see here? I have these heart sunglasses. I want to create a tag that says something clever on it, for my son's classroom party."
My sister totally came to the rescue, when she said, "You are my Sunshine."
Brilliant. Done!
Sunglasses
Now we all know that the store selection may vary. So you may not be able to find these exact heart sunglasses. But you don't have to use "heart sunglasses!" I'm constantly seeing small kiddo sunglasses in the party favor section at almost any party supply store, dollar store, etc. Any type will do!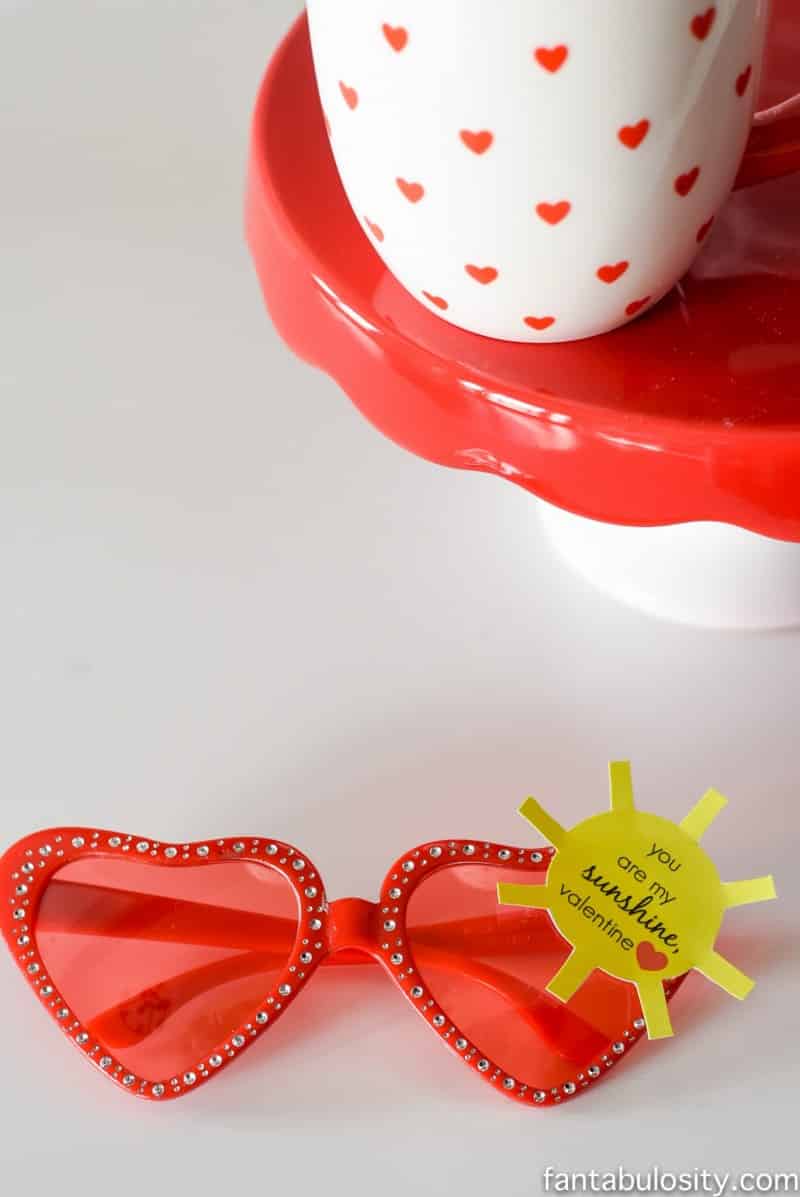 You are my Sunshine, Valentine! Free Printable
You didn't think I would keep this Valentine's Day tag to myself, did you!? 😉 Now… I know that cutting out this sun may not be on your wish list, OR not be the way you want to spend your evening at home. So I have a couple of options for you, to make it a little easier. Just pick which free printable below that tickles your fancy, and you'll be good to go.
Free printable without "Cut Lines"

If you don't mind, and want to cut out the suns, including the "rays," you may want to just download this option.
You could tie the tag on the sunglasses, or you could even grab "glue dots," and stick the tag on the sunglasses that way!
Free Printable WITH "Cut Lines"
However, if you want to save some time, and cut out the tags in a "square," shape, you may want to download this option.
Punch a hole in each square, and tie them to the sunglasses with ribbon or string! Easy as that!
I sure hope you find this Valentines idea helpful, and most importantly… EASY. I love easy. Easy AND Cute??? Golden.
I'd love to hear, or even see photos, if you decided to create this valentine's day idea for your kiddos classroom!
Pin This to Remember for Later: