This "You're Sweet," gift idea, can be used in SO many ways. Hostess Gift, a gift idea for best friend, neighbor gift, co-worker, and so much more.
If you're a sucker for cute gift ideas like me, then you're in luck. I'm always snagging "must-haves," in stores, thinking to myself:
Ahhh.. I could use this for a gift for someone.
At least that's what I tell myself, to justify why I'm actually making it to the checkout, with it. Then… I get to put them together, and share the gift ideas with you! Plus I get to find reasons of why I want to "gift," something to someone. 😉
"You're Sweet" Gift Idea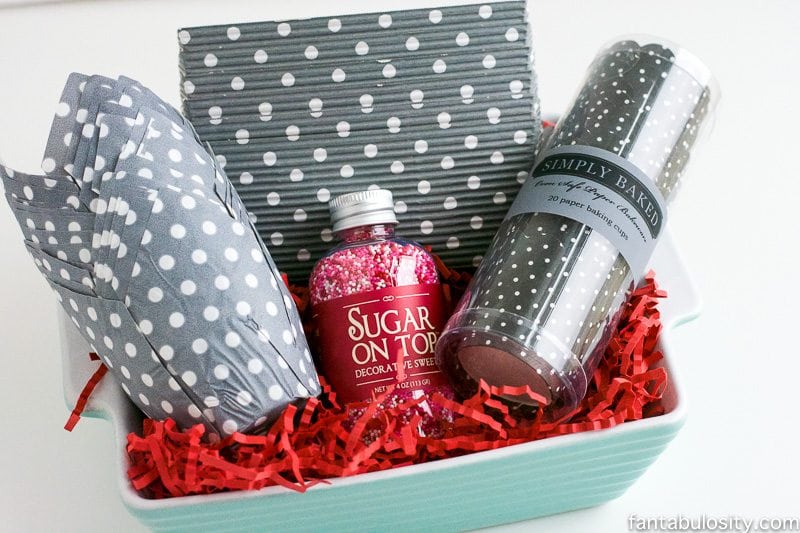 I had just finished a meeting with one of my favorite gal pals, (who also happens to be my marketing & PR manager, Andrea with Arco & Associates), and I noticed a Home Goods across the street.
Home Goods + Time to Kill = Jessica's Danger Zone
I had Andrea fresh on the mind, and wanted to grab her a sweet little gift to thank her for all of her hard work, and to let her know that I adored her friendship.
She had said to me, that she loved all things pretty and "party-like," so I knew I wanted to create a gift that screamed, "pretty party." She's a mom of boys, like myself, so anytime that we can tickle that "inner girl," we have, we act upon it.
I thought a sweet gift full of pretty bakeware, and sprinkles would accomplish exactly THAT.
Pretty, Girly, Party, Perfect.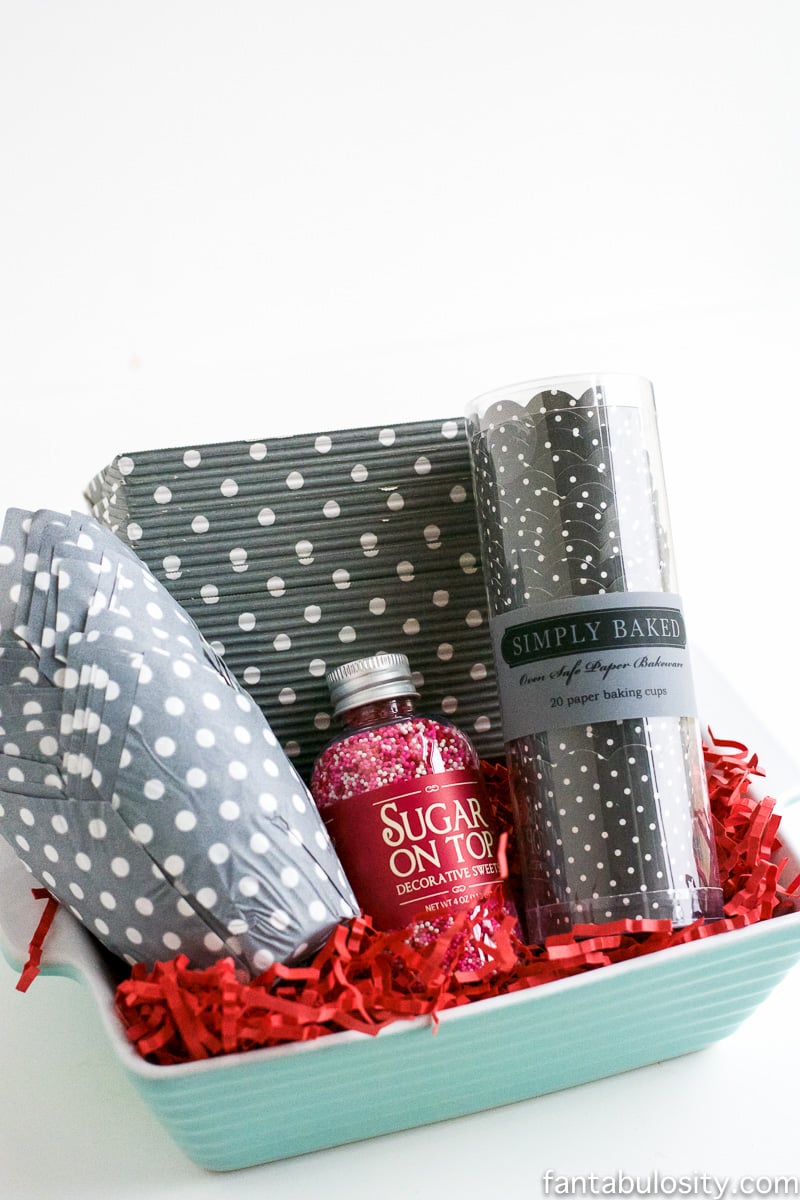 "Sweet Gift," Tutorial
• Baking Dish: I used a baking dish, (a super cute turquoise one, I might add) as the "basket," of the gift, to hold all of the goodies.
• Fill: I wanted something to "pop," with color, and to pair with the sprinkles, so the red paper shreds were PERFECT. I'm not a fan of filling gift baskets with tissue paper. It always looks "blah," when I tackle it.
• Sprinkles: Who doesn't love sprinkles!? This mom of boys, probably rarely gets to buy pink & red, so it was the perfect excuse & item to get "girly," in the kitchen.
• Paper Baking Loaf Pans: I ALWAYS make sure to have these on hand in my kitchen. I mostly use them when I make my SUPER POPULAR banana bread recipe, and gift away the mini loaves, every chance I get.
• Muffin Cups: A gal needs fancy muffin cups in her kitchen. Can you imagine these on a brunch display, for one of your family or friendly gatherings? OMG.
• Paper Baking Cups: THESE… these are a must have. They can be used in so many ways. Yes, bake with them. But did you know that I use these for almost every single party that I design? They're incredible for small portions of snacks and candies.
Tip: Unwrap all that you can, when putting a gift basket together. It makes the overall gift look "cleaner," and a little less "commercialized." I did leave the baking cups in the plastic tube, because it was clear, I loved the labeling, and I wanted it to be easy on my gal pal to store, until she was ready to use them.
I think YOU'RE sweet, for coming by. I'd love for you to let me know below if you've made a "You're Sweet," gift for someone! Even better… share a photo of it on my Facebook page! I'd love to SEE it!
Until next time,

Pin this image below for later, so you'll remember when it's gifting time!